Sonya, a character suffering from unrequited love, has the last word in the classic Chekhov play "Uncle Vanya." And in the St. Louis Actors' Studio production directed by Annamaria Pileggi, that word is delivered by Bryn McLaughlin.
It's a plum role for the Oregon native, who also appeared in October in the St. Louis Actors' Studio staging of the Steven Dietz play "Fiction" and last summer in the company's LaBute New Theater Festival.
McLaughlin talks with Go! Magazine about her Chekhovian experience.
The actor
McLaughlin says she became interested in acting "on a whim."
"I'm a very introverted person, and I'm actually very shy in general," she says. "But I did latch onto all of the intellectual things that you have to do when you're acting. It's sort of like solving a puzzle — you do it long enough that it's not stressful anymore."
A "scary" thing for an actor, McLaughlin says, "is not knowing what you don't know. And with something like Chekhov, it just feels overwhelming."
Working with director Pileggi, she says, helped her to understand "exactly what my problems (were) going to be and exactly what kinds of questions I (needed) to be asking along the way."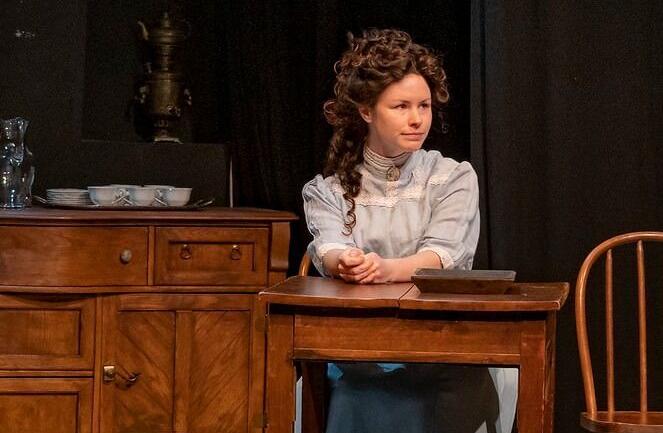 The role
McLaughlin says that she feels "fantastic" in the role of Sonya, whom she describes as having "sort of a childlike quality."
"She doesn't really seem to either have a concept of, or adhere to, social etiquette," McLaughlin says. "She doesn't waste time with small talk. She just cuts to the chase, and I think that says a lot about her character.
"Sonya doesn't have the most stage time, but really, when you look at the script, she is the one who is the most changed by the end (of the play)."
McLaughlin says that in getting into character she benefited from working alongside John Pierson (Vanya) and Michael James Reed (as Astrov, a doctor who doesn't return Sonya's affections).
"They each bring something special to the table," she says.
The production
"Uncle Vanya" is arguably Anton Chekhov's greatest play — and that's saying a lot, considering that he also wrote "The Cherry Orchard," "The Seagull" and "Three Sisters." But the tale of a disgruntled estate manager requires actors capable of negotiating its blend of hilarious comedy and heartbreaking drama.
Fortunately, the St. Louis Actors' Studio is up to the challenge. The production of "Uncle Vanya" running through March 5 boasts performances that are a joy to behold.
Reed strikes just the right note as a doctor whose angst is a bit more muted. And as Vanya's philosophical niece Sonya, McLaughlin turns in a performance that's at once offhandedly engaging and quietly poignant.
Greg Johnston is impressive as Vanya's haughty brother-in-law, and Jennelle Gilreath Owens deftly underplays the role of his alluring and much younger wife. The terrific cast also includes Jan Meyer, Eleanor Mullin and Michael Musgrave-Perkins.
Contrary to the notion that Chekhov's plays are hopelessly uneventful, this brilliant production burns with emotional truth.
What "Uncle Vanya" • When Through March 5; performance times vary • Where Gaslight Theater, 360 North Boyle Avenue • How much $35-$40 • More infostlas.org