With first-rate productions of plays including "Angels in America" (Repertory Theatre of St. Louis), "Brighton Beach Memoirs" (New Jewish Theatre) and "The Night of the Iguana" (Tennessee Williams Festival St. Louis), 2019 was a fine year for local theater. And the schedule for the coming months sounds just as promising. Some highlights:
"Annapurna," St. Louis Actors' Studio • In Sharr White's two-character play, a man who's living off the grid gets a visit from his ex-wife. Megan Mullally and Nick Offerman starred in the Off-Broadway production. Performances begin Feb. 14 at the Gaslight Theater (358 North Boyle Avenue; stlas.org).
"Dress the Part," Shakespeare Festival St. Louis • Shakespeare's "Two Gentlemen of Verona" gets a hip-hop spin in this new musical from the Q Brothers, which finds Shakespeare Festival St. Louis venturing into the Grove neighborhood. Performances begin Jan. 29 at the Ready Room (4195 Manchester Avenue; sfstl.com).
"Hamilton," Fox Theatre • With all the talk about the Constitution these days, Lin-Manuel Miranda's phenomenally successful, Pulitzer Prize-winning musical about legendary statesman Alexander Hamilton and his contemporaries is more relevant than ever. The show filled the Fox Theatre for three weeks in April 2018 and then immediately announced its return engagement. Performances begin May 5 at the Fox (527 North Grand Boulevard; metrotix.com). Single tickets go on sale Monday.
"Head Over Heels," New Line Theatre • Set to songs by the Go-Go's, including "We Got the Beat," "Vacation" and the title tune, this musical is loosely based on a story from the 16th century. Performances begin March 5 at the Marcelle (3310 Samuel Shepard Drive; newlinetheatre.com).
"Mojada: A Medea in Los Angeles," Repertory Theatre of St. Louis • The Greek classic about a woman whose murderous urges have tragic repercussions inspired this play by Luis Alfaro. Performances begin Jan. 10 at the Loretto-Hilton Center for the Performing Arts (130 Edgar Road; repstl.org).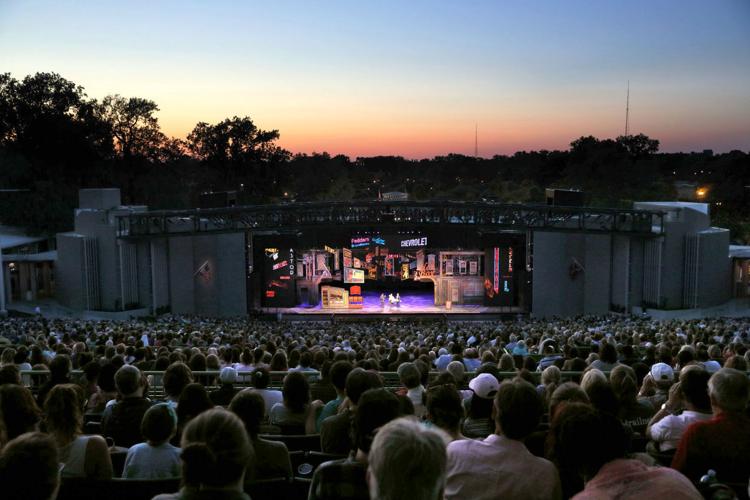 Muny premieres • The big, open-air theater in Forest Park made history last season, its 101st, when it unveiled a multimillion-dollar makeover that included a brand-new stage with lots of theatrical bells and whistles. This summer, that stage welcomes three Muny premieres: "Sweeney Todd" (July 6-12), "Smokey Joe's Cafe" (July 14-20) and "On Your Feet!" (Aug. 1-7). The season also includes "Chicago" (June 15-21), "Mary Poppins" (June 24-July 2), "The Sound of Music" (July 23-29) and "Seven Brides for Seven Brothers" (Aug. 10-16). (1 Theatre Drive, Forest Park; muny.org)
"The Roommate," West End Players Guild • In Jen Silverman's comedy, which was produced in 2017 at the Williamstown Theater Festival, two very different women prove to be surprisingly compatible. Performances begin Feb. 21 at Union Avenue Christian Church (733 Union Boulevard; westendplayers.org).