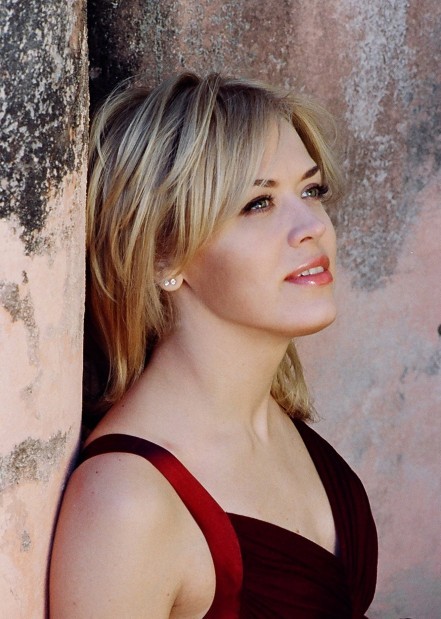 Russian pianist Olga Kern was already an accomplished artist when she became the first woman in more than 30 years to win a gold medal in the Van Cliburn International Piano Competition. She won her first international competition at 11 and took first prize in the first Rachmaninoff International Piano Competition at 17.
That was in 2001, when she was 26 and the unquestioned audience favorite. I was in the audience at Bass Hall in Fort Worth for the finals and found her combination of technical mastery, mature interpretation and charismatic personality utterly compelling.
So did a lot of other people. Unlike most competition winners, Kern has gone on to build a major international career, with an annual festival in South Africa and concerts around the world. Next weekend she'll perform Rachmaninoff's Rhapsody on a Theme of Paganini with Leonard Slatkin and the St. Louis Symphony Orchestra.
"I still remember that excitement after winning Cliburn," Kern said in a recent telephone interview. "It is almost 10 years; there will be a big celebration for me in Fort Worth and Dallas in March."
She'll give a recital in Bass Hall, followed the next week by a performance with the Dallas Symphony. Usually, artists' contracts stipulate that they have to wait a year after playing in one of those close-together cities before performing in the other, but a one-time exception has been made for Kern. "They said, 'You're just a sweetheart for us,' and that they wanted to have a special celebration," she says.
Kern, now based in New York with her mother and son, comes from a musical family. Her great-grandmother, Vera Pushechnikova, was a mezzo-soprano who toured widely in Russia; her brother, Vladimir Kern, is a conductor.
Even her 12-year-old son, Vladislav Kern (Kern was married for only a year to his father), has a career. "He started piano when he was 3, right after Cliburn," she says. "He told us, 'I don't want to play anything but piano, like Mommy.' He is already playing concerts, in Denmark, New York, Moscow." Based on Slatkin's recommendation of St. Louis as "a great place," she's planning to bring him along for Thanksgiving.
Rachmaninoff's music has long been particularly meaningful to Kern's family, going back to her great-grandmother. "One day," Kern recounts, 'she was on tour with Rachmaninoff songs, and her accompanist got sick. These songs are very difficult for the pianist, and she had to find somebody to accompany her." As luck would have it, the composer was also on tour, in the same town. When he heard of her plight, he said, "I will do this for you." Kern's grandmother still has the program from that evening.
"For me to have such a connection — a little connection, but still — with Rachmaninoff, well, you can understand why he is so special for me. Since I was very little, I loved Rachmaninoff's music."
Kern says she had her own encounter of sorts. Just before the semifinal round of the Rachmaninoff competition ("a big, big round with a lot of different requirements, a lot of different pieces") she had a dream about him. "He was sitting in a big concert hall playing piano, and he said, 'Olga, you're late to have a lesson together.'"
She played one of his pieces, the Barcarolle, "and he said, 'Fine, now I will show you how I think this piece is supposed to sound,' and he played it, fast and a little dry, really great. I told my parents, and they were a little bit scared. They thought I was practicing too much, but I was very inspired."
She won the competition, taking first place and receiving a special prize from Rachmaninoff's grandson. Two years later, Rachmaninoff's own recordings were remastered and released on CD. "I immediately bought them. One piece was the Barcarolle, and it was shocking that when I heard it, it was the same that I heard in my dream. He came to me somehow."
She told Van Cliburn, "and said 'You will think I'm crazy.' He said, 'No, I always felt Rachmaninoff behind my shoulder when I played his music.'" After the dream, "I always wanted to play more and more Rachmaninoff."
She's doing that here. "The Rhapsody is a masterpiece," Kern says, "the most incredible piece he ever wrote for piano and orchestra. It's a short piece, but it's so philosophical, so gorgeous, like a hymn of love and passion. The last part, which goes so smoothly from one part to another, covers everything, everything, in this short variation. The two last chords should be finishing on soft — not loud. You can say it's an answer; I think it's a question about the end of life."
Kern has played it since she was 12. "I think I've found something new, what he meant in some places. It's a very special piece for me. It's just always with me through all the changes in life. It's a great piece."