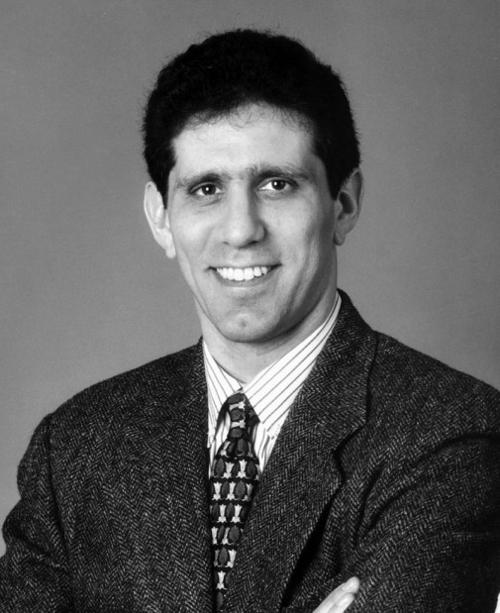 Eager to simplify things, Seth Gordon makes a suggestion: Picture a triangle, hollow on the inside.
Now fill that triangle up.
At the wide base are new plays that were sent to or commissioned by the Repertory Theatre of St. Louis.
The narrowed middle is filled with the most promising of those plays, scripts that have been chosen for further development. The Rep will explore these in staged readings (not full productions), with professional actors and live audiences that stick around afterward for a discussion.
And at the very top of the triangle are full productions of the best of those plays, world premieres mounted at the Rep during its Mainstage or Studio Theatre seasons.
Explaining his triangle, Gordon's face lights up with satisfaction. You could even say he seems to be ignited.
Ignite!, the Rep's new-play festival, is exactly the kind of work that has long intrigued Gordon, the theater's associate artistic director and curator of Ignite! Before he joined the Rep last year, he was literary manager and then associate producer at New York's Primary Stages, which is dedicated to new work; as associate artistic director of the Cleveland Playhouse, he produced its Next Stage Festival of New Plays. New work "is in Seth's DNA," Rep artistic director Steven Woolf said.
For the inaugural Ignite! festival, however, the triangle is still being filled in. There are plays at the bottom because the Rep, like other theaters, receives new plays all the time. But obviously, the Rep can't produce a play that shone at its reading, because there haven't been any readings. Still, the Studio season does include a world premiere, "The Invisible Hand" by Milwaukee playwright Ayad Akhtar, which Gordon will direct.
Three plays in the middle — the ones that will receive staged readings with an eye to future productions — all are new as well. "Stagger Lee," based on the old song about a murder in St. Louis, is a musical by Stew and his collaborator Heidi Rodewald, creators of the Tony-winning hit "Passing Strange." The script is by Derek McCulloch, author of a graphic novel of the same name.
"Gidion's Knot" by Johnna Adams takes place at a tense conference between a mother and her son's teacher, and "Bicycle Girl" by Rogelio Martinez follows two girls pedaling across America to the 1939 World's Fair in New York.
All of the authors will attend the festival to participate in post-show discussions that should help them refine their scripts. And at least one will almost certainly have his or her work produced at the Rep in the 2012-13 season.
Gordon thinks all three plays have the potential to achieve the things that theaters most hope for when they emphasize new work: to nurture living playwrights, to help build the contemporary canon and to increase a theater's reputation if it becomes known as an incubator for new work (particularly a new work that turns into a hit).
Those aren't idle dreams, said Mark Bernstein, the Rep's managing director. In Kentucky, Actors Theatre of Louisville owes its international reputation to its longtime presentation of the Humana Festival of New American Plays. Noted works that debuted there include "Dinner With Friends" by Donald Margulies, "Crimes of the Heart" by Beth Henley and "Anton in Show Business" by Jane Martin.
A world premiere "is prestigious," Bernstein said. "It's a chance for national attention."
The GreenHouse Festival that HotCity Theatre has presented here for about seven years also has a national note, particularly among the playwrights who hope to participate each year. GreenHouse's most recent honors went to "Goodbye, Ruby Tuesday" by EM Lewis, which HotCity will stage in September. John Armstrong, HotCity's managing director, welcomes Ignite! to the scene.
"If there's room in St. Louis for something like two dozen theaters, there's certainly room for two new-play festivals," he said.
Like GreenHouse, Ignite! will draw from all over. Another company, First Run Theatre, specializes in new work by playwrights who live in the St. Louis area.
Given the virtually limitless number of extant plays, you might ask why anyone would gamble on untried material. There are lots of reasons. The Black Rep, for example, has staged many world premieres over the years, including "The Queen of Sheba" by Bill Harris, "Levee James" by S.M. Shephard-Massat and "Conversations on a Dirt Road" by Samm-Art Williams. The Black Rep's current series of new play readings is designed to look for new works that might merit further development and, ultimately, a place on its stage.
"New plays are the R&D department of theater," said Ron Himes, the troupe's founder and producing director. "And for us, there's a commitment to developing young African-American voices, to adding to the canon for the African-American stage."
Another St. Louis troupe, OnSite Theatre Company, works with new plays mostly because it has to. Committed to presenting plays in site-specific settings — among them a bowling alley, a youth hostel and a gym — OnSite has only once discovered an existing play that suited its very special needs. (That one, John Patrick Shanley's "Savage in Limbo," takes place in a bar. OnSite performed it in a real bar in Maplewood.)
"It's exciting to see something new come to life," said Kristen Edler, co-founder of OnSite with Ann Marie Mohr. "But it's a much longer process" than working with existing material.
Gordon says she's absolutely right. It will take a few years before "the triangle fills in with Rep juice," he acknowledged. "We have to get more in the pipeline."
But from the start, he believes, Ignite! will "introduce people to something exciting, something much closer to an open rehearsal than to a finished production. We want to give our audience a backstage tour of the creative process."
What • New-play festival of the Repertory Theatre of St. Louis
When • 3 p.m. March 15: "Stagger Lee"
7:30 p.m. March 20: "Gidion's Knot"
7:30 p.m. March 21: "Bicycle Girl"
Where • Sally S. Levy Opera Center, 210 Hazel Avenue on the Webster University campus
How much • $10 for each reading, $8 for ticket holders to the Rep's Studio Theatre; all three for $25. Festival Plus tickets, $65, include all three readings and a $45 ticket to the Studio production of "The Invisible Hand."