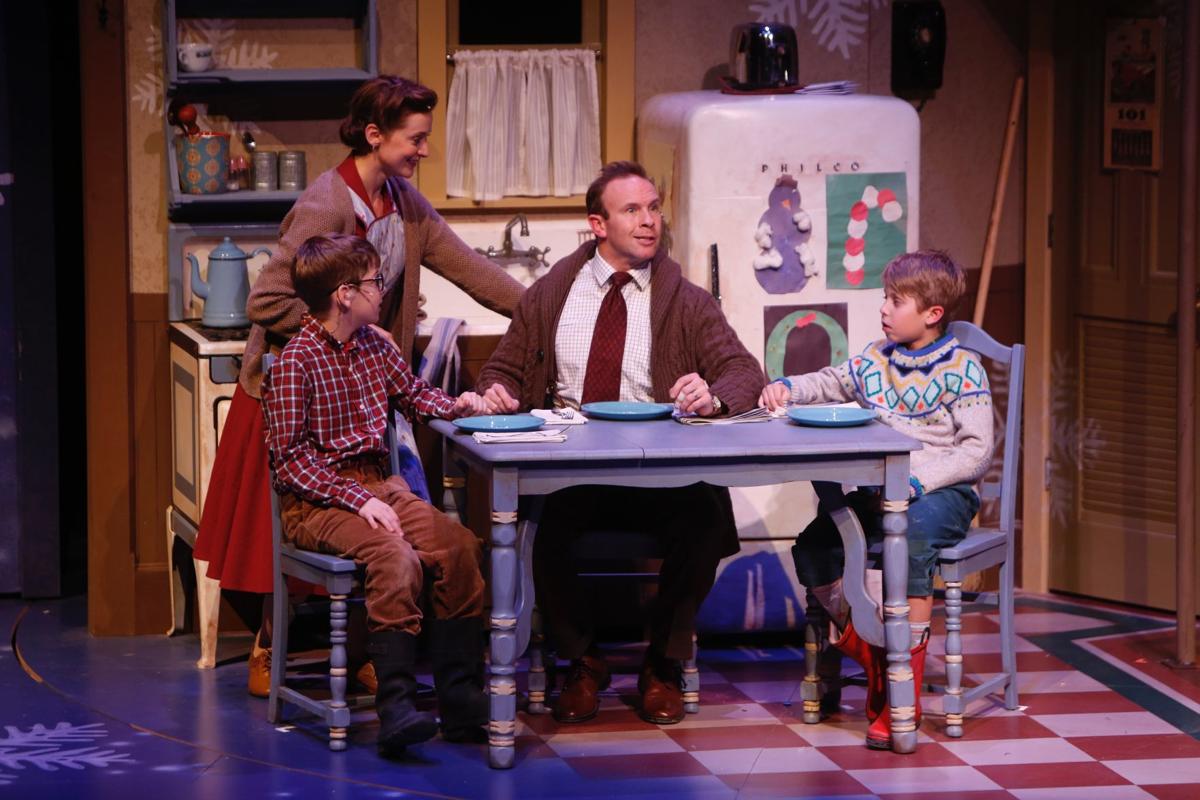 Charmingly nostalgic and warmly entertaining, "A Christmas Story" is the tale of a boy and his dream: to find a BB gun under the tree. No other Christmas present will do. In fact, Ralphie (Charlie Mathis) — the youngster at the heart of the play at the Repertory Theatre of St. Louis through Dec. 23 — is mortified when a department store Santa suggests a football as a possibility.
Ralphie's older self, Ralph (Ted Deasy), serves as narrator of the family-friendly comedy set in the 1940s. Although "A Christmas Story" is based on the 1983 film of the same name, it comes across as an unlikely hybrid of Tennessee Williams's play "The Glass Menagerie" and the late '50s/early '60s sitcom "Leave It to Beaver."
Like Tom in "Menagerie," the grown-up Ralph offers commentary on the unfolding story. And Ralphie's mother (Laurel Casillo), father and younger brother Randy (Spencer Slavik) wouldn't be out of place in Theodore "Beaver" Cleaver's neighborhood.
Ralphie is slightly geekier than the Beav, but just as adorable. How can you not like a kid who's a fan of the "Little Orphan Annie" radio show?
Director Seth Gordon approaches Philip Grecian's script with a lighthearted appreciation for the foibles of family life and the blissful innocence of childhood. And he elicits fine performances from an exceptional cast.
Of particular note is Brad Fraizer, who brings to Ralphie's dad — aka "The Old Man" — a hilarious blend of forthrightness and discombobulation. His dismay over the fate of a treasured possession that's accidentally destroyed just about brings down the house. And Deasy exudes homespun charisma as narrator Ralph.
"A Christmas Story" might strike some folks as a bit too saccharine and eager to please. But if the show tilts toward sentimentality, it does so unapologetically. And the holiday season is just the right time to make such a gesture.
When Through Dec. 23; performance times vary Where Loretto-Hilton Center for the Performing Arts, 130 Edgar Road, Webster Groves How much $24-$97 More info 314-968-4925; repstl.org