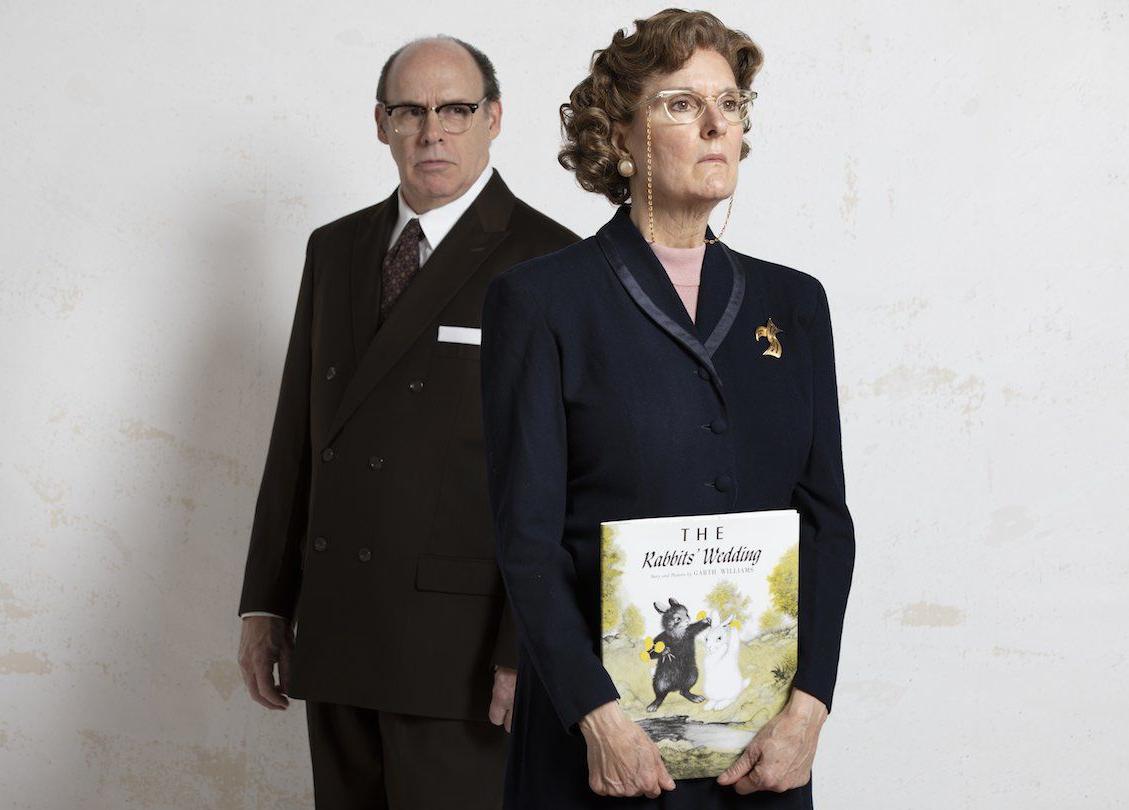 A children's picture book is at the heart of Kenneth Jones' "Alabama Story," a crowd-pleasing and imaginatively theatrical comedy-drama inspired by the real-life conflict between an enlightened librarian and a bigoted politician. Directed by Paul Mason Barnes, the Repertory Theatre of St. Louis production runs through Jan. 27.
Emily Wheelock Reed (Jeanne Paulsen), a librarian in Montgomery, Ala., in the 1950s, has a book on the shelves that state senator E.W. Higgins (Carl Palmer) can't abide: "The Rabbits' Wedding." Higgins interprets the tale of two bunnies — one black, one white — as a metaphor for interracial marriage. In his view, that's just not the Alabama way. And he'd just as soon see the book banned.
Reed disagrees, adamantly. And it's not long before their difference of opinion is national news.
The play also includes a fictional subplot about childhood friends Lily Whitfield (Anna O'Donoghue) and Joshua Moore (Corey Allen), who inadvertently reconnect as adults. She's white, he's black, and their relationship is complicated.
Jones brings an exuberant wit to this potentially preachy material, and Barnes elicits fine performances from a cast that also features Carl Howell as Reed's colleague Thomas Franklin and Larry Paulsen in multiple roles – including "Rabbits' Wedding" author Garth Williams.
As good as "Alabama Story" is, it might have been better. The play scores far too many cheap laughs by playing to the stereotype of the unsophisticated Southerner. Consequently, Higgins comes across as more of a loudmouthed but ineffectual buffoon than a serious threat to society.
Some of the story's details don't entirely ring true, smoothing over the harsh realities of racism Alabama style. The odds are that Joshua wouldn't have escaped with his life from the traumatic childhood encounter that ruined his friendship with Lily. It's also improbable that a white racist determined to disrupt what he perceives to be an interracial couple could be so easily shooed away.
But at a time when intolerance is on the upswing and empathy is under siege, "Alabama Story" is just the play we need.
---
'Alabama Story'
When Through Jan. 27; performance times vary Where Loretto-Hilton Center for the Performing Arts, 130 Edgar Road, Webster Groves How much $19-$92 More info 314-968-4925; repstl.org