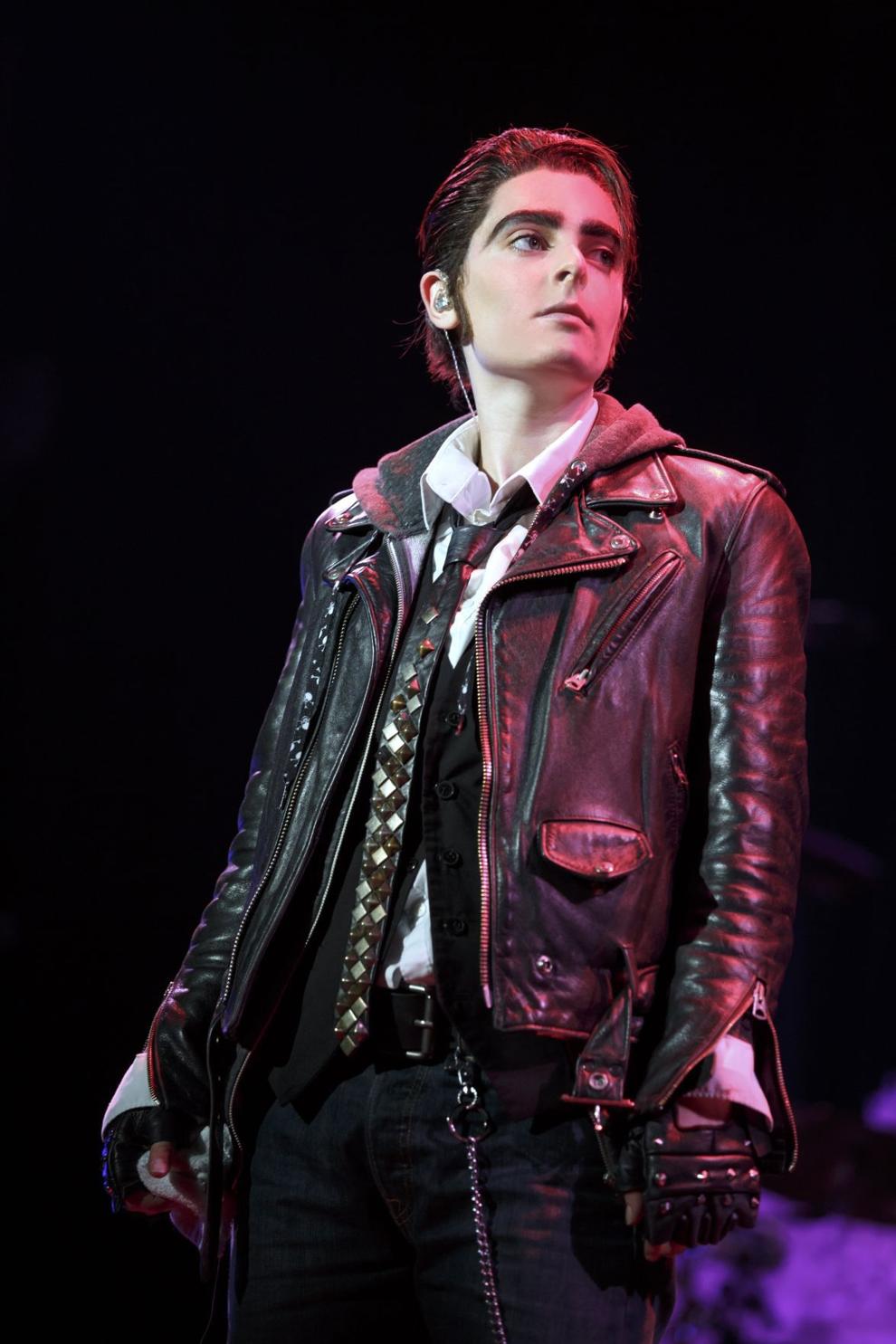 To the uninitiated, it becomes clear pretty early that "Hedwig and the Angry Inch" isn't a typical Broadway musical. It's more of a rock concert. Maybe even a one-person show.
Its star, Hedwig (played by Euan Morton), speaks directly to the audience, explaining that Mayor Francis Slay (we know him!) has allowed her to perform at the Peabody Opera House (that's where we are!) because a musical version of "The Hurt Locker" (cultural reference!) had both opened and closed there the night before.
Wait — is this improv? Will we need to recall this information later? Is Hedwig just going to tell us a story?
All becomes clear soon enough. The engaging production manages to pack a lot into just 90 minutes.
Hedwig, the victim of a botched gender-reassignment surgery she underwent in order to marry and flee East Germany, fronts a punk-rock band called the Angry Inch (a reference to that operation). She is aided onstage by current husband Yitzhak (played by Hannah Corneau), once a successful Jewish drag queen whom Hedwig now forbids to don a wig. The verbally abusive Hedwig fears his talent will outshine her own. It's not the healthiest relationship.
Performing at the adjoining venue, Hedwig explains, is her ex, Tommy Gnosis, who's made himself a star by playing songs the two wrote together. She occasionally opens a door at the rear of the stage, listening in to Tommy's performance. (Geographically, that would place Tommy at Scottrade Center; not too shabby.)
A recurring theme in Hedwig's story involves her search for her other half, beautifully illustrated in one of the show's best songs, "The Origin of Love." Digital projections wash over the stage, placing Hedwig inside a stunning, dreamlike world. Projections actually serve this show well throughout, enhancing rather than distracting.
"Wig in a Box" represents a turning point for Hedwig — and creates a lighter moment when a huge rack of bewigged heads (more expensive than your lobby cocktails, she quips) drops in from overhead, each bobbing along to the words, displayed above for a sing-along.
Morton, a Tony Award nominee ("Taboo"), commands the stage as Hedwig, who sports some fun, outlandish wigs and costumes, including a getup made of long, blond hair — she calls it her "Sarah Jessica parka."
Morton's own Scottish brogue works well for the character; he changes dialects when speaking as people from Hedwig's life.
Corneau, as Yitzhak, has a beautiful voice. She largely serves as backup but gets a few opportunities to shine.
Co-creators John Cameron Mitchell and Stephen Trask brought "Hedwig and the Angry Inch" to off-Broadway in 1998. It wasn't until 2014 that the show made it to Broadway, where it became a vehicle for stars such as Neil Patrick Harris and Taye Diggs.
Hedwig's story of love, acceptance and defying labels is a timeless one — and one that seems especially relevant today.
"Hedwig and the Angry Inch"
When • 8 p.m. Saturday, 1:30 and 6:30 p.m. Sunday
Where • Peabody Opera House, 1400 Market Street