John Adams (Robert Petkoff) wants independence for America, even if it means going to war with England. And in "1776," the entrancing musical running through Wednesday at the Muny, his advocacy for revolution has become something of an obsession.
Unfortunately, most of his colleagues in the Continental Congress don't share his enthusiasm.
In their opinion, Adams is at least as annoying as taxation without representation. But Benjamin Franklin (Adam Heller) empathizes with Adams while also counseling him to adapt to the situation.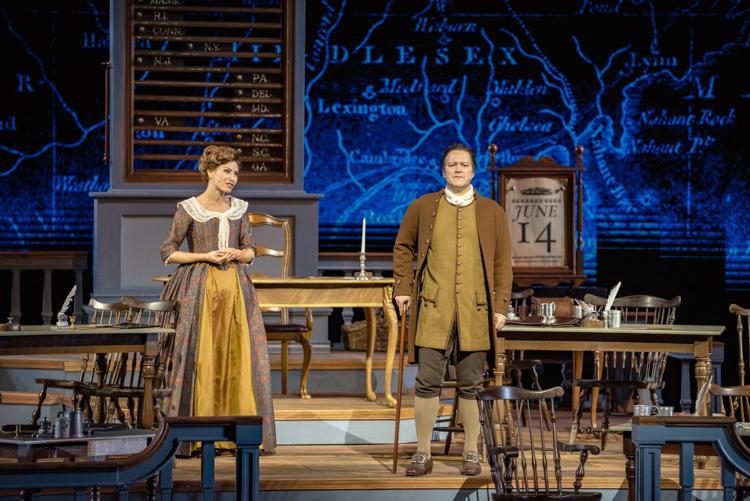 Enlisting Thomas Jefferson (Keith Hines) to lend his rhetorical gifts to the cause of independence, Adams makes progress — but not without painful compromise.
With music and lyrics by Sherman Edwards and a book by Peter Stone, "1776" is a stirring history lesson that might have special appeal for fans of "Hamilton."
Directed by Rob Ruggiero, who helmed the Muny's 2018 production of "Gypsy," the show persuasively evokes the drama that prompted America's transition from colony to nation.
The well-crafted songs — notably "Sit Down, John" and "Molasses to Rum" — are firmly in the Broadway tradition. But for long stretches, particularly in the first act, there are no songs at all. It's a credit to the show's conceptual strengths that this proves not to be a problem.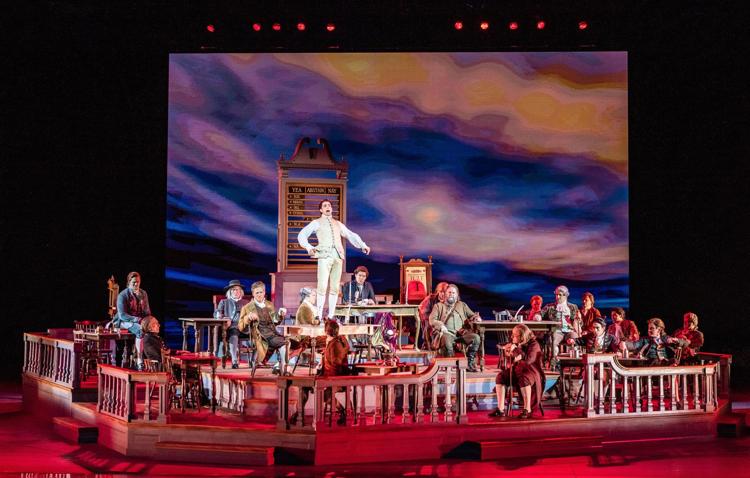 The cast is terrific. Petkoff captures the passion of the morally upright Adams, and Heller imbues Franklin with a droll pragmatism. Also impressive are Jenny Powers as Abigail Adams and Ali Ewoldt as Martha Jefferson.
The production benefits mightily from music direction by James Moore, choreography by Enrique Brown and scenic design — making extensive use of the Muny's new turntable — by Luke Cantarella.
"1776" debuted on Broadway in 1969, an eternity ago in terms of America's cultural dynamics. No doubt the musical's portrayal of privileged white men — some of them slaveholders — as political firebrands resonated quite differently than it does now. But in our turbulent times, the show remains a reminder that freedom is worth fighting for.