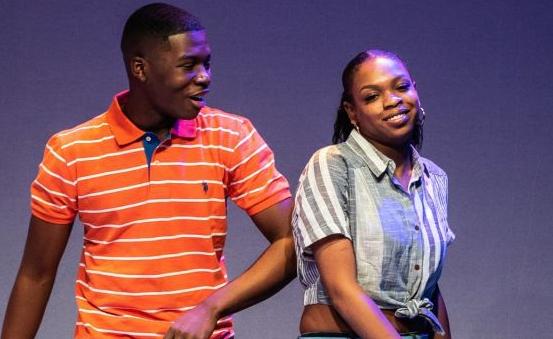 Annie (Brandi Threatt) is turning 16, but she's not sure she has much to celebrate. Her friends Talisha (Tyler White) and Margie (Camille Sharp) seem content to live in the moment, but Annie can't help but wonder if she's missing something. If only she knew what it was and how to get it.
Her dilemma is at the heart of playwright Kirsten Greenidge's "Milk Like Sugar," running through March 3 in a Black Rep production. Directed by Nicole Brewer, it's an intriguing portrait of working-class life in the tradition of Lorraine Hansberry's "A Raisin in the Sun" and John Osborne's "Look Back in Anger."
Annie takes comfort in the companionship of Talisha and Margie, but she's wary of joining them in a pregnancy pact. And she's not alone in thinking it's a bad idea. Her friend Malik (Dwayne McCowan), who takes delight in exploring the sky with a telescope, warns her that becoming an unwed mom could ruin her life. He also politely but firmly declines to impregnate her.
But at least Malik is supportive. Annie's mother, Myrna (Michelle Dillard), an office cleaner who once dreamed of fame as an author, can't hide her bitterness and disappointment. She blames her sad life on getting pregnant as a teenager, and Annie is a constant reminder of that mistake.
Can Annie resist peer pressure and make the most of her future? Or will the cycle of bad choices continue?
Brewer elicits deeply felt performances from the cast, which also includes Jillian Franks as Annie's new classmate and Brian McKinley as a tattoo artist. Threatt makes Annie sympathetic without sugarcoating her less admirable qualities. And McCowan lends a quiet soulfulness to Greenidge's poetic dialogue.
In a culture that all too frequently demonizes African-American youth, "Milk Like Sugar" is a much-needed and admirably nuanced response.
Stay up-to-date on what's happening
Receive the latest in local entertainment news in your inbox weekly!