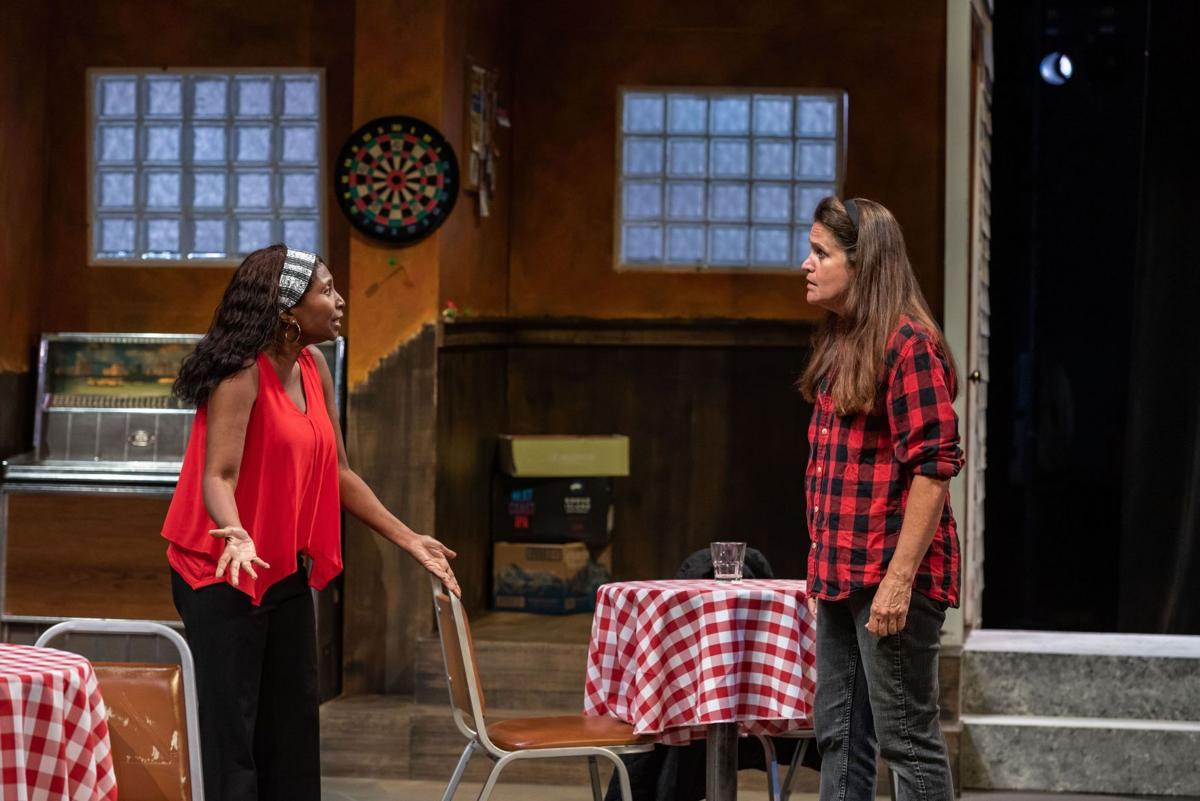 Economic uncertainty threatens longtime friendships in "Sweat," the powerful and poignant production that opens the 45th Black Rep season.
Founder and producing director Ron Himes directs the Pulitzer Prize-winning comedy-drama, which runs through Sept. 26.
Set mostly in a Rust Belt bar, Lynn Nottage's play raises complex questions regarding whether the American dream of middle-class comfort and security has become little more than a myth. Her focus is on factory workers who desperately want to believe that the dream endures.
Among them are Cynthia (Velma Austin) and Tracey (Amy Loui), who have spent years relaxing together in the bar but find themselves vying for a cushy promotion. Although Cynthia is Black and Tracey is white, race had never been an issue between them. But competition has a way of undermining even the strongest of relationships.
Those frequenting the bar also include habitually drunk co-worker Jessie (Kelly Howe) and Cynthia's belligerent and constantly broke ex-husband, Brucie (A.C. Smith). Looking on is bartender Stan (Blake Anthony Edwards), who laments the old days when unions had the clout necessary to protect workers from the take-it-or-leave-it tactics of management.
Nottage frames "Sweat" as a mystery involving Cynthia's son Chris (Brian McKinley) and Tracey's son Jason (Franklin Killian), who have been released after spending time behind bars. Their crime — motivated by frustration, fear and rage — is at the heart of the play's startling climax and astonishing conclusion.
But it's the relationship between Cynthia and Tracey that grounds the story, and Austin and Loui capture its shifting dynamics with pinpoint precision. Particularly effective is a scene in which Tracey warmly recalls an off-the-wall experience the women shared — only to hold onto her increasingly uncontrollable resentment.
Edwards and Smith bring to their roles a roughhewn authenticity, Howe makes for a lovable drunk, and McKinley and Killian are wholly believable as buddies who nonetheless have issues with each other. The excellent cast also includes Gregory Almanza and Don McClendon.
Himes paces the play confidently, deftly negotiating its conversational rhythms and immersing us in its workaday world. That just makes the shattering of that world all the more devastating. And the meticulous set design by Tim Jones persuasively positions the bar as a retreat from the realities of factory life.
"Sweat" is a bit schematic and somewhat repetitious in addressing the nature of a cutthroat economy. But Nottage has rare insight into characters whose humor comes across as a vital coping mechanism and whose pain reflects opportunities lost or never extended.
Ultimately, this is a memorable and moving play about Americans struggling to hang onto what they have, but for whom the game has irreparably changed.