In the era of social media, why are so many people lonelier than ever? And what does it take to make a genuine human connection?
"Dear Evan Hansen," the captivating and Tony Award-winning musical running through Nov. 3 at the Fox Theatre, presumes that its audience has considered — or at least acknowledged the relevance of — just such questions. The title character is a nerdy teenager (Stephen Christopher Anthony) who's been encouraged to write letters to himself, with the goal of becoming more hopeful about life.
But when one of those letters falls into the wrong hands, Evan is forced to spend a lot less time in his room. On the plus side, he gets closer than he thought possible to Zoe (Stephanie La Rochelle), a girl with whom he's been infatuated. Unfortunately, she's not in the mood for a relationship: Her brother, Connor (Noah Kieserman), has just committed suicide.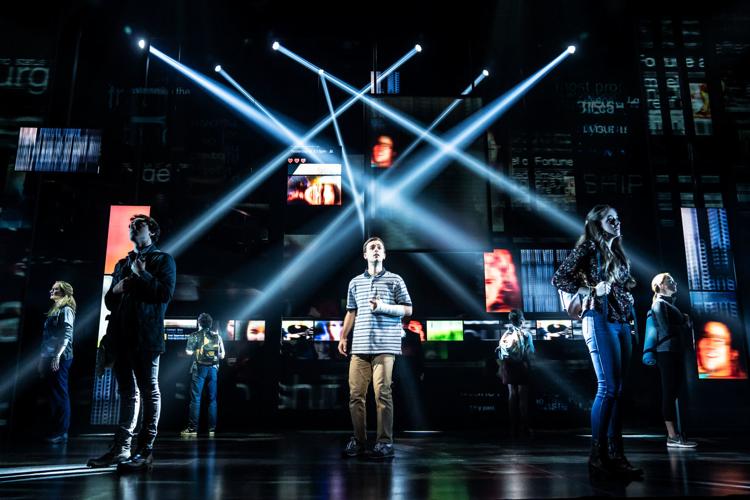 Sorting out his relationship with Zoe is the least of Evan's problems. His mom, Heidi (Jessica E. Sherman), isn't always there when he needs her. And he's keeping a terrible secret.
Directed by Michael Greif ("Rent"), "Dear Evan Hansen" is very much a contemporary musical. The songs by Benj Pasek and St. Louis native Justin Paul are imbued with a pop sheen, and Steven Levenson delivers a book that's virtually cinematic in its storytelling.
Accordingly, Greif approaches the stage as if it's a screen, with scenic designer David Korins and projection designer Peter Nigrini contributing top-notch work. And the cast is excellent.
Anthony brilliantly traces Evan's transition from self-pity to self-confidence. Kieserman brings surprising subtlety and nuance to the cliché of the rebellious teen. And Sherman is terrific as the overbearing but neglectful Heidi, particularly in a scene in which she and Evan finally have it out.
Occasionally, the show resorts to crude humor that it really doesn't need. And the class differences between the well-to-do Zoe and the just-getting-by Evan might have been explored in greater detail.
But overall, "Dear Evan Hansen" is an engaging and insightful musical that has a lot to say about the way we live now.