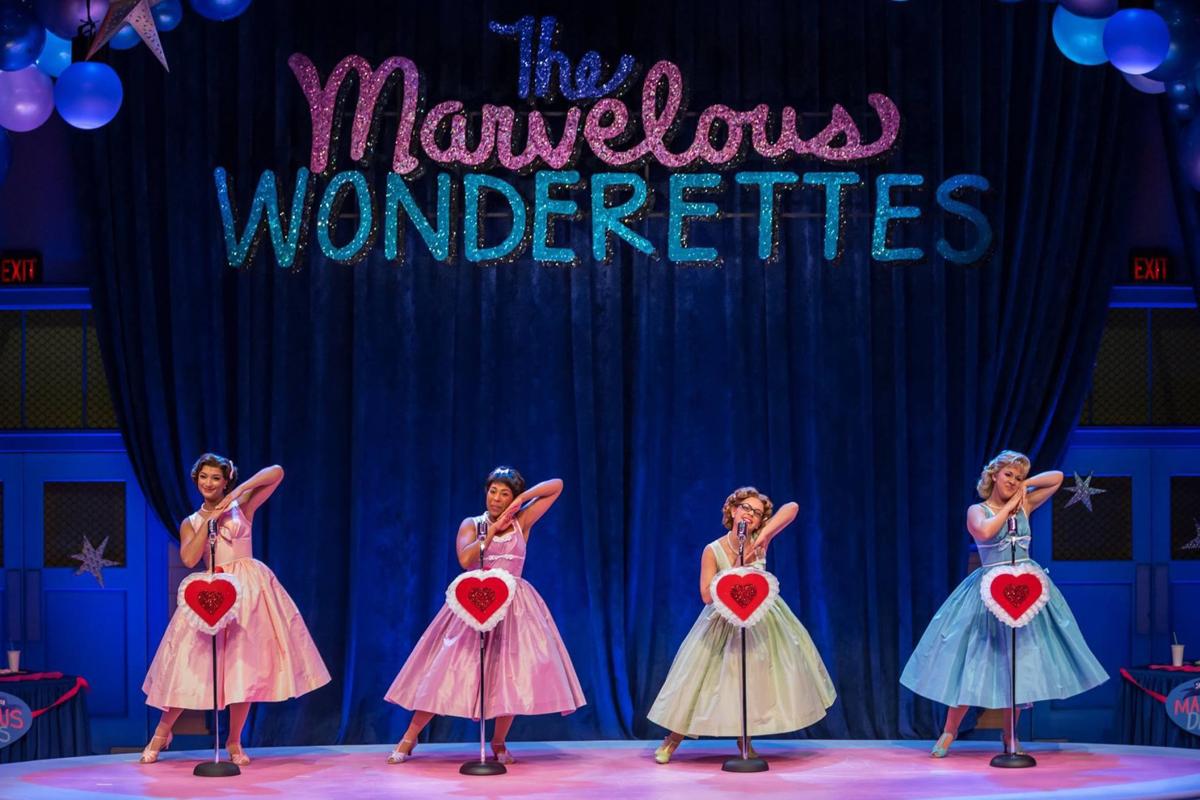 Cuteness is not a quality we usually associate with the Rep, or with exciting theater anyplace. But if you're looking for a break from day-to-day worries, just a pleasant evening out, "Wonderettes" is a lot prettier than an action movie. And its score of radio hits from the 1950s and '60s will awaken memories for theatergoers of a certain age.
Because this is the Rep, it's no surprise that the show is polished to a high shine. The four performers, all making their Rep debuts, are terrific singers and fine physical comedians. The director/choreographer, Melissa Rain Anderson, gives them plenty of opportunity to tickle funny bones, occasionally with a little help from members of the audience.
Morgan Kirner is especially charming as an earnest goody-goody nursing a secret crush, but there's lots more good humor from Leeanne Smith as dumb bunny Suzy, Chiara Trentalange as a beauty who knows it and Iris Beaumier as her best friend and rival.
Music director Joshua Zecher-Ross gets all the right effects from the band, situated backstage; scenic designer Adam Koch makes the most of colorful balloons and confetti, and costume designer Dorothy Marshall Englis came up with two perky sets of period-perfect outfits.
Created and written by Roger Bean about 15 years ago, "Wonderettes" has been produced widely (though apparently never before in St. Louis). The Rep has done shows along the same lines before — for example, "Beehive" and "Million Dollar Quartet."
But "Million Dollar Quartet" is "Hamlet" compared to "Wonderettes." Here is the entire plot: In the first act, the four girls, all "song leaders" at Springfield High School, are called on as last-minute replacements to entertain at the 1958 senior prom. In the second act, they're back at the gym for their 10th reunion. As they entertain again, they tell us a little (very little) about their current lives.
That's it, and if any questions cross your mind, they will go unanswered. But why should we think any harder about the show than Bean and/or Anderson did? Really, "Wonderettes" is just an excuse to celebrate the girl-group sound of years gone by.
Unfortunately, there's not that much to celebrate here. Packed with such insipid numbers as "Lollipop," "Mr. Sandman" and "Sincerely," "Wonderettes" shows that not all pop culture needs to be revived.
There are stronger entries, of course. Kirner rocks out in "Mr. Lee," and Beaumier invests the cheery "I Only Want To Be With You" with a hint of genuine longing. Trentalange's "Son of a Preacher Man" and Smith's "Respect" are also standouts — although it's odd to hear "Respect" performed with the emphasis on "little" in the refrain, "just a little bit." Ditsy though she may be, doesn't Suzy deserve a full measure of respect, too?