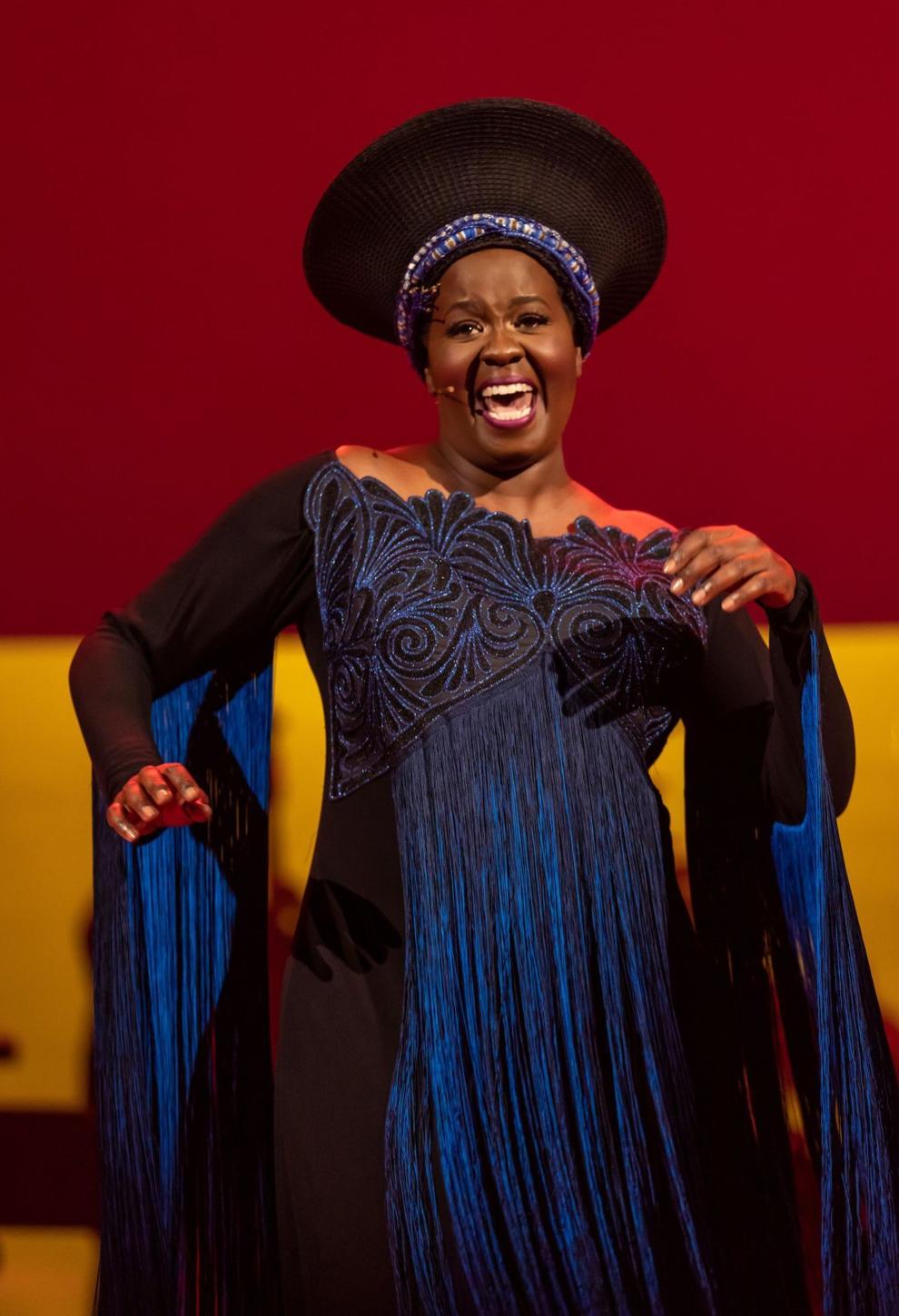 "Dreaming Zenzile," the exhilarating production that opens the Repertory Theatre of St. Louis season and runs through Oct. 3, raises the question: Is it a musical or a play with music?
Which immediately brings to mind another question: Does it matter?
Rising jazz and world-music vocalist Somi Kakoma stars in and wrote the show, which is a tribute to legendary South African singer and anti-apartheid activist Miriam Makeba and features songs that trace her life and career. Directed by Lileana Blain-Cruz, the production was originally scheduled for 2020 but had to be postponed because of the COVID-19 pandemic.
The show is framed around a concert that Makeba gave in Italy in 2008, just before her death at age 76. Through scenes from Makeba's life on and offstage, Kakoma delivers a portrait of a woman whose artistry and humanity were beautifully linked. Along the way, we learn of such game-changing details as Makeba's teenage pregnancy and her exile from South Africa.
But "Dreaming Zenzile" also has its lighter moments. Particularly amusing is a section involving Makeba's love of American jazz, including snippets of such tunes as "Till There Was You," "It Don't Mean a Thing (If It Ain't Got That Swing)" and "Moonlight in Vermont." And her romance with, and subsequent marriage to, Black Panther leader Stokely Carmichael is depicted as pure bliss — even as it led to her being blacklisted in America.
Kakoma, who is known for her dynamic and distinctive stage presence, disappears into the role of Makeba. It's a revelatory performance that honors the South African artist's status as a figure of global significance and enduring cultural relevance.
Makeba sings in English and several African languages, and much of "Dreaming Zenzile" reflects her linguistic diversity. Still, a considerable stretch of the first act might have benefited from supertitles, as the lack of English translation renders that section of the show a bit difficult to follow. But no such issues impact the second act.
Is it a musical? Not in the traditional sense. But it's not just a play with music. Stylistically, "Dreaming Zenzile" is reminiscent of playwright Ntozake Shange's classic choreopoem, "for colored girls who have considered suicide/when the rainbow is enuf."
Blain-Cruz keeps things moving with precision and grace, conjuring an atmosphere in which movement and music complement each other compellingly. And she elicits splendid, energetic performances from a cast that also includes Aaron Marcellus, Naledi Masilo, Plumzile Sojola and Phindi Wilson. Choreographer Marjani Forté-Saunders is perfectly in sync with Blain-Cruz's directorial vision. And the jazz combo featuring guitarist Hervé Samb, pianist Toru Dodo, bassist Pathé Jassi and drummer Sheldon Thwaites is a treat in itself.