"Hello, Dolly!" is indisputably among the great American musical comedies. But can the old girl be showing her age? That's the question hovering over the production running through Oct. 13 at the Fox Theatre.
The national tour of the recent Broadway revival is spiritedly performed and impressively mounted, and audiences are virtually guaranteed to be pleased with the experience.
But the show with a book by Michael Stewart and music and lyrics by Jerry Herman, and based on a Thornton Wilder story, teeters between being endearingly old-fashioned and woefully dated.
Dolly Gallagher Levi (Carolee Carmello) is an iconic theatrical figure who has been portrayed by everyone from Carol Channing to, in the 2017 revival, Bette Midler.
Perhaps because Dolly is a woman of a certain age with a matronly demeanor, it's often overlooked that she's not just a mischievous matchmaker but, frankly, a con artist. And her latest mark is Horace Vandergelder (John Bolton), a "half-a-millionaire" whom she has taken on as a client but secretly intends to marry.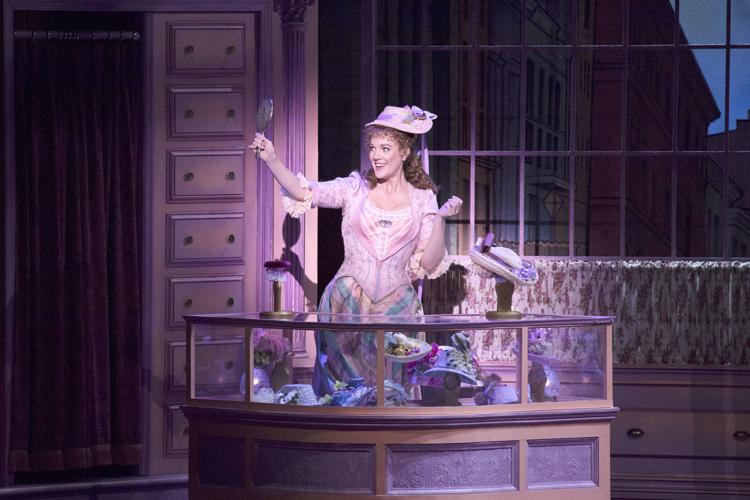 In a subplot, Vandergelder's employees, Cornelius Hackl (Daniel Beeman) and Barnaby Tucker (Sean Burns), stumble into romance with widowed milliner Irene Molloy (Analisa Leaming) and her assistant, Minnie Fay (Chelsea Cree Groen), respectively. Although in this production, Cornelius and Barnaby seem to have more chemistry with each other than with the women they're supposedly pursuing.
The best thing about the show is its score, which is eminently hummable and in no way aspires to the harmonic complexity of Stephen Sondheim. Even the most die-hard curmudgeon would be hard pressed to resist the charms of "Put on Your Sunday Clothes," "It Only Takes a Moment" and "Elegance." But in the #MeToo era, "It Takes a Woman" comes across as a fossil dug up by a guy who can't get a date.
Director Jerry Zaks delivers the kind of spectacle that theatergoers expect from musicals, although at times he crosses the line between energetic and frenetic. And Warren Carlyle's choreography occasionally blows right past exhilarating to arrive at exhausting.
The phrase we're looking for is "too much of a muchness" — which, fortunately, does not apply to the performances. Carmello is an engaging Dolly, exuding enough homespun charm to make up for what she lacks in brassiness. Bolton is terrifically charismatic as the no-nonsense Vandergelder. And Leaming turns in a beautiful rendition of "Ribbons Down My Back."
The ensemble includes St. Louis natives Madison Johnson and Julie Kavanaugh.
"Hello, Dolly!" debuted on Broadway in 1964, which is practically an eternity ago. Since then, cultural sensibilities have significantly changed, and what seemed sassy and fresh 55 years ago doesn't play quite as well.
The role of Dolly was ideal for Midler, whose very presence no doubt raised the show's hipness quotient. On its own terms, "Hello, Dolly!" offers nothing less than a good time — which, these days, is something to be celebrated.