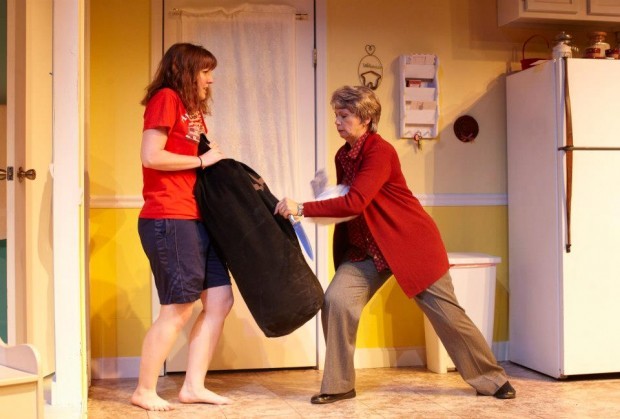 Frustrated by children who have grown up despite her best efforts, Margie, the mother in EM Lewis' "Goodbye, Ruby Tuesday," tries to explain things in a way they will understand. "Change," she informs them, "is bad."
If we didn't all feel that way sometimes, why would anyone ever feel obliged to insist that "change is good"?
Margie (Peggy Billo, in a witty performance) is prepared to back up her point. She hides the duffel bag that her daughter Lynn (Nicole Angeli) has packed to keep her from leaving town; she flings a wall clock out the kitchen window. Ostensibly, she's trying to make Lynn miss the bus that will take her to a job in Alaska, working on a commercial fishing boat; obviously, she's trying to stop time in its tracks. The impulse is as easy to understand as it is hopeless.
Lynn's peculiar ambition also distresses her devoted brother Kelly (Charlie Barron) and her angry husband (Eric White). Her befuddled father (Joe Hanrahan) offers to take her fishing himself, if that's what she wants to do. Only Kelly's boyfriend (Rusty Gunther) seems to appreciate that Lynn, deeply unhappy, needs to leave whether or not she can explain herself.
Running only about 70 minutes, the play is so short that Lynn doesn't have much chance to explain herself anyhow. Lewis, who won HotCity Theatre's new play contest with "Ruby Tuesday," has fashioned an odd amalgam, with the look and tenor of a domestic comedy layered on top of the emotional mysteries and unspoken threats of a Harold Pinter drama. That's an uneasy combination, one that Lewis might resolve one way or the other with further rewrites.
But Bill Whitaker, who directs this world-premiere production, does make a choice, a good one. He pushes the cast toward comedy, as though familial stresses could all be resolved by the time the curtain comes down. Of course, the Kranzberg stage doesn't have a curtain. Maybe that's the play's final joke.
---
Where • Kranzberg Arts Center, 501 North Grand Boulevard
How much • $20-$25; $15 for student rush