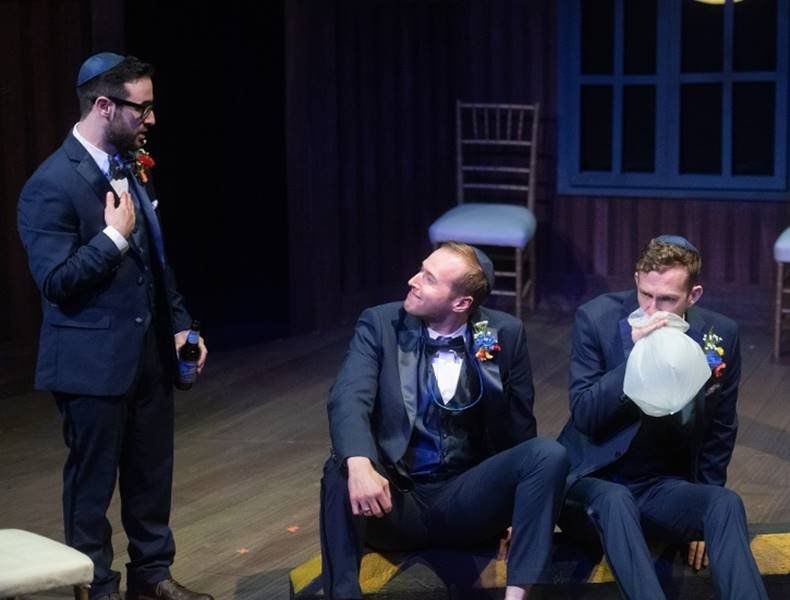 Is anyone really comfortable at a wedding? Probably not — least of all the couple exchanging I do's. Uncertainty hangs in the air, along with unspoken questions. How long will the marriage last? And what possessed these two to commit to each other in the first place?
"I Now Pronounce," running through June 2 in a New Jewish Theatre production, puts the audience in the position of being guests at a wedding that goes disastrously wrong. Directed by Edward Coffield, the play by Tasha Gordon-Solmon is a comedy of discomfort in which none of the characters can quite manage to calm down for long.
An unexpected death prompts the betrothed couple — Adam (Graham Emmons) and Nicole (Jessica Kaddish) — to reassess their relationship, even as their friends take stock of their own romantic attachments.
Nicole's bridesmaids Eva (Frankie Ferrari) and Michelle (Delaney Piggins) do their part to console her. On the other side of the gender gap, Adam's pals Dave (Will Bonfiglio) and Seth (Ryan Lawson-Maeske) share his insecurities about marriage.
Gordon-Solmon has a sure grasp of the kind of humor that can emerge from anxiety. And Coffield keeps things moving at a sprightly pace while eliciting spot-on performances.
Emmons brings to Adam a comic sensibility 180 degrees away from his turn as John Proctor in Stray Dog Theatre's production of "The Crucible." As Nicole, Kaddish is a scalpel-precise portrait of unbridled craziness. Lawson-Maeske, recently seen in the St. Louis Actors' Studio productions "Tribes" and "The Little Foxes," is a standout as Seth.
"I Now Pronounce" premiered at the 2017 Humana Festival of New American Plays. Although it's short enough to be presented without an intermission, the play might benefit from a bit of judicious editing. But one thing's for sure: It's much more fun than being stuck at a real wedding.
Stay up-to-date on what's happening
Receive the latest in local entertainment news in your inbox weekly!