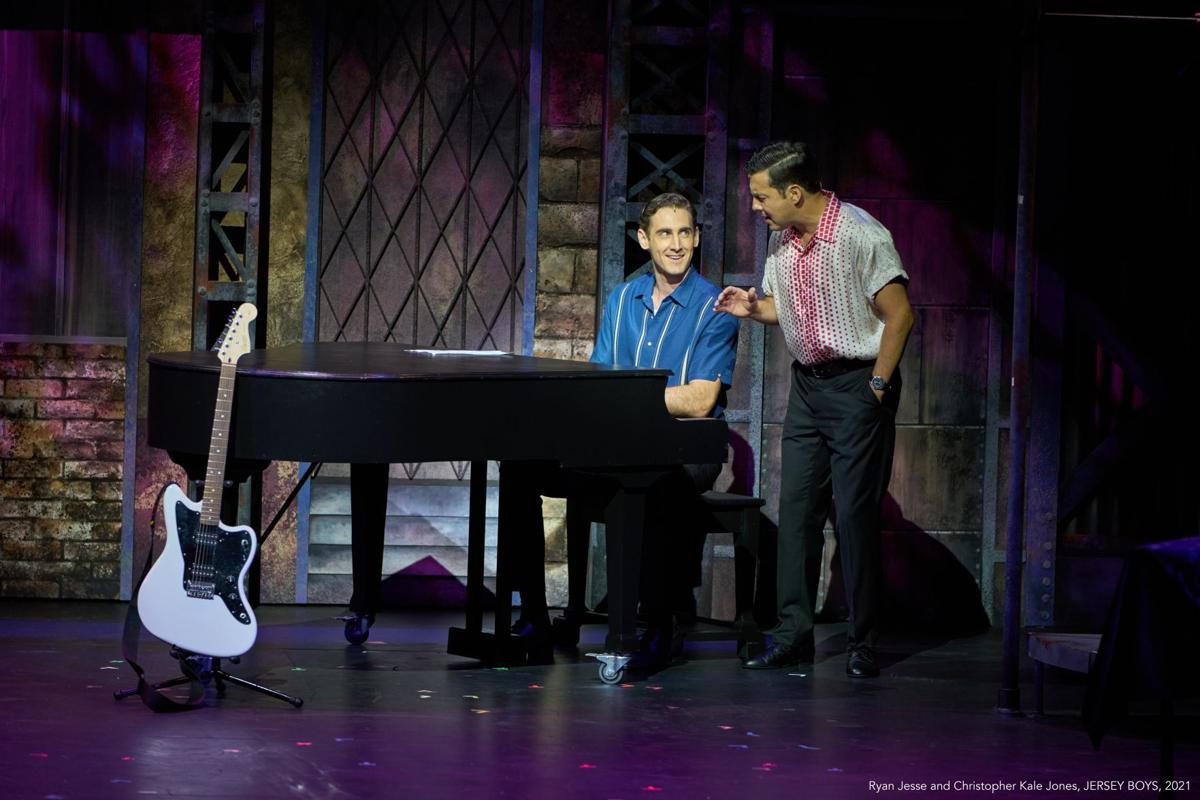 "Jersey Boys" might not excite theatergoers who think they've had enough of jukebox musicals and are nostalgic for the old days when musicals actually showcased new music. But skipping the Stages St. Louis production running through Oct. 24 would be a big mistake. It's simply a terrific show, boasting strong performances and a headlong energy that's nothing short of exhilarating.
Directed by Stages artistic director Michael Hamilton, the story of Frankie Valli and the Four Seasons is one for the ages. Folks who can't place their name have likely heard some of their hits anyway, which included "Sherry," "Big Girls Don't Cry" and "Walk Like a Man." Back in the 1960s and '70s, such irresistibly catchy songs were just what people wanted to hear.
But the guys who sang them — at least, according to the book by Marshall Brickman and Rick Elice — were every bit as compelling. Valli (Christopher Kale Jones) was just a kid with a spellbinding vocal gift when singer and smalltime crook Tommy DeVito (Brent Michael DiRoma) recognized his talent and took him under his wing.
DeVito had big dreams, and he sensed that Valli, who changed his name from Castelluccio, might be his ticket out of New Jersey. With the help of two other Jersey guys — Nick Massi (Jason Michael Evans) and Bob Gaudio (Ryan Jesse) — he proved to be right. And it wasn't long before the Four Seasons scored radio and stage success.
But as in quite a few showbiz stories, it was also only a matter of time before things became unfortunately complicated.
In a show that succeeds or fails according to how wholeheartedly the performers embrace their characters, this production of "Jersey Boys" excels. With music by Gaudio and lyrics by Bob Crewe, it's the kind of experience — by turns rollicking and romantic — that only live theater can deliver.
Jones gets deep inside the skin of Valli, who is so committed to his art that he neglects his personal life. DiRoma is hugely entertaining as the rough-and-tumble DeVito, for whom time spent in jail is merely an inconvenience. Jesse lends a brainy charm to Gaudio, and Evans makes the most of Massi's comic exasperation.
Hamilton maintains an engaging balance between the humorous and the heartfelt. And the show greatly benefits from James Wolk's scenic design, which persuasively evokes life on and off the road, and Sean M. Savoie's lighting, which is richly atmospheric.
Unlike some jukebox musicals, "Jersey Boys" doesn't come across as merely a concert in disguise. The songs not only help to advance the story but also provide insight into character. And more importantly, they're a whole lot of fun.
Even if you've already seen "Jersey Boys," this production is unmissable.