As the only woman in a California gold-rush mining camp during the first act of "Paint Your Wagon" — the exhilarating musical running through Friday at the Muny — Cayla Woodling (Mamie Parris) gets a lot of attention. Men can't help but stare, and she can't help but be flattered. Her upbeat demeanor is all the more admirable considering that her husband, Craig (Michael James Reed), beats her at home.
Fed up with the abuse, Cayla wouldn't mind hitching her fortunes to a better man. And she finds one in Ben Rumson (Matt Bogart), whose can-do attitude obscures a painful past. With his new business partner, Armando (Omar Lopez-Cepero), Ben has big plans. But his vision of a city where everyone can live free, regardless of their background, proves to have tragic repercussions.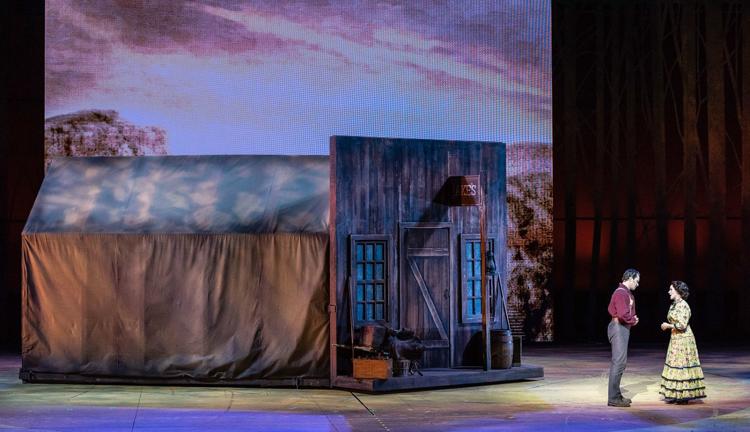 Musical is set in 19th century California. 
With a book and lyrics by Alan Jay Lerner and music by Frederick Loewe, "Paint Your Wagon" has spent most of its existence as the show best known for inspiring a 1969 film in which Clint Eastwood sings. But with a new book by Jon Marans, this ambitious and thoughtful musical is a highlight of the Muny season.
Director and choreographer Josh Rhodes elicits fine performances — particularly from Parris and Bogart, whose romantic chemistry just about glows, and Lopez-Cepero, who exudes charisma as Ben's right-hand man. And the songs — among them "I Talk to the Trees," "Wand'rin' Star" and, of course, "They Call the Wind Maria" — are terrific.
It's tempting to speculate that "Paint Your Wagon" is Lerner & Loewe's answer to Rodgers & Hammerstein's "Oklahoma!" Both shows involve life on the American frontier and address the need for — and the challenges of establishing and maintaining — a sense of community.
While "Oklahoma!" has long since been recognized as a classic, in its present form, "Paint Your Wagon" is more than worthy of critical re-evaluation. And this Muny production is pure gold.