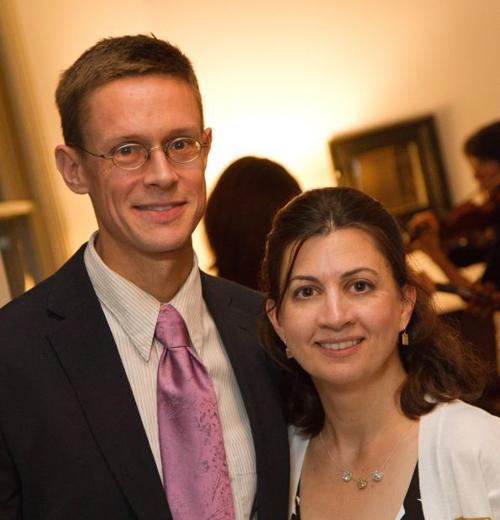 The young Missouri Chamber Music Festival, which concluded its fourth season on Sunday afternoon, has found a nice rhythm for its offerings.
This year, they included a morning coffee concert, a 5 p.m. commuter concert and an early-start evening performance, all at a handy suburban venue, with a pair of important chamber works at the Sheldon Concert Hall to close out the season. The performers include a good mix of fine players from the St. Louis Symphony Orchestra and top-notch out-of-towners.
Saturday evening at First Congregational Church of Webster Groves, the Festival offered a relatively brief program of varied chamber fare, with its married co-founders/co-directors both taking important musical roles.
It began with Robert Schumann's "Märchenerzählungen (Fairy Tales)" for clarinet, viola, and piano, op. 132, performed by co-founder Scott Andrews, principal clarinet of the SLSO, with violist Amadi Azikiwe and pianist Hugh Hinton.
Despite a few rough spots, it was a satisfying reading. Andrews played with beautiful tone throughout. Azikiwe seemed to have some technical difficulties with his instrument, with notably rough tones early on that were largely cleared up after a few moments' adjustments. Hinton's work was new to me, but he's clearly a rock-solid and experienced performer.
The three of them offered good ensemble work, particularly in the lyrical third movement, and provided a strong finish. They had to cope with a cellphone's clarion flood warnings, but the noise didn't harm the high quality of their music-making.
Hinton returned for the second work, the original piano four-hands duet version of Maurice Ravel's "Ma mère l'oye (Mother Goose)," taking the north end of the keyboard while co-founder Nina Ferrigno took the south end.
The first episode, "Pavane de la Belle au Bois Dormant (Pavane of Sleeping Beauty)" seemed a little stilted, but the pair soon hit their stride (and took further weather alarms in their stride as well), in a well-coordinated, enjoyable reading that made the most of Ravel's colorful, imaginative score.
The second half contained just one work, but it was a major one. Johannes Brahms wrote his "Piano Quartet in C minor," op. 60, as a young man torn between concern for his friend Robert Schumann, and a passionate love for Schumann's wife, Clara. He later revised it, but the youthful tumult remains in the score.
A fine group of players — violinist Maria Schleuning, Azikiwe (with no more roughness to his tone), cellist Kurt Baldwin and Hinton, the MVP for this particular concert — took a sensitive, well-considered journey, from the quiet, suspenseful opening through the dramatic conclusion.