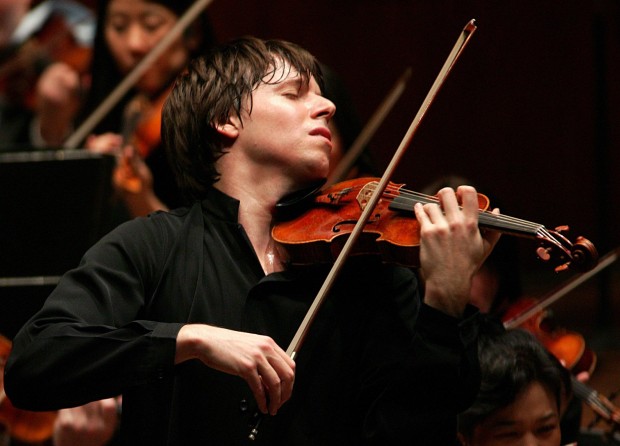 Take one engaging, dynamic conductor; blend with a popular, passionate soloist. Stir with a selection of late Romantic music focused on depictions of nature, perform at a top-notch level and then accept accolades.
The St. Louis Symphony Orchestra came up with a practically perfect recipe for a concert for Thanksgiving weekend, a program calculated to appeal to a wide range of listeners. There were no turkeys to be found on Friday night at Powell Symphony Hall.
Music director David Robertson did his usual thoughtful job of programming pieces that worked together and complemented each other. He chose the two best-known of the six brief symphonic poems from Bedrich Smetana's "Má vlast (My homeland)" to open and close, "Vysehrad (The High Castle)" to start, and "Vltava (The Moldau)" to end the concert.
In between came Jean Sibelius' Violin Concerto in D minor, Antonin Dvorák's "In Nature's Realm" and "Lintukoto (Isle of Bliss)" by Einojuhani Rautavaara (b. 1928). It was a rich and appealing selection of works, with a contemporary piece that fit nicely with its 19th-century predecessors. He launched into each composition as soon as he reached the podium, lending an air of urgency to the proceedings, and danced in place on the podium as he conducted.
Robertson has a tendency toward zippy tempos, and "Vysehrad" fit that mold. It begins, famously, with a pair of harps, gently adds other instruments, and builds an imposing depiction of the palace in Prague. "Vltava" is a perfect little tone poem, taking the river through vividly described countryside with a majestic sweep.
Joshua Bell is one of the world's finest violin soloists, both technically and interpretively accomplished, and he invested the mighty Sibelius with intensity and a sense of spontaneity. Still boyish at 45, he faces the orchestra to listen when he's not playing, dancing in place and rocking back and forth on the balls of his feet when he is, digging into the music and offering the gold he finds there to his listeners.
He and Robertson work very well together; the performance came across as a complete collaboration. Robertson and the orchestra played with a rich, dark sound that matched the soloist's, for a masterful and crowd-pleasing reading of a powerful work, one of the greatest concertos in the canon.
Not surprisingly, there was spontaneous applause at the end of the first movement, given a performance which almost demanded it, with cries of "Bravo" and multiple curtain calls at the concerto's conclusion.
The Dvorák begins with forest murmurs and bird calls, whereupon nature becomes a little more forceful. It's a charming work, but never sticky, and very enjoyable. The Rautavaara is lovely, an effective neo-Romantic composition that proved an ideal match for Dvorák.
The orchestra was in top form for all of it, whether playing en masse in seeming telepathic communication with Robertson, accompanying Bell and stepping out in brief solos of their own. This is an ensemble that always gives of its best. Principal trumpet Karin Bliznik got to demonstrate her abilities several times, notably in a lyrical, beautifully written solo in the Rautavaara.
David Robertson, Joshua Bell and the St. Louis Symphony Orchestra
Where • Powell Symphony Hall, 718 North Grand Boulevard