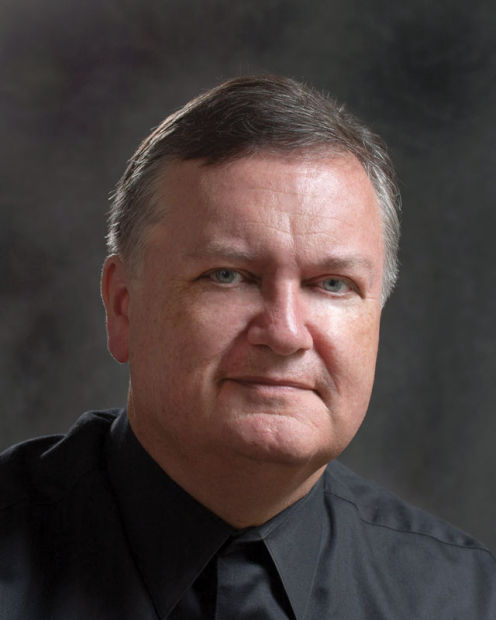 Too few people at this end of the Americas are acquainted with the classical music of Latin America. That's a shame, because there are many treasures to be found in that part of the world, from 400-year-old choral masterworks to modern orchestral compositions. They deserve a hearing.
Happily, Philip Barnes and the St. Louis Chamber Chorus are on it, at least the choral side. The second concert in the choir's 2014-15 season, heard Sunday afternoon at St. Cecilia's Catholic Church on the city's south side, combined works from the Mexican Renaissance with a Mass setting by the great Brazilian composer Heitor Villa-Lobos.
St. Cecilia's is the official Hispanic parish of the Roman Catholic Archdiocese of St. Louis, and Masses in Spanish outnumber those in English. That made the church, with beautiful mosaics (and a rather startling life-size statue of the martyred patron saint), and with a terrific acoustic, an especially appropriate venue for the concert.
The program opened and closed with music by Juan Gutierrez de Padilla (1590-1664), a native of Málaga, Spain, who was made maestro de capilla at the cathedral in Puebla, Mexico, in 1628. His oeuvre was represented in this concert by one piece after another of glorious polyphony, most of it composed for double choir, and all of it well sung and expertly conducted.
For most of the audience, the first piece, "Deus in adjutorium meum intende (O God, reach forth to my aid)," was their introduction to Padilla, and it was a brilliant one. So was "Exsultate iusti (Rejoice, ye righteous)," which is, as Barnes noted, "an exercise in vocal fanfares."
An example of the villancico, a form that originated as folk song in the Renaissance and ended as art song, was "Las estrellas se ríen (The stars are laughing)," a cheerily inventive piece. It was expertly led by assistant conductor Orin Johnson.
Barnes saved Padilla's biggest piece for last, "Mirabilia testamonia tua (Wonderful are thy testimonies)," gorgeous, rich writing that was gloriously sung.
Padilla was contrasted with the eclectic muse of Villa-Lobos, who incorporated indigenous and Afro-Brazilian into his music. His "Missa São Sebastião," its movements named for different attributes of the patron saint of Rio de Janeiro, is an audibly tricky piece for the singers.
It's interesting, varied music, and it got mostly good singing. The low point was the oddly morose Sanctus, which suffered from some bad attacks by one very audible tenor.
Barnes slipped in a pair of additional composers. The first was the Australian Clare Maclean, in a second hearing of her 2010 commission for the choir, "Slow Gold." A mix of complementary texts (Psalm 23, John Bunyan, Emily Dickinson) and music (Appalachian melody, shape-note singing, bird song), it's a lovely piece. Johnson led it skillfully; a couple of sopranos had high-note issues.