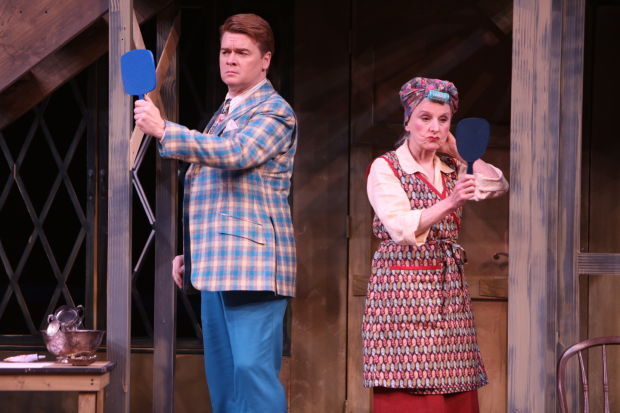 People in theater like to say there are no stars, that every production is fundamentally an ensemble effort.
Once in a while, they mean it.
Written by Michael Frayn and directed by Edward Stern, this backstage comedy brings out the best in both performers and designers. Of course, it's all in the timing.
The first act of "Noises Off" provides a peek at dress rehearsal for "Nothing On," a bedroom farce about to head out on a tour of small towns in Britain. But things are not going well. As the actors deal with secret romances, hidden bottles and spontaneous nosebleeds, there seems very little chance that their show will be ready to open in hours, let alone hit the road.
In Act Two, we catch up with them on tour. The first scene — which may be the funniest scene ever at the Rep — delivers a moment-by-moment counterpoint between backstage high jinks, which we witness firsthand, and the disaster we hear transpiring on "front stage" (which we can't see). Set designer James Wolk's set is on a turntable, and both sides look great.
This physical comedy plays like a ballet — or at least, what ballet would be if Benny Hill and Sir Frederick Ashton traded places. By the last scene, we find the company giving its final performance — and their situation has not improved.
Everybody contributes a bright character and goofy physical comedy to this group effort. John Scherer (who starred in the Rep's last big comedy, "The Foreigner," also directed by Stern) plays an inarticulate leading man, and Dale Hodges and Joneal Joplin play a pair of veteran actors whose years have not endowed them with effortless style.
We also have Ruth Pferdehirt as a pretty blonde running around in her undies, Andy Prosky as the nosebleeder, Victoria Adams-Zischke as a motherly actress trying vainly to keep control and Rebecca Miller and Kevin Sebastian as the exhausted crew. Fletcher McTaggart plays the frustrated director. He gets all the four-letter words and is entitled to them.
Singly, each one is a treat; together, they're a comedic juggernaut. Besides the estimable Wolk, costume designer Elizabeth Covey, sound designer Rusty Wandall and lighting designer Peter E. Sargent join forces to help us stay focused. On opening night, their combined efforts, on stage and off, left the audience screaming with laughter.
If you go, make sure to read your whole program, where you'll find a fake program for "Nothing On." Alas, no author is credited, but somebody deserves a hand for the delicious "bios" — plus an "essay" on bedroom farce that observes that "the fall or loss of trousers ... can be readily recognised as an allusion to the Fall of Man." Bedroom farce and literary farce in a single evening? It's heaven. {&rule}'Noises Off'
Where • Browning Mainstage, Loretto-Hilton Center, 130 Edgar Road