Instead of disrupting the drama, this ringing phone started it. Opera Theatre of St. Louis opened its production of Francis Poulenc's "La Voix Humaine (The Human Voice)" on Saturday night, a one-woman tour-de-force in which the audience eavesdrops on one side of the final phone conversation between soon-to-be ex-lovers.
Soprano Patricia Racette, who plays the "main" character, Elle, and also serves as stage director, could be praised for her stamina alone, but she also gave a masterful musical performance and a moving dramatic one. And collaborative pianist Sunny Yoon provided a sympathetic reading of the score reworked for (digital) piano.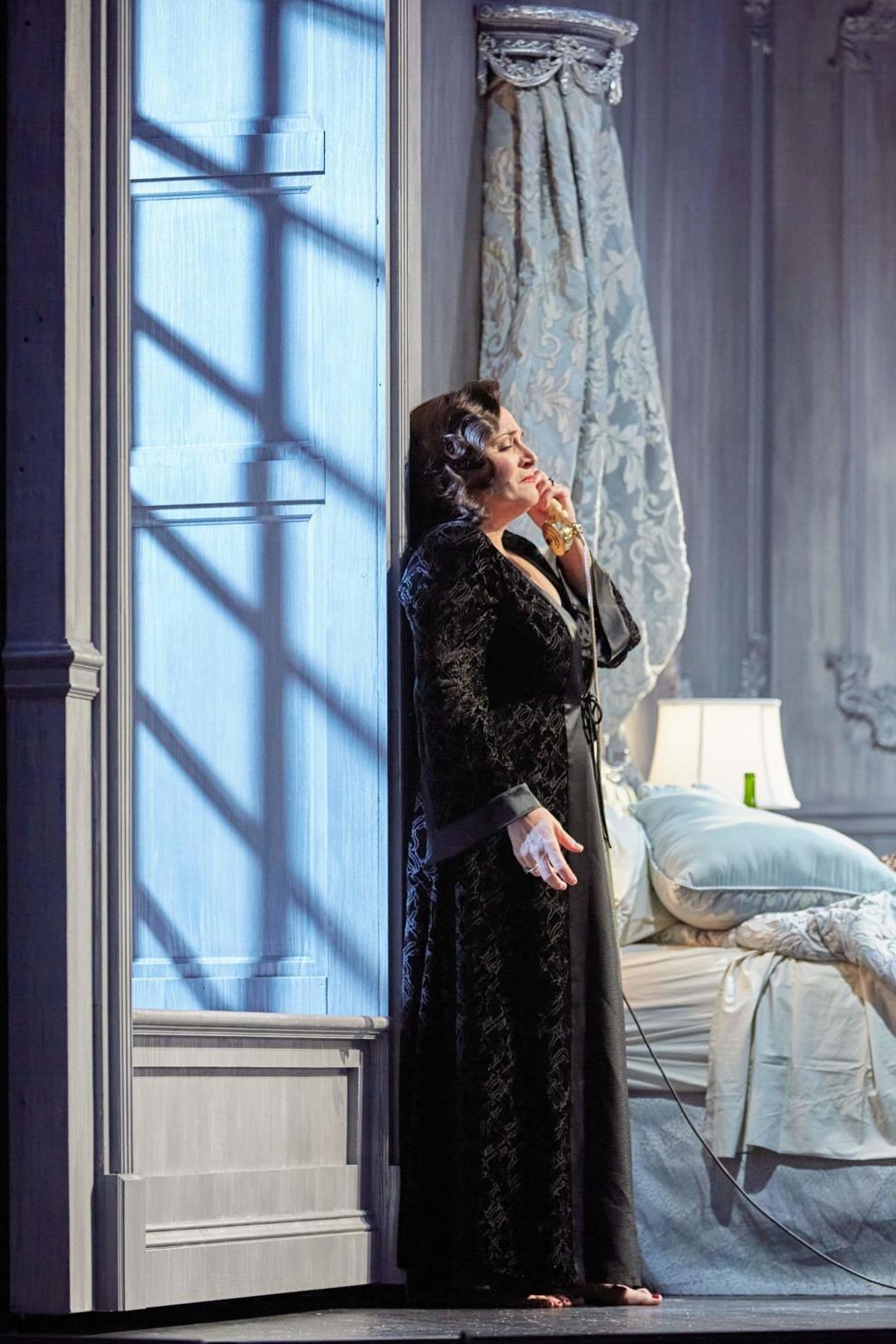 Poulenc's roughly 45-minute, one-act story with a libretto by Jean Cocteau takes place in Elle's opulent bedroom. The operatic monologue, described as a lyric tragedy, provides an intimate and voyeuristic experience for the audience.
We watch as Elle moves emotionally from sensitive passion to deep distress, through violent outbursts sprinkled with moments of sweet reminiscence — of memories that provide the sole outlet for the lyricism.
Racette's voice is perfect for this part. She handled the difficult musical swings, from the chromatic passages to the more melodic moments, with impressive finesse.
Sunny Yoon's piano work, also a performance triumph, provided a sensitive backdrop and conversational partner to Racette. She also provided sound effects, such as the ringing of the phone. Though solo piano can't replicate the colorful timbres called for in the orchestral score, Yoon's performance enhanced the erratic intimacy of the drama.
Few props play such an important role as the phone in this opera. And "role" is the right word: The phone serves the drama as cast-substitute. Elle talks to an operator, to a female stranger who "crossed lines" with Elle's phone, to her ex-lover's butler and, of course, to her ex-lover himself.
This tele-cast of characters comes alive in the imagination of the audience only through the words of Elle, but the personification is uncanny. The people on the other end of the line become real.
The phone, or at least the phone cord, also serves the drama as a sort of Chekhov's gun — wavering between lifeline and lethal weapon.
Set designer Allen Moyer created a gorgeous grey monochrome bedroom complete with vanity and chaise lounge. Lighting designer Christopher Akerlind generated pleasing visual interest with white light flooding in from a large window at stage right and warmer yellow light spilling in from the doorway at stage left, through which Elle enters and exists.
Some of the only contrasting color on the set comes from unworn clothing, thanks to costume designer James Schuette's colorful accessories and dress design. The long, black night dress worn by Racette was perfect for the occasion.
Thanks to her thoughtful stage direction and agile execution, Racette exploited the little action in the story, mostly a slow-motion pacing from the window and bed to the vanity and chaise.