Not many playwrights would have the imagination — or the audacity — to include a scene in which a character is obliged to wrestle an angel. Not a metaphorical one, but a winged presence with a fierce will and a seemingly non-negotiable agenda.
Yet such a spectacle is a highlight of "Perestroika," the second half of Tony Kushner's "Angels in America." Terrific and unmissable, the Repertory Theatre of St. Louis production runs through Oct. 6, in repertory with Part One of the comedy-drama, "Millennium Approaches."
Struggling to drag the Angel (Gina Daniels) to the ground is the AIDS-stricken but hilariously sarcastic Prior Walter (Barrett Foa), who has plenty to be angry about besides the disease. The right-wing Reagan era is in full swing, and his former boyfriend, Louis (Ben Cherry), has established a relationship with Joe Pitt (Jayson Speters), who's not only a Republican but also, even worse, a lawyer.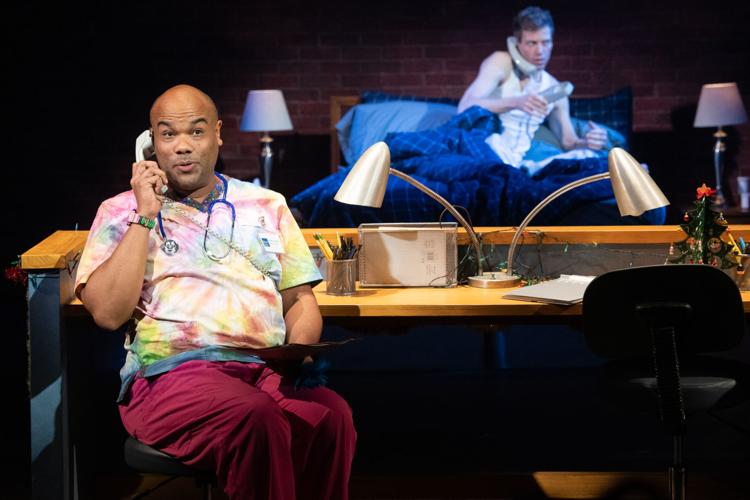 Belize (David Ryan Smith), a nurse and Prior Walter's longtime friend, reluctantly advises corrupt power broker Roy Cohn (Peter Frechette) on handling a health crisis of his own. And Joe has unfinished business with his drug-addicted wife, Harper (Valeri Mudek), and Mormon mom, Hannah (Meredith Baxter).
As in "Millennium Approaches," Kushner blends realism and fantasy while allowing for an element of ambiguity. Director Tony Speciale delivers a richly theatrical experience that's as intriguing as it is entertaining. And the cast, most of whom take on multiple roles, is excellent.
Of particular note are Baxter and Foa — who are best known for their roles in the television series "Family Ties" and "NCIS: Los Angeles," respectively. Baxter gets to the heart of Hannah, and Foa portrays Prior Walter as at once heroic and a bit overwhelmed.
"Millennium Approaches" concluded with a brilliant stroke of theatricality — the Angel crashing through the ceiling — that's unlikely to be equaled. With "Perestroika," Kushner boldly wrestles the angel of American theater and emerges victorious.