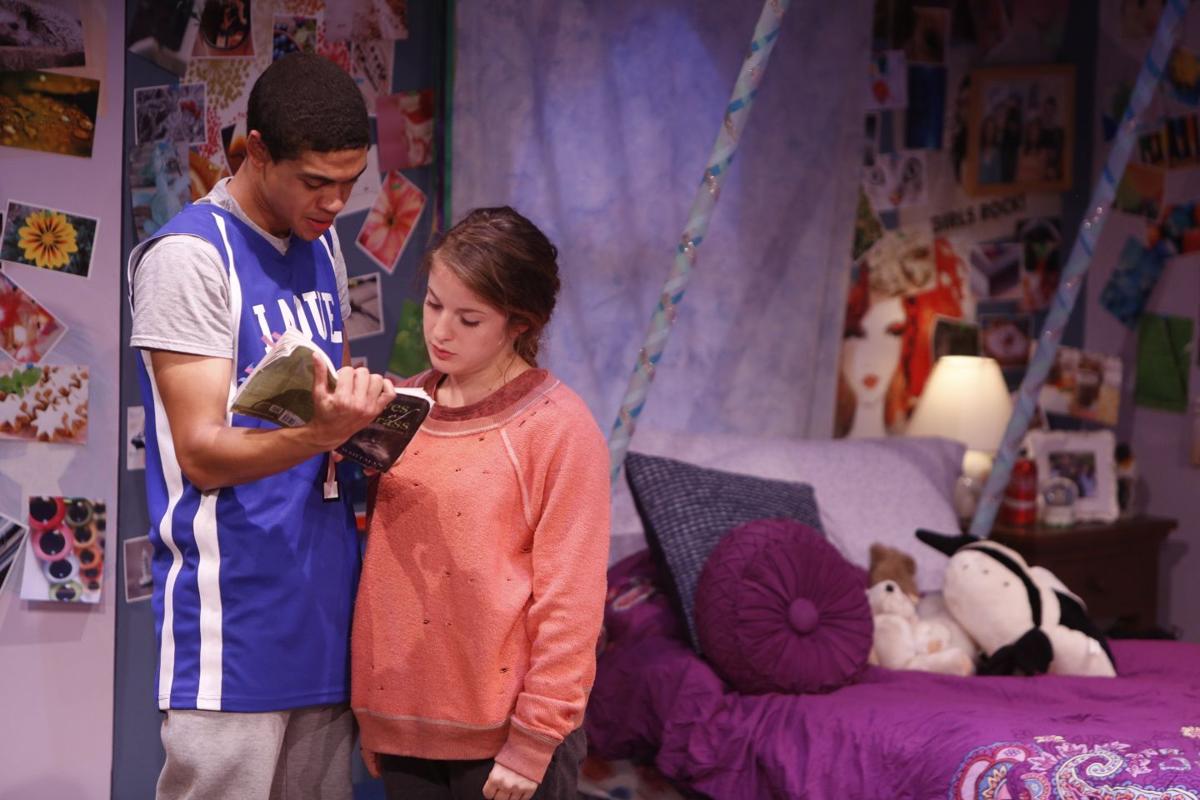 Caroline (Danielle Carlacci) is not an ideal hostess. When her high school classmate Anthony (Reynaldo Piniella) shows up in her room, she threatens him with a pair of big scissors. Anthony, on the other hand, comes armed with nothing but cookies, homework and a sad-looking poster about Walt Whitman. Can Caroline — his partner on this project for their senior English class — help him make it presentable before they have to turn it in?
We have to forgive Caroline, who has been sick all her life. Now, she can't even go to school. Stuck in her colorful bedroom with her computer and smartphone, she has zero social life; Anthony, whom she doesn't even know, might as well be from Mars.
Along with us, Anthony also forgives his classmate. (They are students at Ladue, to judge by his shirt. Gunderson wants "I and You" to take place wherever it is staged.)
But in the course of their homework session, he goes way beyond charm. He touches her more deeply than anyone ever has. And perhaps she gives him just what he needs, too.
The accomplished young actors, Carlacci and Piniella, complement each other physically and emotionally. Piniella, who's at least a head taller than Carlacci, exudes the lanky sweetness of a kid who's not quite accustomed to his long arms and legs.
And when he talks about the musician he loves, John Coltrane, he explains with such physical ardor, leaning over Caroline's bed or flopping onto her bean bag chair, that we can believe this unlikely choice really is Anthony's passion, not Gunderson's.
With burning dark eyes and a mouth set tightly, Carlacci matches Piniella's precision. It's a thrill to see her relax with her craft box (to fix the poster) and her stuffed animals. She's touchy, of course, at one point informing Anthony that she never sees anybody. Except for now, he retorts, when he's right there in her room. That present tense, he seems to be saying, is what they both have — what everybody has, regardless of the future.
Director Jane Page (last at the Studio for another play about a deep relationship between two people, the grandmother and grandson in "4000 Miles") has her actors confined in a single room, brightly and youthfully designed by Eric Barker. But she gives them room to plunge into the depths of their characters in Gunderson's short, imaginative drama.
Gunderson turns Whitman's masterpiece "Leaves of Grass," into a touchstone for the teens' wide-ranging conversation. It's a great poem but also a pretty accessible one, and Gunderson exploits it wisely.
She uses it to introduce very serious subjects — problems with parents, dreams of the future, the prospect of death — into a heartfelt conversation between strangers who manage a remarkable connection.
In the end, "I and You" packs a wallop that will leave you talking for hours, and thinking for a long, long time.
---
Where • Emerson Studio Theatre, Loretto-Hilton Center, 130 Edgar Road