Updated to reflect the show's extended performance schedule.
"Avenue Q" is so outrageous — and so outrageously funny — that revealing too much about it might be a disservice to those who haven't seen it. Yes, it's a satire of "Sesame Street," with the focus largely on puppets. But the show running through March 17 at the Playhouse @ Westport Plaza is also a whip-smart commentary on pop culture, American-style.
With a book by Jeff Whitty and music and lyrics by Robert Lopez and Jeff Marx, "Avenue Q" has a go-for-it spirit that's nothing short of exhilarating. Sex between puppets? Sure. A furry extrovert who's into porn? Of course. Mischievous little bears who merrily offer suicide as an option? Why not?
Loosely connected sketches chronicle the lives of puppet characters including Princeton, a college grad seeking purpose in life; Kate Monster, a lonely schoolteacher; and roommates Rod and Nicky (who are reminiscent of "Sesame Street" residents Bert and Ernie).
The neighborhood humans are child-star-turned-maintenance-man Gary Coleman (Illeana Kirven); out-of-work aspiring comedian Brian (Brett Ambler); and therapist Christmas Eve (Grace Langford), who's engaged to Brian but concerned that her career isn't going so well.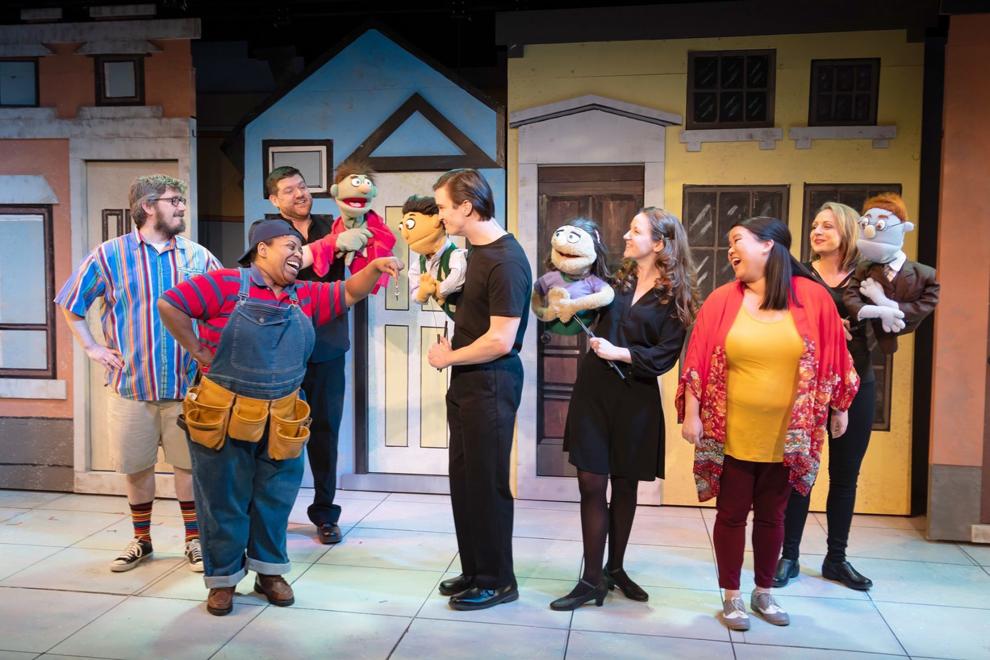 As on "Sesame Street," the characters share a sense of community that helps them cope with the not-infrequent challenges of urban life.
Breezily directed by Lee Anne Mathews, "Avenue Q" also features Andrew Keeler, Kevin O'Brien, April Strelinger and Jennifer Theby-Quinn. The cast is equally adept at handling offbeat humor and finessing the show's more serious moments. And the songs are enjoyable in their own right, particularly the witty "Everyone's a Little Bit Racist" and the wistful "There's a Fine, Fine Line."
It's hard to imagine a more irreverent — or more joyous — show than "Avenue Q." Just one caveat: It's definitely not for children, and in that regard is about as far from "Sesame Street" as you can get.