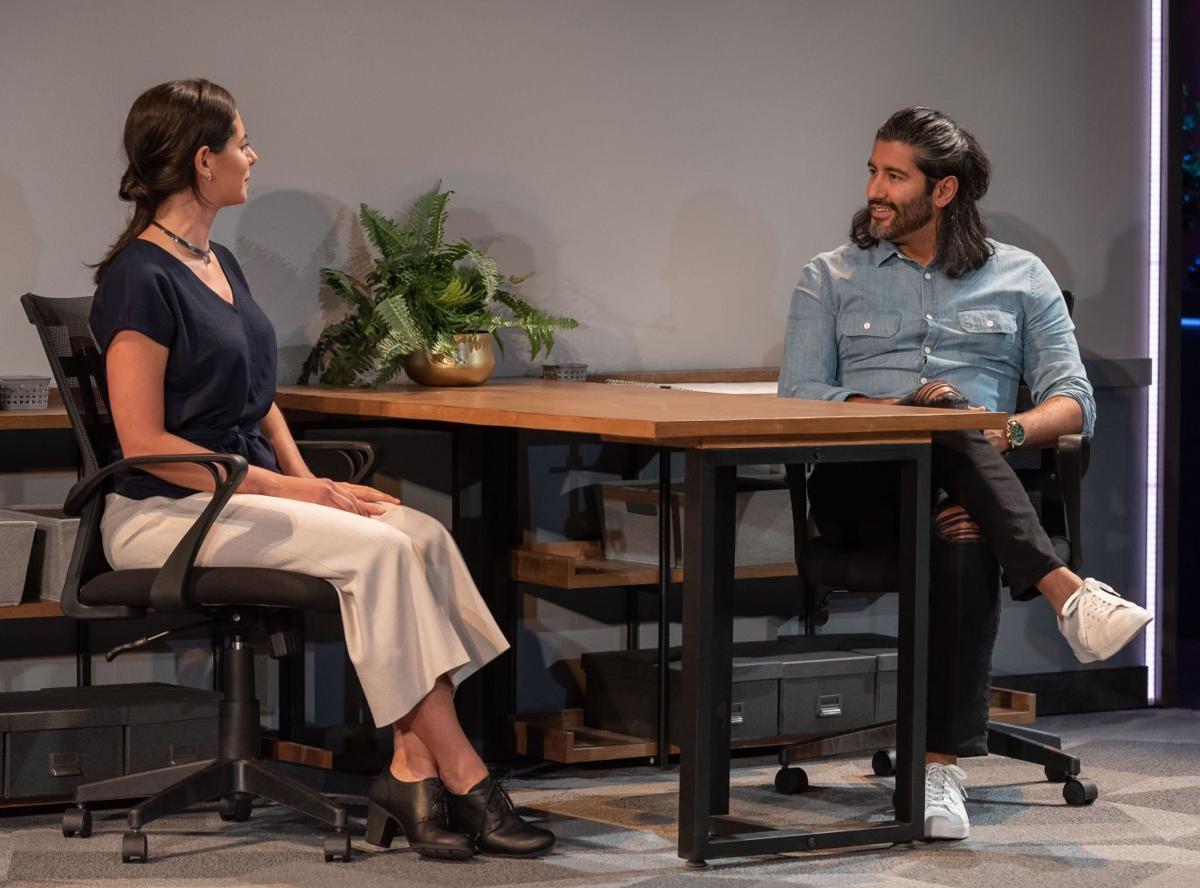 Donald Trump, R. Kelly and Harvey Weinstein — high-profile figures accused or convicted of sexual crimes against women — might come to mind while watching "The Gradient," a well-acted and timely Repertory Theatre of St. Louis production.
Presented at COCA's Catherine B. Berges Theatre in a world premiere and directed by Amelia Acosta Powell, the comedy-drama by Steph Del Rosso is quite in tune with the #MeToo movement. The story takes place in the near future at the Gradient, a facility where men accused of sexual misconduct are subjected to an algorithm designed to rehabilitate them.
The process involves being evaluated by new Gradient employee Tess (Stephanie Machado) — who's up for a challenge, but whose uninhibitedly sarcastic boss Natalia (Christina Acosta Robinson) has warned her not to become emotionally attached to her clients.
Ultimately, Tess comes to suspect that one in particular — the smoothly confident Jackson (Yousof Sultani) — isn't as forthcoming as he'd like her to believe. And he certainly seems to be enjoying himself way too much.
Machado is wholly empathetic as Tess, who finds herself coping with circumstances that she couldn't possibly have predicted. Robinson is terrific as Natalia, whose go-with-the-flow philosophy proves to be unshakeable. And Sultani portrays his character as slickness personified.
The excellent cast also includes Stephen Cefalu as a number of other clients at the Gradient, and William DeMeritt as Tess' co-worker Louis.
Powell, who is associate artistic director of the Rep, conjures just the right mood for Del Rosso's blend of satire and science fiction. And the contributions of set designer Carolyn Mraz, lighting designer Mextly Couzin, projections designers Kaitlyn Pietras and Jason H. Thompson, costume designer Raquel Barretto and sound designer Sadah Espii Proctor bring the futuristic scenario to persuasive visual life.
Interestingly, Jackson comes across as the most likable character in the play — which is truly odd if Del Rosso's intent is to condemn sexual abuse. Perhaps the idea was to depict Jackson as either somewhat oblivious to his misogynistic behavior, or as reveling in his ability to be duplicitous. Or it may just be that in this production, Sultani turns in such a charismatic performance that Jackson can't help but be appealing.
But then, "The Gradient" places the emphasis on its theme at the expense of all of its characters, who would benefit from more fleshing out.
Ibsen's "A Doll's House" addressed women's rights, but it also gave the world Nora Helmer. Tennessee Williams' "A Streetcar Named Desire" was critical of homophobia — particularly for its era — but Blanche DuBois and Stanley Kowalski have become iconic. And while David Mamet was tough on cutthroat capitalism in "Glengarry Glen Ross," he also created an unforgettable character in real-estate salesman Ricky Roma.