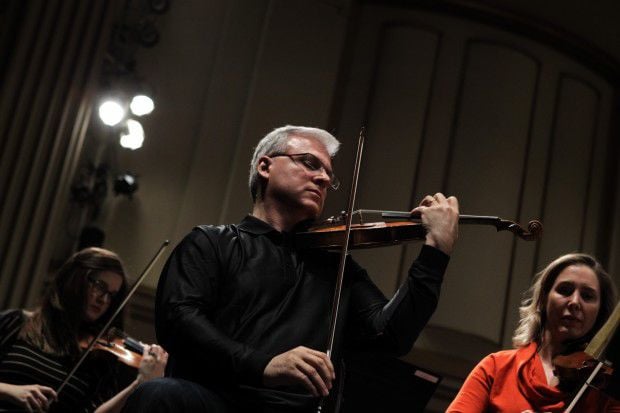 There are many classical music recordings with titles like "Opera Without Words."
Friday night at Powell Hall, the St. Louis Symphony Orchestra performed a program that might well have been called "Ballet Without Dancing."
No ballet slippers slapping on the floorboards; no exaggerated eyelash makeup, filigreed tutus, or spectacular sets.
Last minute technical problems on Friday evening canceled the projections intended to provide some visual accompaniment.
It was therefore left to the fluid and balletic style of guest conductor Ward Stare, the audience's own memories of the dancing "Fantasia" mushrooms and the music to compensate for the absence of visual props.
And in the case of Tchaikovsky, that's not a bad place to be.
The second half of the program was devoted to the famous tunes found in Act II of "The Nutcracker" ballet.
Stare and his players were completely in sync, with every change of rhythm and volume judged perfectly and executed precisely.
The various thematic strands connected with each other like two drops of water that approach each other carefully and then magically become one.
And as his compatriot Rimsky-Korsakov did in "Scheherezade," Tchaikovsky gave all the sections of the orchestra many opportunities to shine.
The wind players were spot on in the Chinese Dance, the strings especially radiant in Waltz of the Flowers, the percussion snapped the Spanish Dance to life, and the sugar plum fairy was seen tiptoeing on the keyboard of the celeste.
The same was also true before intermission when Concertmaster David Halen stood at the front of the stage with Allegra Lilly seated at the harp just behind him and Principal Cello Daniel Lee in his usual orchestra position to the right of the podium.
Together with the orchestra the trio performed a suite of selections from "Swan Lake" and "Sleeping Beauty."
Compiled by Stare and Halen, the arrangement lent the three instruments solo lines that would normally be played or covered by the whole orchestra.
Most of the music was from quieter and less familiar parts of the ballets and could have had more variety in tempo and volume. But it was all exquisitely done with such delicacy that some phrases could barely be heard.
Halen carried most of the solo work, but like Lilly and Lee, every note had a mellow tone that floated softly into the hall.
It was very laid back, with careful attention to the many delightful details in Tchaikovsky's rich score.
Like listening at home in the dark, all of the selections, including Borodin's "Overture to Prince Igor" at the onset of the program, demonstrated that concentrating on the music without any visual distractions can be deeply satisfying.
St. Louis Symphony Orchestra 'Nutcracker'
Where • Powell Hall, 718 N. Grand