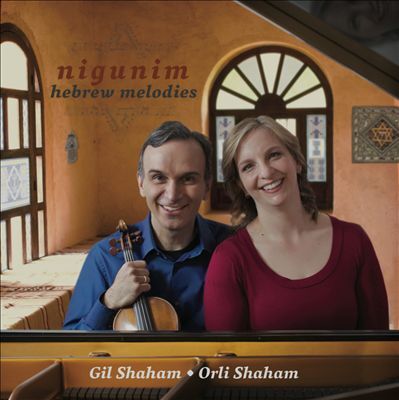 The most talented brother-sister act in classical music today, Gil and Orli Shaham, have again joined forces for a recording, their sixth. This time, it's "Nigunim: Hebrew Melodies" (Canary Classics CC10), with selections that reflect their Jewish heritage. (It's just in time for the High Holy Days, too.)
Gil Shaham is one of the finest violinists in the world, Orli Shaham is a gifted pianist, and the siblings play well together, with a mutual sympathy that seems to be a combination of instinct and long practice. This is a lovely album, with a satisfying variety of composers writing in soulful, happily melancholy minor-key Jewish style.
Familiar works include Ernest Bloch's "Baal Shem: Three Pictures of Chassidic Life," while Leo Zeitlin's "Eli Zion" is new to me. "Three Pieces from 'Schindler's List'," by John Williams, have found their way into the frequently heard repertoire.
The most interesting piece on the album is the title work, by Israeli composer Avner Dorman (b. 1975). A commission by the Shahams, this one isn't primarily a platform for the violinist, but a real and beautiful collaboration for two equal instrumentalists. 
A new recording from the superb young British a cappella choir Stile Antico is always an event. "The Phoenix Rising" (Harmonia Mundi 807572) celebrates both great Tudor church music and the legacy of the Carnegie UK Trust, founded in 1913. The Trust commissioned performing editions of works by William Byrd, Orlando Gibbons, Thomas Tallis, John Tavener, Thomas Morley and others. The works published in "Tudor Church Music" became the core of the Anglican church music performed in the 20th century.
The choir sings it with style and purity, and without a conductor, with the understanding that comes from growing up with a body of work. "Phoenix" is a treasure.
At least one thing can be said for the existence of a conglomerate like Universal Music Group: It can draw on a backlist like none other.
That has enabled UMG, under the imprimatur of its Deutsche Grammophon label, to assemble some impressive compilations. One of the most complete is its offering for Richard Wagner's centenary year, "Wagner: The Complete Operas" (DG 00289 479 0502), a surprisingly compact box containing everything from "Die Feen (The Fairies)" to "Parsifal." Available for well under $100 from a number of sources, it's a bargain, too.
"Feen" and Wagner's second opera, "Das Liebesverbot (The Ban on Love)," have heretofore been available only on bad recordings from minor European labels. This box makes use of better-than-decent performances from the BBC, while otherwise choosing from first-class options originally issued on the on DG, Decca and EMI labels.
Some great interpreters are represented, most of them at their best, including Cheryl Studer, Jessye Norman, Hans Sotin, Christa Ludwig, Margaret Price, Rene Kollo, Placido Domingo and Dietrich Fischer-Dieskau on the performer side, with Georg Solti, Carlos Kleiber and James Levine among the conductors. The "Ring" cycle here is not the best UMG has to offer (the iconic Solti "Ring" still sells steadily on its own), but Levine's version from the Metropolitan Opera is worthwhile and relatively recent.
Finally, Jeffrey Biegel's "A Grand Romance" (Steinway & Sons/Archiv Music 30017) offers splashy pianism on the lighter side, with a thoroughly enjoyable collection of unabashed crowd-pleasers, mostly in a Romantic vein. Biegel, with amazing technique, makes the most of the showpieces in this purely delightful recording.