Three legendary stars — Gene Kelly, Debbie Reynolds and Donald O'Connor — starred in the original "Singin' in the Rain," a movie about the the dawn of the era of "talkies."
The stage version — now playing the Muny for the sixth time — has some legendary heft of its own.
Corbin Bleu plays Don Lockwood, a matinee-idol eager to sing and dance on film. Bleu — one of the stars of Disney's immensely popular "High School Musical" franchise — is something of a matinee idol himself and the main reason that the opening-night line for autographs stretched from the stage door all the way out to the entrance.
Berklea Going, who plays the "serious" actress whose beautiful singing voice takes her career in an unexpected direction, made her Muny debut when she was 7 and has come back year after year. Regular Muny-goers have watched her grow up before their very eyes, playing everything from Tootie in "Meet Me in St. Louis" to comical Ermengarde in "Hello, Dolly!"
Under director Marc Bruni and choreographer Rommy Sandhu, they make for a sunny trio in a "backstage" musical that takes full advantage of the talented dance chorus and technical updates. The "movie clips" on the big back screen are hilarious and easy to follow.
There's more good comedy work from Megan Sikora, who plays Lina Lamont, Don's co-star in silent pictures. Between her shrieking intonations and her New York accent, she has no future in talking pictures. But Lina — who is convinced that Don's in love with her because the publicity department says so — will stop at nothing to ensure her continued stardom. To her, Kathy Selden is just a little nobody, there for the using.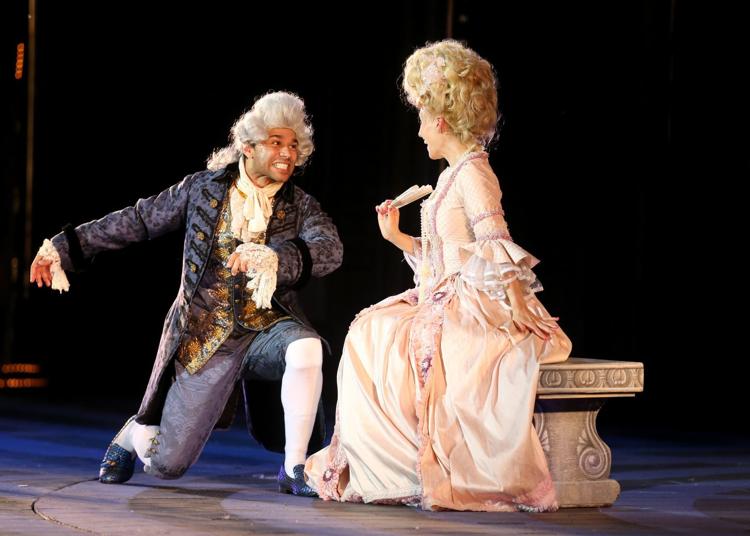 Going, of course, makes sure we know that Kathy is an angel on earth, dressed in a ruffled, ethereal period frock (one of Tristan Raines' many excellent designs) as Don proclaims her his "lucky star." That number's a duet, as is the "Moses Supposes" dance that Bleu and Schecter perform at racetrack speed. Gary Glasgow, as a prissy diction coach, is not so much a part of the number as a prop. But he's a charming one.
Bleu and Schecter tream up with Going for "Good Morning," a giddy treat, and Bleu joins just about everybody for "Broadway Rhythm," Don's spectacular rendition of his own biography. Lizz Picini, as the slithering Girl in the Green Dress, makes the most of her seductive turn.
A superb tapper, Bleu takes the title solo in joyous, rhythmic stride, then leads everyone in the reprise at the finale. "Singin' in the Rain" is not considered the Muny family show this season; that's "Annie" and perhaps "The Wiz." But "Singin' in the Rain" is so full of life, motion and color that no one's too young or too old for it.