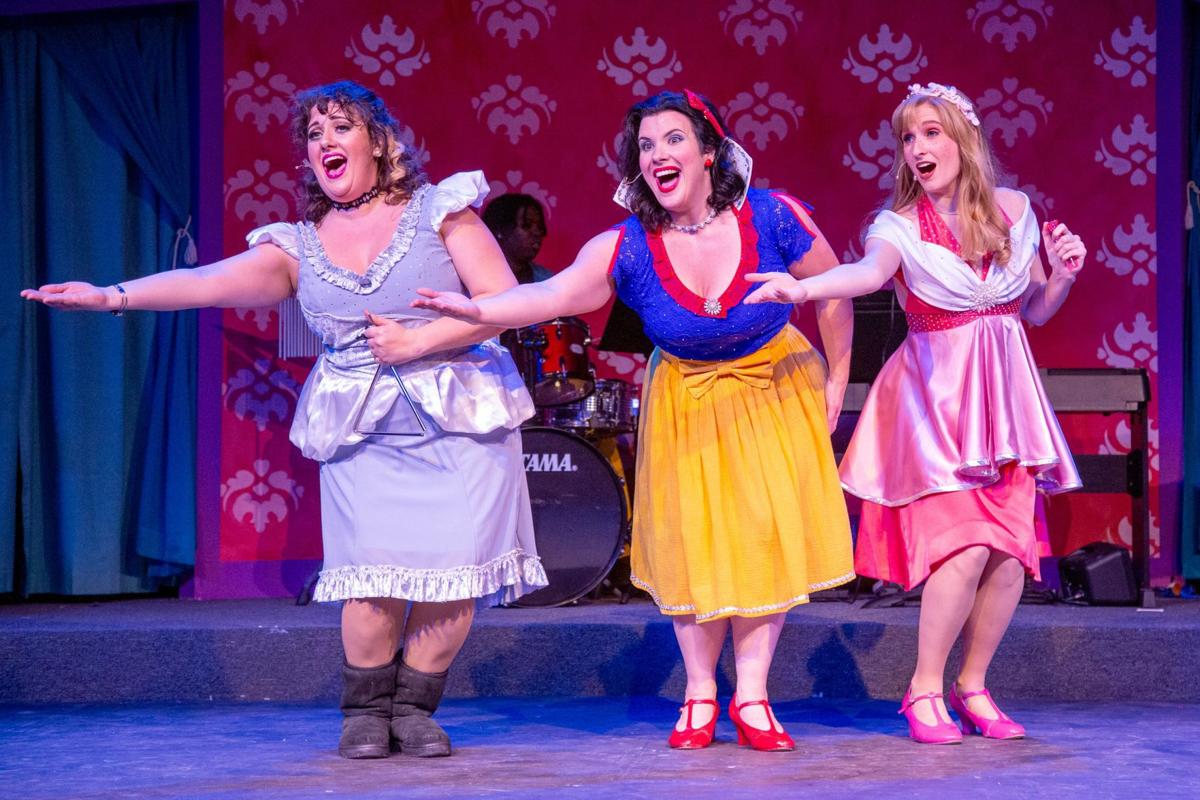 At the end of a fairy tale, characters live happily ever after. But getting there tends to be pretty disturbing.
Little Red Riding Hood spends time in a wolf's stomach. Three unsuspecting bears have their home invaded by the presumptuous Goldilocks. And two irresponsible pigs are likely to have trouble with their insurance company after another wolf — or could it be the same one? — goes full tornado on their poorly constructed homes.
If only they'd followed the lead of a third pig who built his house with bricks. But then there'd be no story, no lesson to take away from it, and nothing to spoof in the manner of "Disenchanted!," the musical running through Dec. 21 in a sparklingly entertaining Stray Dog Theatre production.
With a book, music and lyrics by Dennis T. Giacino, the show picks up the stories of princesses and other fairy tale heroines, with particular attention to Snow White (Kelly Slawson), Cinderella (Sarah Gene Dowling) and Sleeping Beauty (Dawn Schmid). In the aftermath of their supposedly happy endings, the three turn out to be surprisingly disappointed. But not so much that they can't sing about it.
More of a revue than a conventional musical, "Disenchanted!" has a freewheeling energy that's infectious. Highlights include a stressed-out Belle (Madeline Black) lamenting the downside of being in a relationship with a beast ("Insane!"), and a number in which Hua Mulan (Hevan Leon) muses about the role of her sexuality in her character arc ("Without the Guy").
The show's sensibility owes more to the gloss of Disney than the grit of the Brothers Grimm, and it's much lighter in tone than Stephen Sondheim's similarly themed "Into the Woods."
Director Justin Been elicits engaging performances from a cast that also includes Erika Cockerham (Rapunzel), Eleanor Humphrey (Princess Badroulbadour), Stephanie Merritt (The Little Mermaid), Gitana Mims (Pocahontas) and Selena Steed (The Princess Who Kissed the Frog).
"Disenchanted!" isn't for children. As its program cautions, the production contains adult language, and the characters are "not your grandmother's princesses." But they really know how to put on a show.