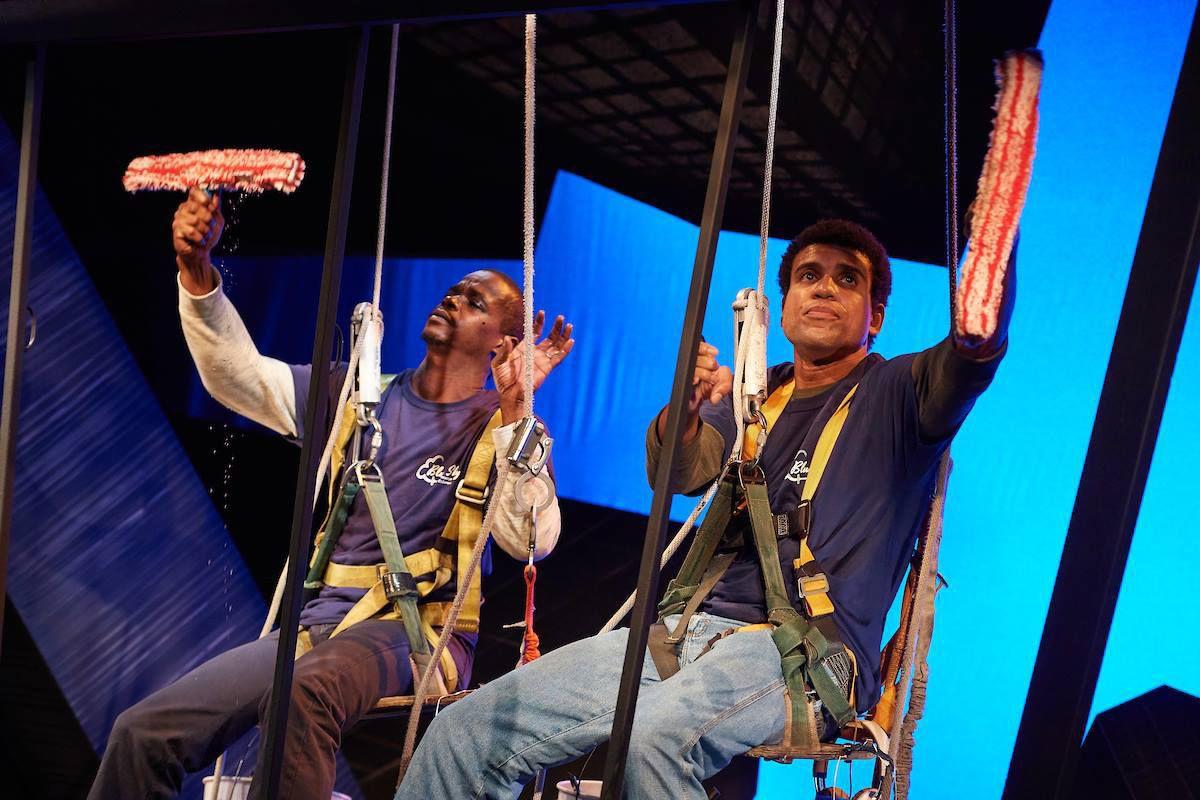 "Suspended," the drama making its world premiere at Upstream Theater, physically confines its actors more than almost any play besides Samuel Beckett's "Happy Days," about a woman buried in sand, or Sam Shepard's "Killer's Head," a monologue delivered by a man in an electric chair.
Still, "Suspended" is moving — mainly inside its audience.
Two window-washers, Benjamin (Phillip C. Dixon) and Isaac (Reginald Pierre), work throughout "Suspended," a drama by Israeli playwright Maya Arad Yasur. They perch on little swings supported by ropes, high up in a well of skyscrapers that scenic designer Cristie Johnston imaginatively evokes behind them. (In reality, the actors are perfectly safe, just a few feet off the theater floor. But the illusion is persuasive enough to make an acrophobe feel queasy.)
Benjamin and Isaac come from the same unnamed African country, recently a place of turmoil where rebels were known for their cruelty. Now they live in a big Western city (also unnamed), their status diminished but their safety, presumably, enhanced.
Their dangerous job, however, may be the smallest peril they must confront.
Under the direction of Linda Kennedy, "Suspended" looks like a metaphor come to life. It even feels as if that image — two men poised over an abyss, able to see but not to take part in the comfortable life of the office on the other side of the windows — might have been Arad Yasur's starting point.
But that would be only a tableau, not a play. The writer, director and actors combine to build the tension steadily, mainly through conversation.
It quickly emerges that Benjamin and Isaac were friends when they were boys. Under their new circumstances, they work and chat, sing and smoke. Isaac, a veteran window-washer, shares his food with Benjamin, a newcomer who didn't bring anything to eat.
But Isaac rebuffs Benjamin's efforts to talk about the past. He's all about the future. Benjamin, however, insists there is no future unless the past is resolved — no matter what secrets it holds.
Dixon, amiably low-keyed, gives a performance as sharp as the little knife they use to peel carrots. At first he seems to poke around aimlessly, but he knows how to strike home.
As Isaac, Pierre, who is a bigger man than Dixon, makes the most of his size. Even in a dangerous position, he looks substantial and confident. But at his core, under the smiles and sinew, Isaac holds his own deep seeds of pain. They are already rooted. They are bound to blossom.
In the end, Benjamin points out how small they must seem to the people on the ground. Their cigarettes must look like stars. Maybe they do. But that's a complicated metaphor. Stars burn.