When "A Chorus Line" opened in 1975, it revolutionized musical theater with its origins (a rap session), its heroes and heroines (the "gypsies" who dance in Broadway ensembles) and its bare-bones, uncompromising visual and emotional style.
At the time it closed 15 years later, with nine Tony awards and a Pulitzer Prize in drama to its credit, it was the longest-running show in Broadway history.
But in the interval, the world it depicted was ravaged by plague, by an illness that nobody had even heard of in 1975. AIDS would claim many of the artists involved with "A Chorus Line," including the original director and choreographer, Michael Bennett. And it would turn all of them into mourners, during the years when dancers seemed to go to friends' funerals almost as often as they went to class.
After the passage of so much time and the change in so much circumstance, it makes sense to find a fresh take on Bennett's masterpiece.
And that's exactly what director and choreographer Denis Jones brings to the production this week at the Muny.
Thoughtfully, he creates that without violating the terms of the script, and while honoring the special advantages of the Muny: He does it by bringing in children.
"A Chorus Line" concerns dancers auditioning for a spot in a new Broadway show. Zach (Ivan Hernandez), the director/choreographer, eliminates many of the hopefuls after seeing them dance ("I Hope I Get It").
But he won't hire all of the dancers who remain. Instead, Zach wants to hear each one talk about his or her life. He's particularly interested in their childhood stories.
That's a novel demand, to say the least. The dancers are uncomfortable. Is Zach just power-tripping? Could be, but what choice have they got? They all need jobs. They want to make the final cut. They'll talk.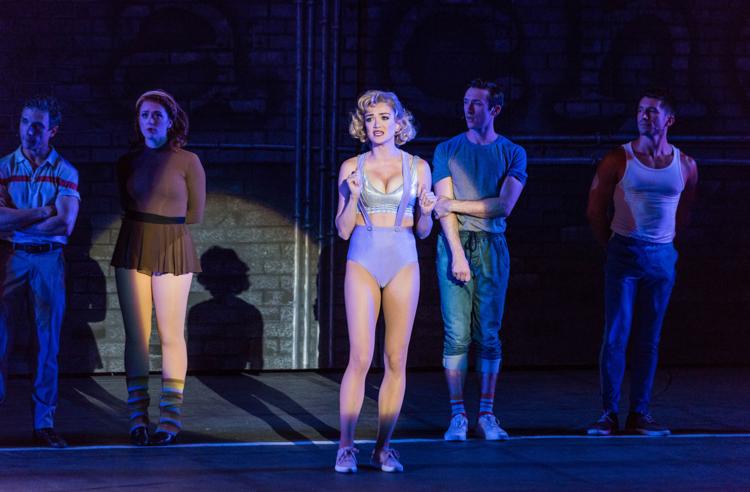 These stories, variously funny and weird and painful, are the heart of "A Chorus Line," a character-driven show if ever there was one. Bennett — and others who have directed the long-touring production — let each dancer tell that personal story through song, dance and words. But this time, some of them are joined by children who represent them at a young age, costumed to echo each character's grown-up attire.
For example, an adorable little boy in a striped yellow shirt dances along with Mike (Sean Harrison Jones, also in yellow stripes) to capture the moment when he realized that "I Can Do That." In "At The Ballet," Sheila (Holly Ann Butler), Bebe (Caley Crawford) and Maggie (Bronwyn Tarboton), none a happy little girl except at the barre, are echoed by little girls in leotards.
And Diana (Hannah Florence) is accompanied by a class of snooty student actors in her powerful rendition of Diana's particular high-school hell, "Nothing."
Thanks to its youth ensemble, the Muny is able to bring children and teens into shows more easily than many theaters. In this case, their presence vividly underscores the point of "A Chorus Line" — the way early experiences influence lifelong behavior.
Purists may object. Purists might do well to watch "Will" on TV or to attend almost any contemporary performance of Shakespeare. Things get dusty if you don't brush them off now and then, and Jones has brushed and polished "A Chorus Line" with genuine insight.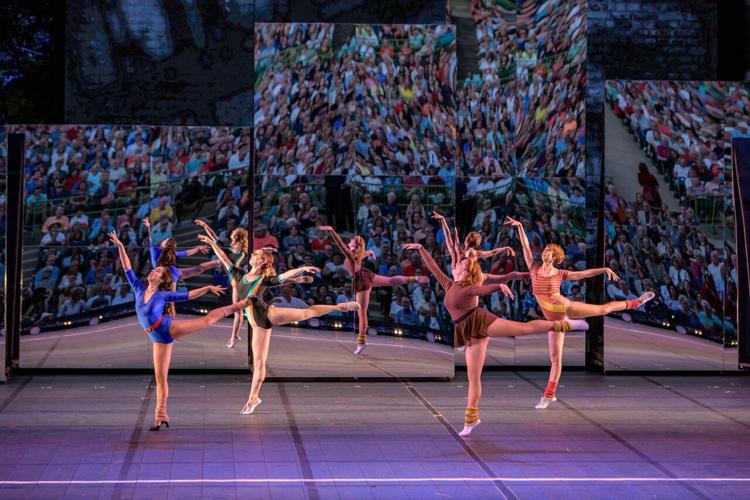 Set designer Paige Hathaway gives the show an only-at-the-Muny opening, as a huge wall of mirrors reflects not only the crowd of dancers at the initial audition but us, the audience. The mirrors are covered for many scenes but return to spectacular effect for the finale ("One") and for "The Music and the Mirror," the solo in which Cassie (the vibrant Bianca Marroquín) expresses her love of dance.
Marroquín and the others cut strong, distinctive characters, particularly Ian Paget as Paul. A young gay man, his monologue about coming to terms with who he is is a kind of musical solo in itself.
Unlike other Muny shows, "A Chorus Line" is performed without intermission.