Charlie Price (Graham Scott Fleming) — a major character in the musical "Kinky Boots," running through Tuesday at the Muny — never planned to take over his father's shoe factory. And the last thing he wanted was to have its future in his hands. Charlie envisioned a glamorous life in London, with his fiancée, Nicola (Caroline Bowman), by his side and his dreary English hometown in his rear view.
But when he's called back to Northampton, he decides to step up. And he might be able to save the factory, if only he can identify a niche market. But who's his target audience?
Inspiration comes in the form of Lola (J. Harrison Ghee), a drag performer who'd definitely be interested in buying more comfortable, durable boots — and even has ideas about how the footwear should be designed. But persuading Lola to spend time in Northampton takes a bit of effort.
Meanwhile, Lauren (Taylor Louderman), the employee who suggested that Charlie go after niche customers, is falling in love with him.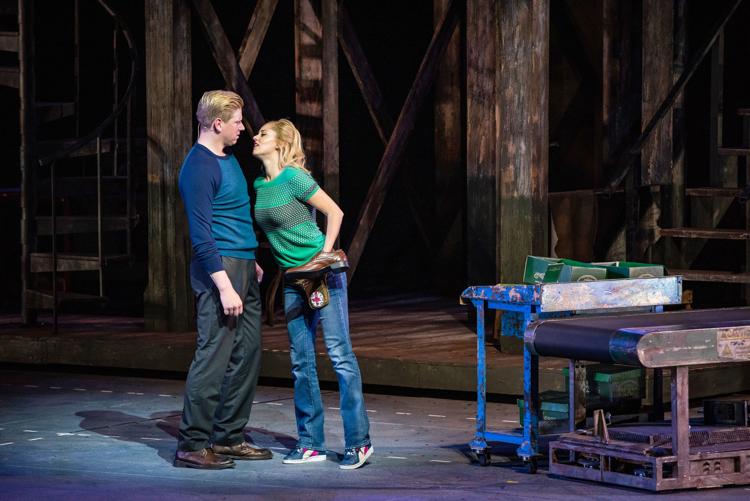 "Kinky Boots," based on a 2005 British film of the same name, contains all the elements for a fun musical: interesting characters, an involving story and entertaining songs that tie it all together. With a book by Harvey Fierstein ("Torch Song Trilogy") and a score by Cyndi Lauper, it's a feel-good show that fully engages the audience. The direction and choreography of the original 2013 Broadway production have been re-created by DB Bonds and Rusty Mowery, respectively.
Fleming deftly negotiates his character's fluctuations between nice guy and control freak. Ghee turns in a terrific and frequently show-stopping performance as the multifaceted Lola. And in a role that's too small for her talent, Louderman is a sheer delight.
As its storyline would suggest, "Kinky Boots" is occasionally risqué. But don't hesitate to bring the family. There's nothing onstage that a reasonably sophisticated 21st-century kid can't handle.