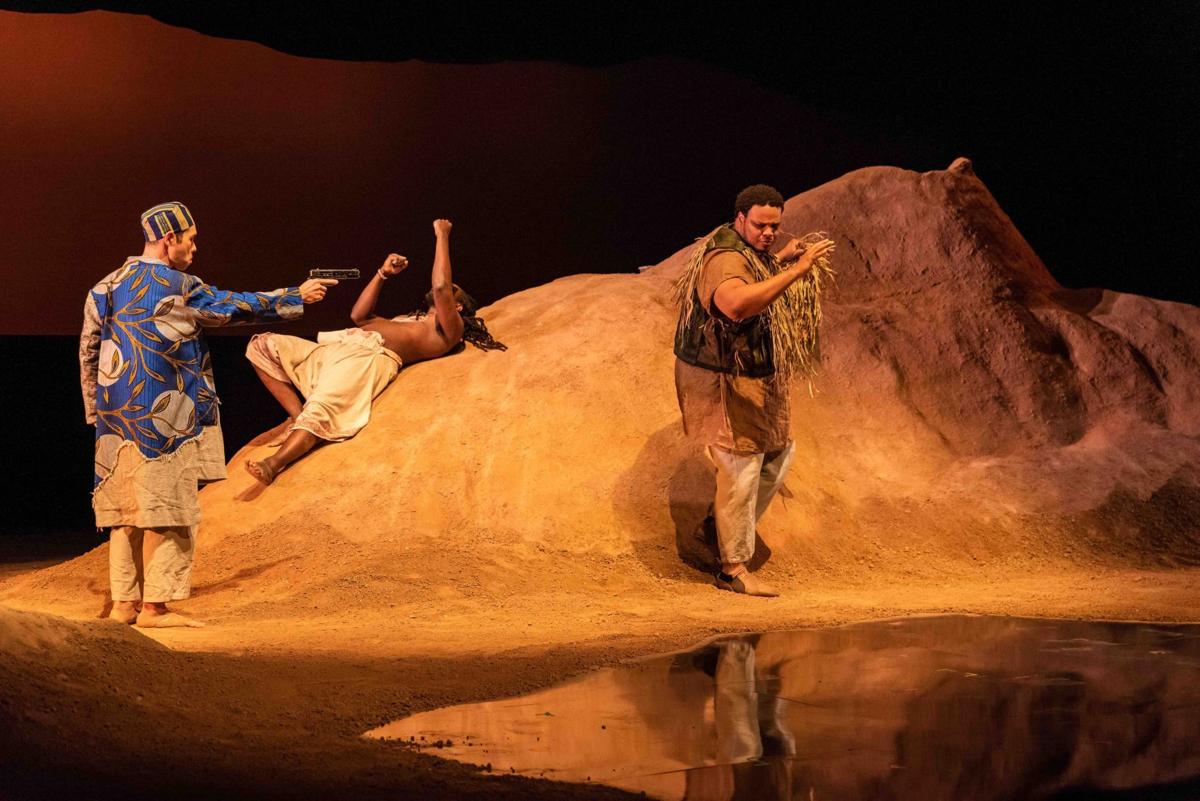 Theater, unlike television and film, is not nearly as restricted to kitchen-sink reality. Yet contemporary plays more often engage with the mundanities of everyday life than with the mystical or the otherworldly. The potential to transport the audience to a place where only theater can take them simply goes untapped.
"Mlima's Tale," which marks a return to live, in-person performance for the Repertory Theatre of St. Louis, is something of an outlier — and not to be missed. The vivid production runs through July 11 not at the Rep's usual home, the Loretto-Hilton Center in Webster Groves, but at COCA's new Catherine B. Berges Theatre. Seating capacity is limited to about 30%, and audience members must wear masks.
Lynn Nottage's brilliant and brutally honest chronicle of an elephant's murder and its aftermath aspires to, and achieves, mythic resonance. And as directed by Shariffa Chelimo Ali, it's a richly theatrical experience that lingers in the mind long after the actors have taken their bows.
Kambi Gathesha portrays Mlima, an elephant of impressive longevity and legendary reputation who is killed for his tusks — but whose spirit lives on as the tusks make their way from a Kenyan game preserve to stops along the illegal ivory trade. What ensues might be described as a poetic documentary, in which Mlima is a ghostly presence among those who failed to properly value his life but seek to profit from his death.
Nottage, who won Pulitzer Prizes for her plays "Ruined" and "Sweat," has constructed the drama as a series of vignettes, at once unsparing in exploring the particulars of the ivory trade and dreamlike in illuminating Mlima's plight. Without overstating its case, the play is a passionate plea for decency in a world in which unchecked greed can lead to unimaginable cruelty.
But "Mlima's Tale" is perhaps best appreciated as a blend of evocative stage imagery and superlative acting. Gathesha strikes a balance between pride and pathos as Mlima, whose demise prompted tears from at least one audience member at a recent performance. And Ezioma Asonye, Will Mann and Joe Ngo slip into a variety of roles with quicksilver grace.
Ali maintains a measured pace that's just right for the material, and choreographer Kirven Douthit-Boyd has contributed ethereal dancelike moves of which Gathesha takes full advantage in embodying a tragically lost soul. The production also boasts top-notch work from scenic designer You-Shin Chen, lighting designer Jasmine Lesane, costume designer Helen Q. Huang, and composer and sound designer Avi Amon.
This is the kind of play that St. Louis theatergoers deserve to see more often: provocative and perhaps a bit unsettling, but also undeniably enlightening and engaged with what it means to be a citizen of the world.
St. Louis Shakespeare Festival production of 'King Lear,' starring Tony winner André De Shields, is nothing short of spellbinding.