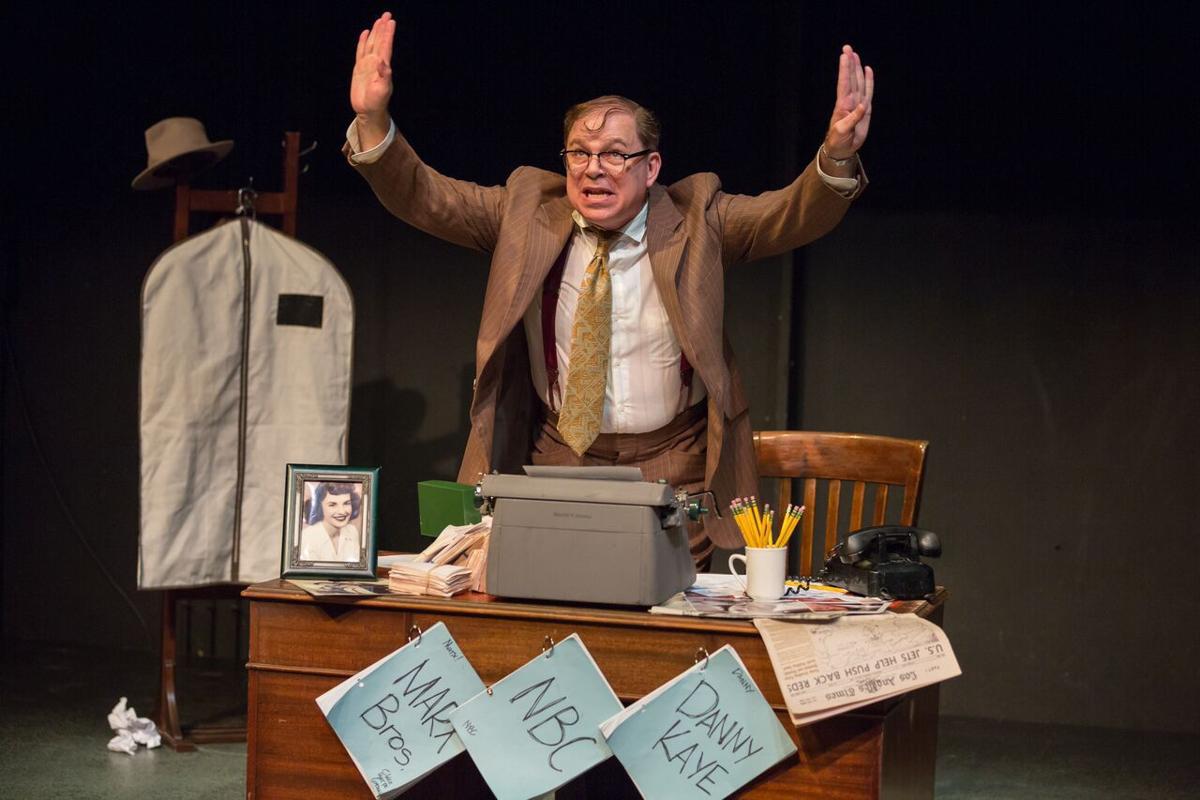 Bernie Lutz, central and sole character in "A Jewish Joke," should be having the best day of his life.
Living in Los Angeles in the early 1950s, he's looking forward to the premiere of a big movie that he wrote with his longtime partner, Morris. Their tuxedos hang in garment bags; Bernie plans to surprise his wife with a mink stole.
Then the phone calls start. The comedy writers have been mentioned in Red Channels, a powerful pamphlet dedicated to driving "reds" from the entertainment industry.
Bernie thinks there must be some mistake. But he soon discovers that assignments are already disappearing. Danny Kaye and the Marx Brothers are looking elsewhere for new material. There doesn't need to be a trial, or proof, or anything. In McCarthy-era America, a whisper is as good as a conviction.
Trying to hold his career, his life and himself together, Bernie works his rotary phone in a frenzy, dialing everybody from MGM head L.B. Mayer to the FBI to the curiously absent Morris.
One of the people he speaks with claims he can help — provided Bernie will sell out his partner. If not, chips will fall — not only on Bernie but on his aged father, a labor activist decades before.
In New Jewish Theatre's production, Phil Johnson brings Bernie to such vivid life, you think he must know him inside-out. He probably does; Johnson co-wrote the 90-minute play with Marni Freedman.
We spend this rocky day with Bernie in his office. Are we actually there? He seems to be talking to us, the audience, but not exactly; more likely we're inside his head.
The office itself is sketchy — a desk with a phone and chair, a coat rack — but is sufficient to establish place.
(Bernie shares it, however, with an inexplicably invisible cat. If he moved its food bowl a few feet over, into the shadows, the "cat" would just be out of view. Why challenge stage "reality" when you don't have to?)
Directed by David Ellerstein, "A Jewish Joke" frames a national crisis in personal terms, boiling down McCarthyism to the choices forced on one man. This well-mined material has been examined in countless books and movies, nonfiction and otherwise. ("The Front," a 1976 movie starring Woody Allen and Zero Mostel, remains a standout.)
But Johnson's thoroughgoing performance is big enough to make the play's case. Sweating and pacing, tempting a secretary on the phone with offers of homemade treats or musing on memories of his mother's worn-out shoes, Johnson brings Bernie to life psychologically as well as physically.
Freedman and Johnson are hardly the first to observe the vein of anti-Semitism that ran through the Red Scare of the 1950s; E.L. Doctorow, for one, explored that dimension pretty effectively in his brilliant novel "The Book of Daniel." The book, however, lacks jokes.
The play sure doesn't. Whenever Bernie feels confused, or frightened, or overwhelmed, he pulls out a joke from the file box on his desk to read aloud. There's a good chance you've heard a lot of them before, but so what? They're still funny.
And they are quintessentially Jewish jokes — jokes about standing up to life when you can, taking it when you can't. They tell us as much about a certain time and place in America as they do about Bernie Lutz.