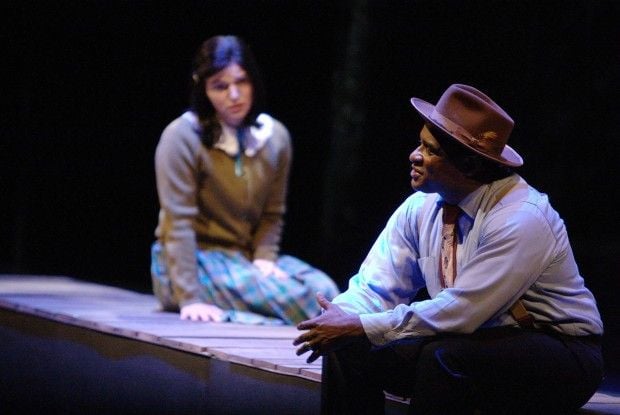 Before a word is spoken onstage, "Anne and Emmett" takes very big risks. It deals with two iconic 14-year-old victims of modern bigotry: Anne Frank, who died in a Nazi concentration camp, and Emmett Till, who was lynched in Mississippi.
We are treading on dangerous ground here — sacred ground. When reality is terrible, art may have nothing to add save decorative sentiment or predictable sermons, both insisting on extracting valuable "lessons" from tragedies that never should have happened to begin with. That's why we count on nonfiction (memoirs, documentaries, etc.) to keep us clear-eyed and clear-headed enough to think about the unthinkable.
But "Anne and Emmett" playwright Janet Langhart Cohen, having decided to create a fictional meeting between these two, was emboldened to go further. Her play — making its St. Louis debut at the Black Rep — is so wildly unrealistic that she leaps straight over the twin dangers of representation (which is impossible) and sentimentality (which is too easy).
Arranging for them to meet in an other-world called Memory, Cohen has written a kind of inside-out version of Jean-Paul Sartre's "No Exit": Heaven is other people.
The short play starts off realistically enough, as Emmett (Eric J. Conners) leaves his Chicago home to visit relatives in Mississippi. But then things take a sharp turn as he is thrust into a vast, dark space where he sees just one person, a dark-haired girl (Courtney Elaine Brown) busily writing in her journal.
As they tell each other stories of their short lives and hideous deaths, Anne and Emmett discover big gaps in information. She doesn't know why he's anxious around a white girl; he doesn't understand why a white girl would have to hide from anybody.
Under the direction of Ron Himes, Conners and Brown give unaffected performances that allow the young characters to talk about their pain, humiliation and fear without a shred of defensiveness. They speak much more freely than older victims would.
That makes them hard to listen to, but all the more worth hearing. There are also sensitive performances from Patrese McClain as Emmett's mother and Jerry Vogel as Anne's father. (In a brief, chilling turn, he also plays one of Emmett's killers.)
The play gets extra force from its unusual design. The costumer, Daryl Harris, grounds us in reality, from Emmett's snappy hat to Anne's pleated pastel skirt. These touches remind us that Emmett and Anne lived in their particular times and places, developing their own particular tastes.
But scenic designer Jim Burwinkel and lighting designer Kathy Perkins take a stylized approach, creating an arena of lumpen shapes, cobweblike hangings and flickering lights. Between these two approaches, realistic and abstract, the Black Rep gives "Anne and Emmett" a look commensurate with Cohen's tender, thoughtful script.
---
What "Anne and Emmett" • Where Grandel Theatre, 3610 Grandel Square • When 8 p.m. Saturday, 2 p.m. Sundays, 7 p.m. Thursday; through Nov. 4 • How much $29-$47 • More info 314-534-3810; theblackrep.org