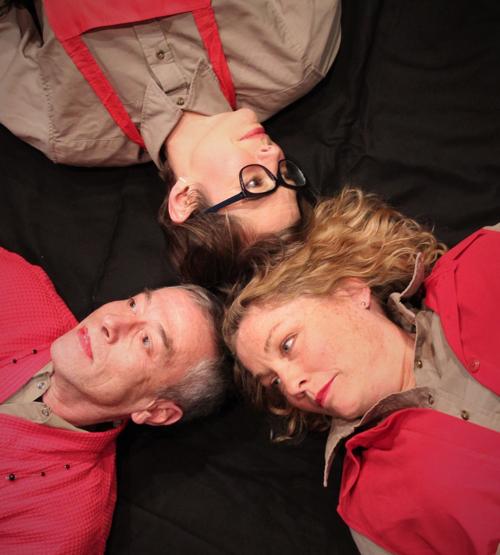 If you're merely a casual theater fan, "Wildfire" — the strange and wonderful comedy onstage through Feb. 9 in a terrific Upstream Theater production — may not be for you. And that's unfortunate.
Often, attending a play isn't much different than watching television. Rather than exploring the myriad possibilities unique to the stage, the playwright sticks with a comfortingly accessible but theatrically limiting realism.
Although that approach can be effective — and indeed, some of the greatest American plays have been in that mode — it's also far too common. Consequently, theatergoers frequently are able to figure out where the story is going before it gets there.
But that's unlikely to be a problem with Québécois playwright David Paquet's "Wildfire," which is not only incredibly imaginative but also outrageously hilarious. Among the virtues of the play directed by Philip Boehm, artistic director of Upstream, is its sheer audaciousness.
Translated from French by Leanna Brodie, the play is in three parts: "The Bonfire," "The Dragons" and "The Fever." The first revolves around triplet siblings Claudine (Nancy Bell), Claudette (Jane Paradise) and Claudia (Tom Wethington), who have yet to get over a traumatic childhood.
Claudine bakes cookies that Claudia dismisses as horrible, and Claudette is obsessed with being a mother — until experiencing a comic shock of recognition.
In "The Dragons," nerdy Callum (Wethington) and downhearted Carol (Paradise) reach out to each other for romance. Bell returns in "The Fever," a monologue about a woman named Caroline and the chaos resulting from her unleashed sexual desire.
Paquet's off-kilter sensibility nonetheless connects with the insecurities and absurdities of being human. Admirers of the works of Samuel Beckett ("Waiting for Godot") and Harold Pinter ("The Homecoming") will be in heaven.
Boehm proves to be thrillingly adept at existential farce. And Bell, Paradise and Wethington make for an ensemble that's gloriously in sync.
"Wildfire" burns with a stage magic that's nothing short of exhilarating.