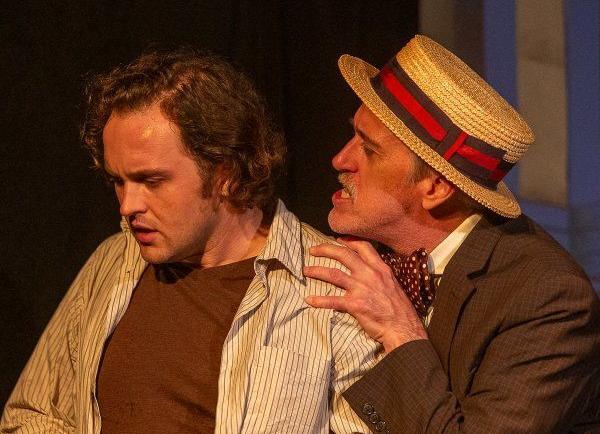 Strong performances triumph over an intriguing but insufficiently explored premise in "Bloomsday," the comedy-drama running through Sunday in a West End Players Guild production.
Written by Steven Dietz and directed by Jessa Knust, the play focuses on two characters at different ages. Robert (Jeff Lovell) is a philosophical American gent who disdains James Joyce's doorstopper "Ulysses" and as a young man was known as Robbie (John Moore). Cait (Colleen Heneghan) is the Irishwoman with whom Robbie fell in love when she still called herself Caithleen (Megan Wiegert).
But Robbie broke things off with Caithleen — a decision that his older self, Robert, regrets. The good news is, Robert can travel back in time and watch his younger self become smitten with and pursue the woman whom he now realizes was the love of his life. But that's also the bad news, as the world-weary Robert must look on as the callow Robbie ultimately turns his back on her.
Dietz sets up the story beautifully, with a delightful opening scene that Lovell plays to the hilt. Particularly thrilling is Robert's takedown of "Ulysses" in a conversation with Caithleen, whose job as a Dublin tour guide more or less obligates her to defend Joyce's classic — and arguably overrated — novel. Robert attacks the book with such an exhilarating ferocity that it's not surprising to learn that he's read every word.
But after that scene, in which Robert and Caithleen share an encounter that defies the rules of time and space, the play doesn't quite fulfill its potential as a fantastical, time-bending lark. It's as if Dietz, having come up with the idea for the play, didn't quite think it through.
But the well-cast actors keep the audience engaged.
Lovell turns in a charismatic performance that might remind some theatergoers of the late Jason Robards. Not only does he capture Robert's irrepressible wit but also the pain with which he lives — and which he realizes will never go away.
Wiegert balances spunk and vulnerability as Caithleen, in a way that nicely plays off Lovell's irreverence. And in roles largely informed by a character's nationality, Heneghan embraces Irishness as persuasively as Moore conveys Americanness.
Knust conjures an atmosphere of aching nostalgia to which just about anyone can relate. If Dietz's play comes across as a bit convoluted, it also gets to the heart of what life is all about: choices, made in certain circumstances, for specific reasons. Including choices that prove to be wrong.
"Bloomsday" is perhaps best appreciated as an ensemble piece that, in its best moments, charmingly explores the allure and unpredictability of romance.