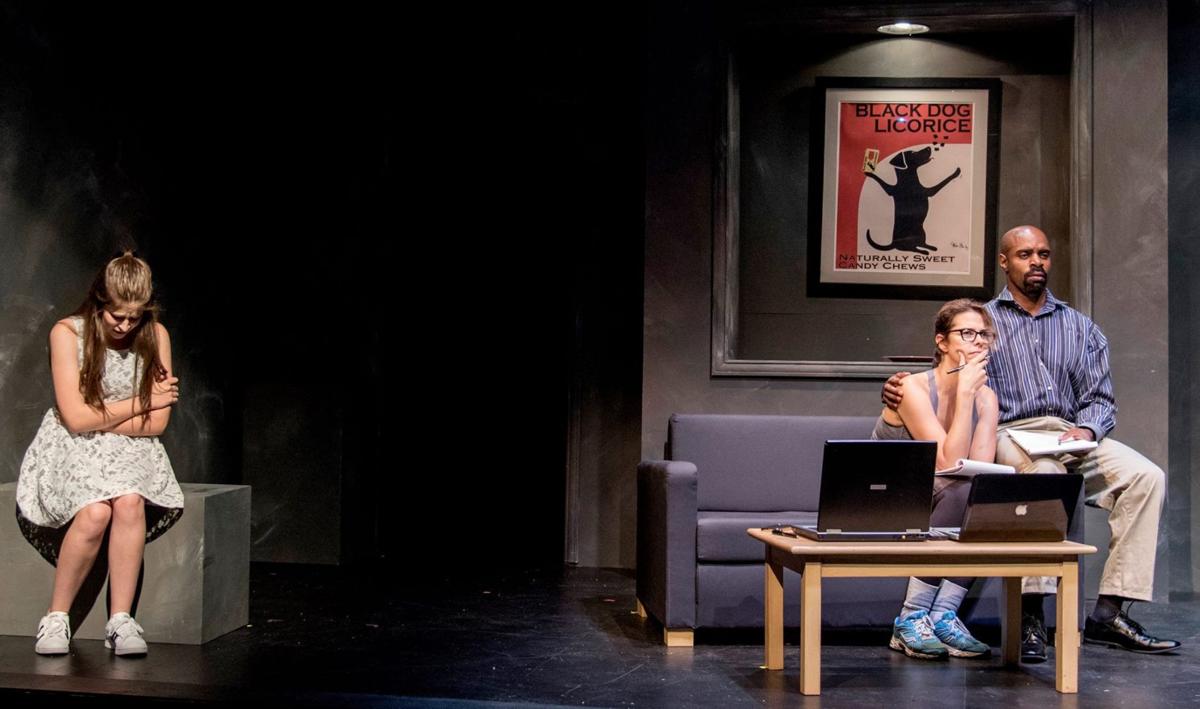 You know what the best thing is about the LaBute New Theater Festival?
Ignite! concentrates on full-length plays, but the LaBute festival specializes in short works. Think of it as the difference between a dinner and a party with "heavy appetizers." It won't fill you up, but it may whet your taste for something more.
Founded and led by Actors' Studio artistic director William Roth, the LaBute festival is staged and performed entirely by St. Louis artists, including some who may never before have worked together. That bridge-building is a plus, one that could not be achieved without simple production values and, no doubt, short scripts. This year they were a varied lot.
The festival is performed in two "sets" — one group of plays for the first two weekends, another group for the second two. The first set includes "Waiting for the Erie Lackawanna" by Ron Radice, whose warmed-over Beckett is at least enlivened by bright physical humor. Credit director John Pierson and the cast — Spencer Sickmann, Reggie Pierre and Ryan Lawson-Maeske — for making the most of the men's difference in height.
"Sacred Space," by Barbara Blumenthal-Ehrlich, infuses the Jewish ritual of washing the dead with mourning for the victims of the Orlando nightclub massacre. It's very emotional but needs a lot more thought.
Blumenthal-Ehrlich takes cheap shots, particularly when she has one of the women performing the ritual say a four-letter word (the strongest one).
Why not just have her suddenly speak Chinese? No matter how shocked and upset they are, the devout women and men who undertake this task would no more curse during the ritual than they would snack on a ham sandwich. Sophia Brown and Kim Furlow play the Orthodox women; director Nancy Bell keeps things moving crisply and includes some great closing music from the Klezmatics.
"Percentage America" is the triumph of the evening, a smart political comedy with dark undertones. Written by Washington University professor Carter Lewis and directed by Pierson, this imaginative piece finds a couple (Bell and Chauncy Thomas) on a first date that's going downhill fast. Then the woman suggests that they pick a news story and investigate it themselves. Maybe they can cut through the spin and hype to something honest.
They choose a story about a teenager (Kelly Schaschl, who also plays a TV reporter) who got lost in the White House Rose Garden. As the couple peels this onion, they learn how rotten it is.
The performances are top-notch, and the play, short as it is, reaches an authentic conclusion. Bell and Thomas — both well-known to St. Louis theatergoers — establish such good chemistry, they let you feel this couple has a chance.
All 2017 performances open with a piece by the festival's namesake, famed playwright Neil LaBute. LaBute was on hand for the opening weekend, chatting over dinner with the writers and also making himself available to the high school writers whose works were showcased at readings Saturday.
His play "Hate Crime" deals with lovers (Chauncy Thomas and Greg Hunsaker) planning a crime.
Director Pierson keeps the mood prickly and noirish in designer Patrick Huber's utterly anonymous hotel room, a classic noir setting. But what happens next?
No doubt LaBute intends to leave things hanging. But his audience may want a second act.