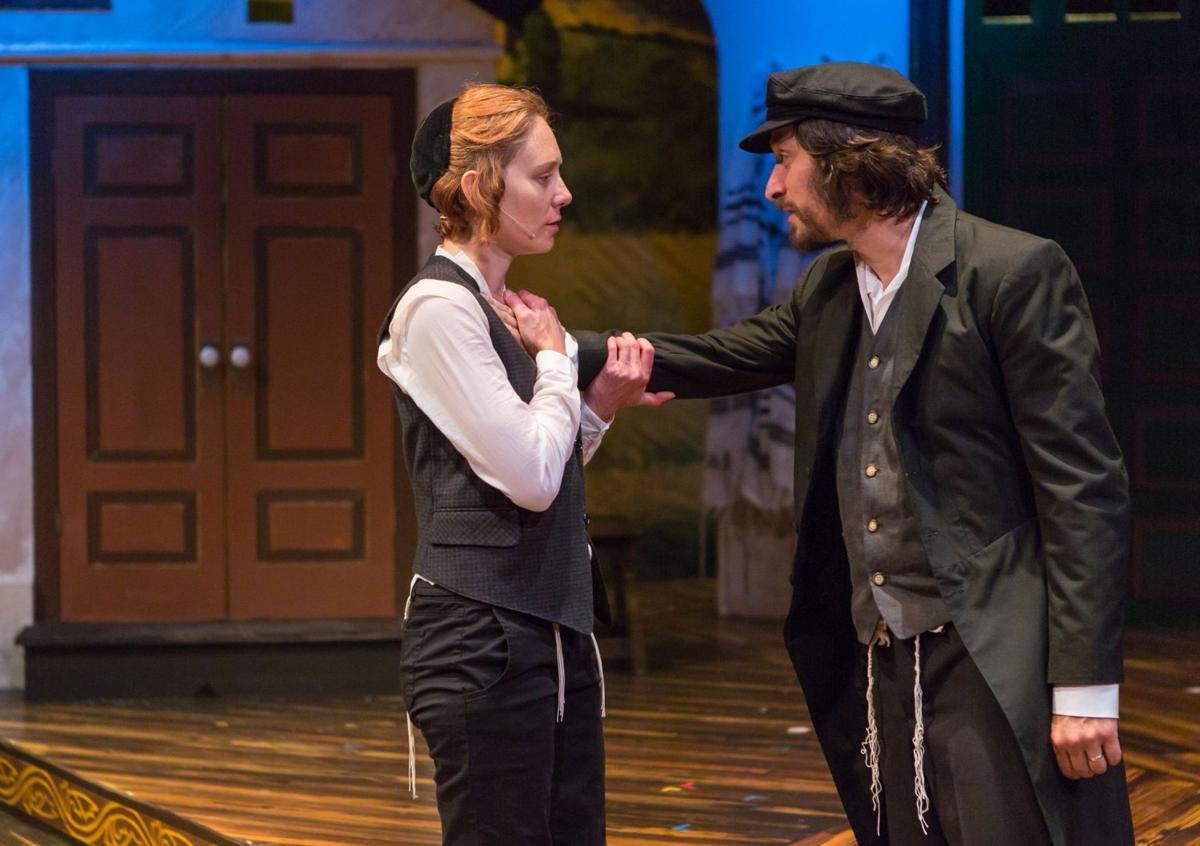 Scattered through "Yentl," the musical closing the season at the New Jewish Theatre, are friendly little nods to a much more famous show that's set in the same world: "Fiddler on the Roof." There's even a road sign pointing the way to Anatevka, the tiny shtetl where "Fiddler" takes place.
Maybe it's a little sister to "Fiddler."
"Fiddler," which opens at the Muny on July 30, is a big show. "Yentl" is a small one, delicate and refined. Director Edward Coffield employs an apt light touch to tell the story of Yentl (Shanara Gabrielle), a girl who disguises herself as a boy in order to study the holy books at a yeshiva.
No Jewish girl in the 1880s could have done that. The Nobel laureate Isaac Bashevis Singer came up with the plan in a short story, "Yentl the Yeshiva Boy." In 1975, he collaborated with Leah Napolin on a stage adaptation. In 1983, Barbra Streisand made it into a movie musical; Singer loathed it. A few years ago, Napolin updated the stage script with songs composed by Jill Sobule (not the Streisand movie score).
Slender and youthful, Gabrielle blesses Yentl with a serious demeanor and a sharp mind that hums beneath her borrowed demeanor. Yentl studied with her learned father, but when she's left alone after his death she takes off in disguise ("I Hate Girl Things") to study. She quickly meets up with a brilliant student, Avigdor (Andrew Michael Neiman), who takes "Anshel" (as Yentl calls herself) under his wing.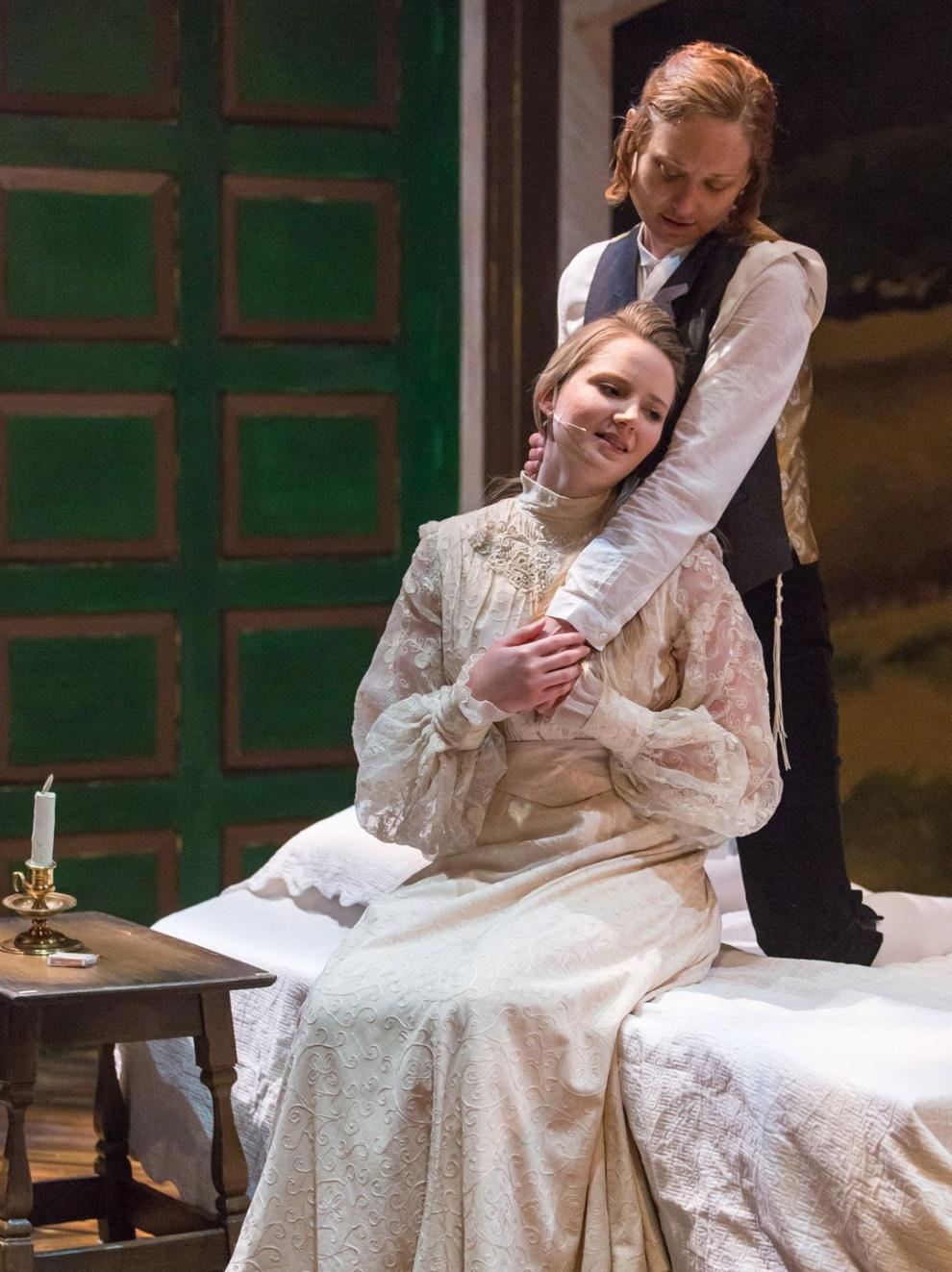 Neiman gives a touching, romantic performance. Clutching his hands into fists, then spreading them wide, he reveals his secrets to Anshel — a whole heart in a single gesture.
Avigdor was once engaged to Hadass (Taylor Steward), a beautiful, tender-hearted heiress destined to make someone a wonderful wife, and he still loves her. But Hadass' mother broke it off because of a scandal in his family. Now Avigdor wants his dear new friend to marry her instead. Once that happens, all three of them are bound together not only by their hearts but by a secret.
All three of them love each other. But this world moves in twos. Ultimately someone has to sacrifice something — or perhaps everyone does.
Music director Charlie Mueller and a small combo find the songs' emotional undercurrents. Standout numbers include the lively "Welcome to Bechev," smartly choreographed by Ellen Isom, and the dreamy "My Sister, My Bride."
That title evokes the complexity of relationships in Singer's dense little world; that density is magnified by the way Coffield has most of the actors in his strong cast playing multiple roles. The Wool stage may be small, but it can encompass a host of characters.
Peter and Margery Spack designed the fluid, uncluttered set with echoes of Marc Chagall (who first painted a fiddler on a rooftop), thoughtfully lit by Seth Jackson. Michele Friedman Siler's costumes illuminate the distinctions of money and status that exist in the shtetl, just as they do in the wider world.
Subtly and shrewdly, "Yentl" reminds us that our heroine is not the only woman whose ambitions exceed her kitchen. We meet the woman who runs the ritual bathhouse (Amy Loui), a thief (Loui again) and a young widow (Jennifer Theby-Quinn) with the best head for business in town.
These women aren't making philosophical choices. They just need to claim more ground in order to live their own lives. As the play ends, and you consider the history that lies ahead, you have to wonder: How many of them, like the residents of Anatevka, will find their way to America?
---
What "Yentl" • When Through June 5 • Where Wool Studio Theatre, JCC, 2 Millstone Campus Drive • How much $39.50-$43.50 • More info 314-442-3283; newjewishtheatre.org