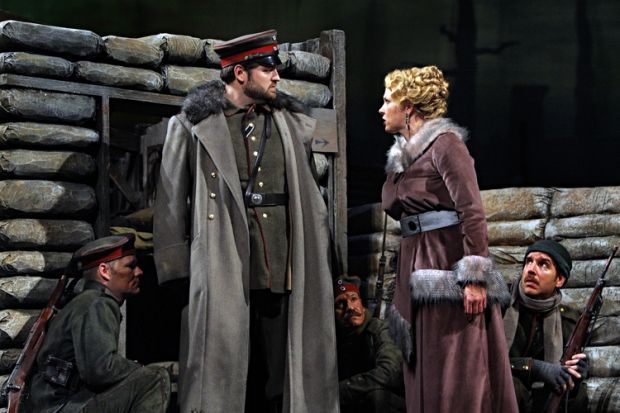 On Christmas Eve 1914, the Great War had been going for only a few months, but already it was a grim and deadly affair: Men living in miles of muddy trenches, firing at any sign of life from the other side and occasionally sent forth to cross long stretches of no-man's land in front of batteries of relentless machine guns.
The Germans began the truce that night across the war-scarred landscape of Flanders, putting Christmas trees atop the parapets, singing familiar carols and holding up signs inviting a cease-fire. Many British troops and some French accepted and put down their weapons. The bodies of the dead were buried; some exchanged gifts, and soccer games broke out.
The true story has inspired various books and a film, "Joyeux Nöel." In 2011 it became the opera "Silent Night" by St. Louis native Kevin Puts, with a libretto by Mark Campbell after the film. It will air in St. Louis on KETC (Channel 9) on Sunday.
The Minnesota Opera's production of "Silent Night" is fast-moving and gripping. It opens in an opera house in Berlin, where a soprano and tenor are singing a Mozartean duet. It ends abruptly when a soldier appears and announces the outbreak of war. The tenor is led away, conscripted on the spot. In Scotland, two brothers and a priest enlist, one dreaming of glory, another to keep him company, one to serve as a chaplain. In France, a young lieutenant reluctantly leaves his pregnant wife.
The first months of war are vividly portrayed in a rapid montage that underscores the violence and senselessness of this war. More of the lives of the principals are sketched out. On Christmas Eve, Nikolaus Sprink (William Burden), the tenor, receives a summons to sing for the Crown Prince: His lover, Anna Sørensen (Karen Wolverton), has wangled an invitation for the two of them to entertain the High Command — and to have a night together. When he insists on returning to the front (he promised to sing for his comrades, too), she joins him. Once back, he sings a Christmas carol to begin the truce.
Most of the events portrayed are historically correct, and the characters are well-drawn. With the exception of the opening moments, the Scots sing in English, the French in French and the Germans in German. Puts' musical voice, which has grown impressively since his "River's Rush" for the St. Louis Symphony Orchestra's 2004 opening night, is appropriate for each scene, ranging from the tender and lovely to the atonal for battle scenes. Puts deserved the 2012 Pulitzer Prize he won for the score.
The production is impressive. A highly effective unit set, designed by Francis O'Connor, has a revolving center that serves as no-man's land, with the trenches below it. The costumes, designed by Kärin Kopischke, have authentic uniforms for all three armies.
The performances are impressive, too. Conductor Michael Christie, a veteran of new works at Opera Theatre of St. Louis, brings it all together musically; director Eric Simonson keeps it moving and helps to make each member of the large cast a distinct individual.
Standouts, along with Burden and Wolverton, are baritone Liam Bonner, a veteran of OTSL and the SLSO's "Peter Grimes," as the Parisian Lt. Audebert; baritone Andrew Wilkowske as his aide-de-camp; baritone Troy Cook (Silvio in last summer's "I Pagliacci" at OTSL), as Father Palmer, whose singing of St. Francis' "Lord, make me an instrument of your peace" is a musical high point; tenor John Robert Lindsey as the vengeful Jonathan Dale; baritone Gabriel Preisser as Lt. Gordon; and baritone Craig Irvin as Lt. Horstmayer, the Jewish officer whose is having his first, and probably last, Christmas celebration. The chorus and orchestra are flawless.