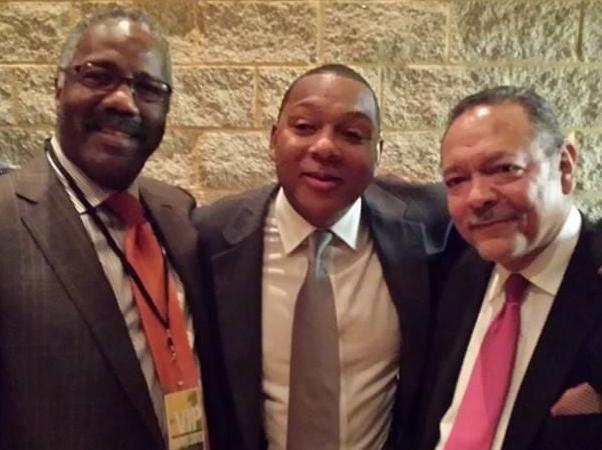 Everywhere you looked at musical theater in St. Louis, Charles Creath was there.
He was the musical director for the St. Louis Black Repertory Co. for more than 35 years, contributed to musical productions across the country and served as an international ambassador for gospel music. Mr. Creath died after a short illness Friday (Dec. 25, 2020) at age 68.
A keyboard player, Mr. Creath performed as recently as Nov. 14 at the Black Rep's Fifth Annual Gala. In May, he played in a remote performance of Fats Waller's "Black and Blue" in an Arts United STL fundraiser to support the Regional Arts Commission's Artist Relief Fund to support performers who lost work because of the coronavirus pandemic.
The month before that, he won the St. Louis Theater Circle Award for outstanding musical director for the Black Rep's revival of "Don't Bother Me, I Can't Cope."
That was also the first show he worked on at the Black Rep during the 1983-84 season, said the company's founder and producing director Ron Himes.
"He was a musical genius. He could play anything, and he played everything. He was a tremendous gospel church musician, tremendous jazz musician. He could pick up any Broadway score and play it," he said.
"We had done several productions of 'Ain't Misbehavin' together, and he could play that whole show without the score. He was just an incredible arranger, composer and all-around great musician," Himes said.
Creath won the Kevin Kline Award from the Professional Theatre Awards Council for outstanding musical director in 2011 for "Five Guys Named Moe" and was nominated in 2010 for "Blues in the Night" and in 2012 for "Black Pearl Sings!" He was also musical director on "Sarafina!" — which won the award in 2009.
In addition, he was honored by the Post-Dispatch in 2009 for best musical director for "Blues in the Night" and by the Riverfront Times in 2010 for best musical director for "Ragtime."
Mr. Creath and Himes collaborated together to create "Crossin' Over," which Himes called "a musical journey from a day in an African village to contemporary gospel music in a church today." It was one of the Black Rep's most popular shows and was taken to schools in an abbreviated form called "Freedom Songs."
"He did all of the arrangements, I selected all of the songs and music, and he arranged it. It was a very, very big audience favorite. We probably could have brought it back again and again," Himes said.
A different audience knew him from playing pre-shows at the Muny for the last several years.
In addition to his work on musicals, Mr. Creath was a leading figure in the world of gospel music. As artistic director of both the Golden Gospel Singers and the Gospel People, he toured extensively throughout Europe and Asia, performing as many as 200 shows a year. He received rave notices for these shows from publications in Germany and Luxembourg.
Early in his career, he was a studio musician in Los Angeles at Glen Glenn Sound, which provided music for television shows and movies. He was the grandson of the seminal St. Louis hot jazz bandleader Charlie Creath and has served as the mentor of countless young area musicians including Tre'von Griffith, a local music and theater artist who goes by the name Tre G.
"He taught me the nuances of what it meant to be a music director. I don't think I noticed it until now. I didn't have time to reflect on it," said Tre G, who is now a music director for several local theaters.
"I remember him pulling me aside a lot of the time, giving me tips. He showed me how to work with musicians, how to be a bandleader, all the nuances of what it meant to create music."
Mr. Creath is survived by his wife, Lisa; his children, Candace, Christopher and Kelci, all of St. Louis, and Lauren Morrow of New York; and three grandchildren.
Funeral arrangements are pending.