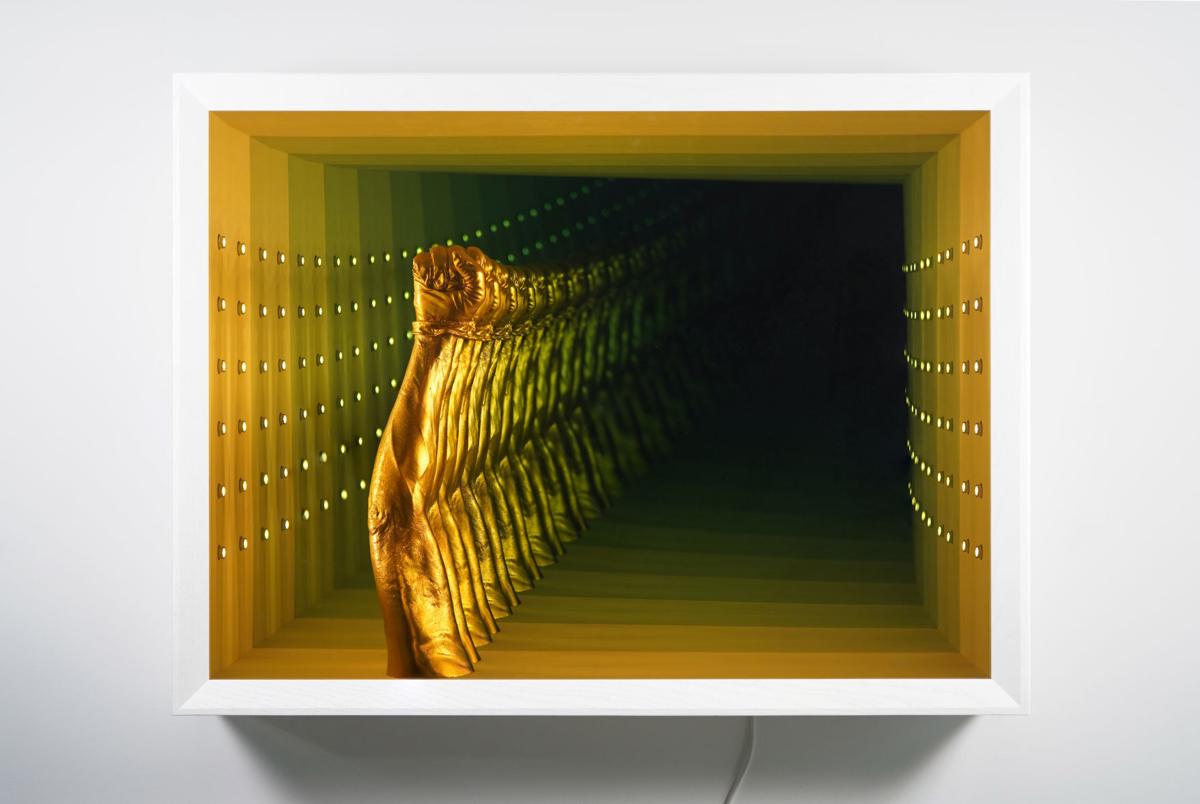 Wassan Al-Khudhairi, chief curator at the Contemporary Art Museum St. Louis, wants you to know there's no correct way to interpret contemporary art, but she wants visitors to connect with it and perhaps walk away wanting to take action.
Viewers can connect with a variety of pieces in "Stories of Resistance," on view March 12 through Aug. 15. The exhibition features 42 works in a variety of media — videos, photography, drawings, sculptures, paintings — by 22 artists from around the world.
"I'm hoping that since we have so many different types of voices through so many different types of mediums that there is something for everyone to feel they connect with," she says. And maybe visitors will walk away ready to step up.
St. Louis is not the focus of the exhibition, Al-Khudhairi says, but rather the inspiration. Using the history of resistance movements in St. Louis prior to and including Black Lives Matter events in Ferguson as a base, she and her team included artwork that speaks to the larger idea of resistance.
"Stories of Resistance" is divided into three sections that act as guideposts for the different forms of resistance: language, existence and movement. The language section will feature a local group called PSA, which produces text that's placed on the outside of CAM's building.
Existence looks at the idea of the presence and continued survival through visible history, stories or people often disregarded or forgotten. Artist Glenn Kaino created a cast of Olympian Tommie Smith's arm, raised in a fist. Smith was one of the athletes who gave a Black Power salute while receiving a medal at the 1968 Olympic Games in Mexico City. The cast is displayed in a reflective box, allowing viewers to see themselves in the artwork — literally.
"So, you're not only a witness of (the sculpture) but (getting) called to action or to be a kind of participant in this moment," Al-Khudhairi says.
Movement as resistance plays on both physical movement or mobilization and the migration of people. Artist Guadalupe Maravilla has both a sculpture and a mural in this section of the exhibition. His mural depicts a game he played when he migrated at age 8 to the United States from El Salvador.
"You don't have to speak the same language (to play)," Al-Khudhairi says. "It's just a game to connect with another person. This game became really important to him as he remembers that experience of connecting with people."
Through the artists' work, Al-Khudhairi hopes to connect St. Louis to the rest of the globe. Although we may not realize it, she says, what St. Louis does and how it organizes has an effect on the rest of the world, just as the rest of the world impacts St. Louis.
She points to Black Lives Matter protesters inspiring those resisting last year in Hong Kong.
"We are all a lot more connected, and when we come together, we can find those connections in a way that can feel meaningful but also hopefully empowering," Al-Khudhairi says. "We're hoping the individual gestures of resistance in the exhibition are able to hopefully highlight the courage and resilience that is found in these stories."
The exhibition also includes "Radio Resistance," a partnership with St. Louis Public Radio, and "Collective Impact," a series of posters made by young Black and Latinx artists who participated in Creative Reaction Lab's "Artwork for Equity" program.
The posters focus on voter rights and justice issues and will be on display through May 23. "Radio Resistance" is an 11-episode podcast featuring discussions with the artists and St. Louis leaders. Episodes will be released biweekly at a listening station at the Contemporary, and selections will be broadcast on KWMU's "St. Louis On the Air."
Through these varied components, Al-Khudhairi hopes the exhibition will help viewers reflect. Above all else, she wants them to feel as though they have had a shared human experience — even though that's a big ask.
"What I really hope the exhibition can do is propose a series of questions that allow people to have their own conversations, make their own connections and conclusions," Al-Khudhairi says. "(The exhibition) is not about answers, it's not about giving a concrete history of anything or making very definite statements. It's about your experience and your trajectory within that space that I hope becomes your own."
What "Stories of Resistance" • When March 12 through Aug. 15; hours are 10 a.m.-5 p.m. Thursday, 10 a.m.-8 p.m. Friday, 10 a.m.-5 p.m. Saturday-Sunday • Where Contemporary Art Museum St. Louis, 3750 Washington Boulevard • How much Free • More info 314-535-4660; camstl.org