The stalemate lasted through June, when the doors to the World Chess Hall of Fame could open again.
It closed in March due to the pandemic, but in the meantime, workers set up plexiglass dividers, smoothed social distancing stickers onto the floor, hosted online events and acquired a temperature-checking robot affectionately named Robbie.
Three new exhibitions were also set up, which tell a variety of stories from the world of chess.
On Aug. 28, the World Chess Hall of Fame will host a live reception and tours of the exhibits, with another reception Sept. 4. All will be supplemented with virtual tours. The exhibits were originally scheduled to debut in May.
"Cultural institutions are so important and are really good for you mentally and really wonderful means of entertainment," says chief curator Shannon Bailey. "So when things are really stressful and sad in real life, it's a really nice and safe way to come escape."
The St. Louis Chess Club, the hall of fame's sister organization across the street, has moved some tournaments online and established setups for live chess play, which includes plexiglass dividers across the boards and cleaning of chess pieces between play.
Innovative chess thinkers worked quickly during the pandemic, Bailey says. Almost overnight, chess blew up on the streaming platform Twitch, where a combination of popular streamers and champions played.
The exhibits at the hall of fame appeal to non-chess players and those seeking a non-virtual experience. "Drawn Games: Chess Posters From Around the World" shows off more than 100 posters from more than 30 countries that celebrate chess in tournaments, movies, rock concerts and more.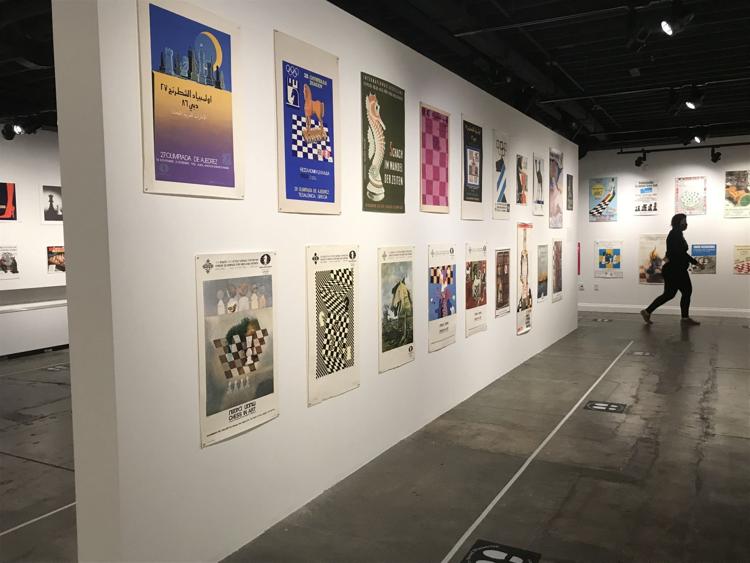 Curator Emily Allred points out her favorite posters, a series by a group of Puerto Rican artists who traveled to chess tournaments around the world. They embodied the flavor of a certain location, such as a poster with a Trojan horse for a tournament in Greece.
"In addition to being really beautiful and having these really vivid colors," Allred says, "they tell a story about cultural exchange, which I think is a big thing with chess."
Two players who don't speak the same language can easily play a game of chess, which has its own language, she says.
The unframed pieces are hung by their corners using tiny magnets. This is meant to highlight their practical life as posters, one of the earliest forms of advertising.
"Dare to Know: Chess in the Age of Reason" tells the story of how chess, during the 18th-century Enlightenment, became a game played by all people, not just kings and clergy. "The Enlightenment flourished in coffeehouses, where people would go to discuss the newest ideas of the days, but that is also where there was a thriving chess culture," Allred says.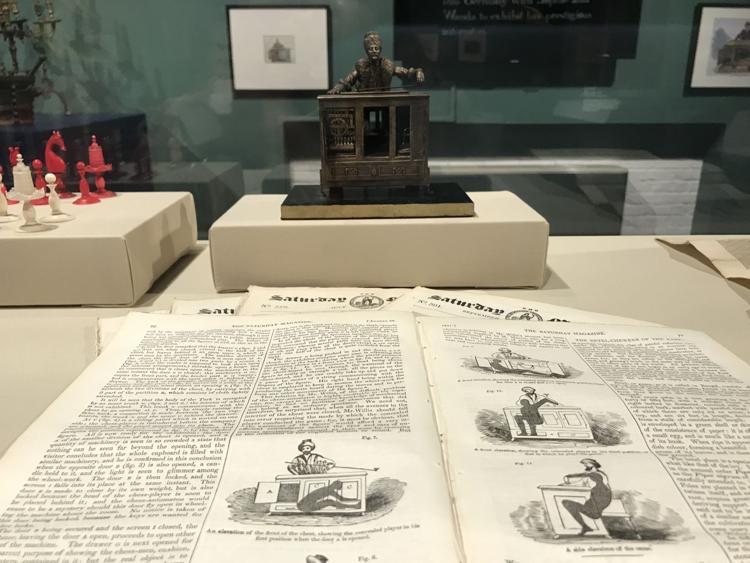 The display includes an array of elaborate chess sets (including one that belonged to Madame Tussaud of wax museum fame) and a bound set of books that make up the Encyclopédie, an effort to include all of human knowledge in the same place, which includes instructions for making chess pieces on a lathe.
Also on display are a model and diagrams of the chess-playing automaton known as the Mechanical Turk, which astounded audiences for decades until it became known that a human hid inside the whole time.
"There are writers who imagined what was going on in there, including Edgar Allen Poe," Allred says. Only a few pieces of the original Turk remain, but they couldn't be shipped due to COVID-19 — an issue with this exhibit in particular, because the shipper or museum lending the objects had to scale back or close.
"Power in Check: Chess and the American Presidency" is a whimsical look at the presidency and the strain between world and political powers through the game of chess. An oversize touchscreen tells the story of each U.S. president and his relationship to chess.
Display cases show a variety of presidential-themed chess sets. A ceramic set depicts Bill Clinton as king at a podium flanked by McDonald's menu favorites. A wooden one was created from a fallen tulip poplar tree planted at Monticello by Thomas Jefferson.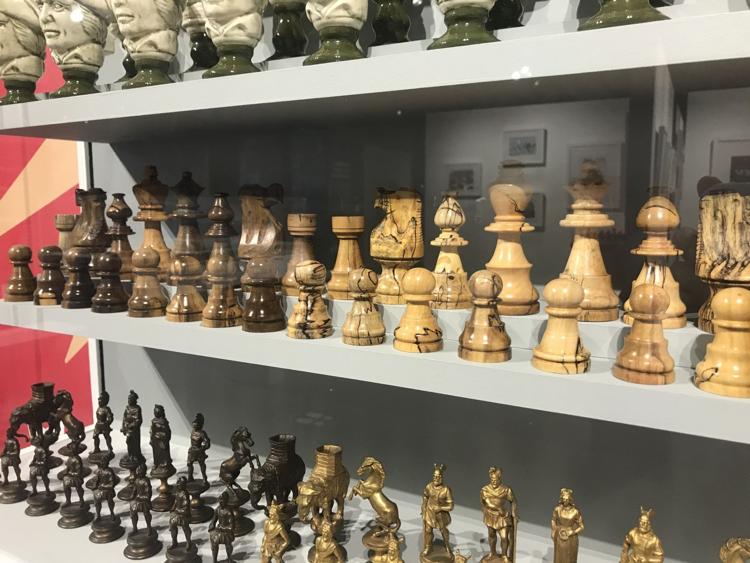 There is plenty of time for visitors to make it to the World Chess Hall of Fame to see these shows: "Drawn Games" and "Dare to Know" will be on view through Nov. 1 and "Power in Check" through Jan. 31, after Inauguration Day.
And yes, President Donald Trump and former Vice President Joe Biden claim a few spots on the boards. The exhibit's plastic "2020 Battle for the White House" set was purchased before the Democratic nominees were decided, so the podiums on the blue side remain unoccupied. Biden sits astride a donkey as a knight.
"It's a fun, interesting show," Bailey says. "This election season has been a little tense. This is a good distraction."
What "Drawn Games" and "Dare to Know" on view through Nov. 1, "Power in Check" on view through Jan. 31; receptions 5-7:30 p.m. Aug. 28 and Sept. 4 • Where World Chess Hall of Fame, 4652 Maryland Avenue • How much Free • More info worldchesshof.org