Those who love ancient Egyptian art can imagine traveling the Nile for the St. Louis Art Museum's next exhibition.
There they'll find "the greatest civilization you've never heard of," says Denise Doxey, a curator from the Museum of Fine Arts, Boston.
"People are completely unaware of it."
But with more than 330 items spanning over 2,000 years, "Nubia: Treasures of Ancient Africa" will introduce to visitors (or expand their knowledge of) a great empire.
Nubians made sophisticated jewelry out of assets from their gold mines. They built pyramids, buried kings with statuary and created a unique script.
But that script is one of the reasons their history is overshadowed by neighboring Egypt's — no one knows how to read what the Nubians wrote.
"The way the language functions has not been figured out," Doxey says.
Curator of Ancient Egyptian, Nubian and Near Eastern Art at the Boston museum, Doxey worked in St. Louis to install their treasures here.
It's a family-friendly exhibition, she says, with motifs of lions, rams and cobras to spot and collections of the mortuary statues called "shawabties," which were arranged like sentinels around the dead.
"If you enjoy Egyptian art, you will almost certainly enjoy Nubian art," Doxey says.
But she's also upfront about the museum's controversial past regarding its early 20th-century excavations: The Harvard professor leading them made racist assumptions that led him to misinterpret some of the finds.
Where was Nubia?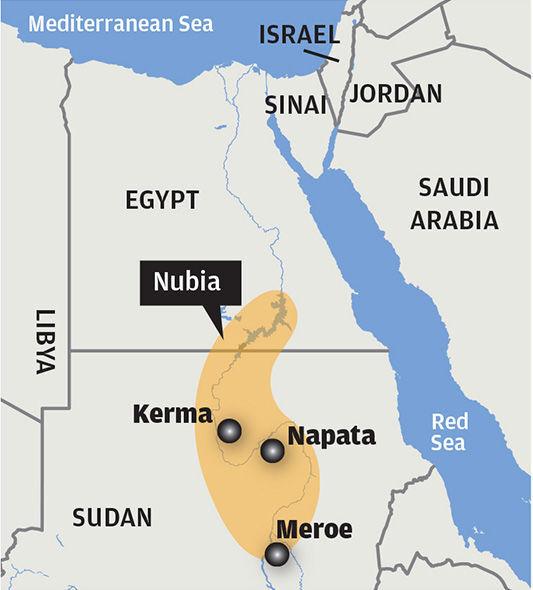 Never a country, ancient Nubia was known as the Kingdom of Kush, and it flourished along the Nile in what is now northern Sudan and southern Egypt.
There was a series of three main Nubian eras, Doxey says, although Nubia and Egypt were long intertwined. Egypt often had the upper hand, but the neighbors also married, shared culture, traded and worked together. For one 100-year period, Nubia even controlled Egypt.
The St. Louis Art Museum says: "Egypt coveted access to Nubian gold mines and to luxury goods — ivory, ebony, incense and cheetah skins — available through trade. For long periods, part or all of Nubia fell under Egyptian control. Egyptian propaganda cast Nubians as the barbaric 'other.' Yet, in reality, Egyptians and Nubians lived in proximity, traded, shared culture and ideas, and intermarried. Nubians even rose to the highest ranks of the Egyptian government."
Around 1700 B.C., the city of Kerma was the capital of the Nubian kingdom and a trade network that extended to the Red Sea and into central Africa. Kerma was near the Nile's third cataract (a section of rocky rapids).
Rulers were buried in earthen mounds with the remains of animal and human sacrifices. Other burial goods included beaded leather, ivory, and fine pottery.
When Kerma's army, known for its archery, threatened its Egyptian neighbors, the latter fought back and destroyed Kerma in mid-16th-century B.C.
A later important Nubian capital was Napata (750-332 B.C.). Leaders' pyramids in Napata are smaller and steeper than the Egyptian pyramids. Burial chambers were reached by staircases outside the tomb (these are now mostly flooded with water), the exhibition says.
The royal coffins, the museum says, were made of "gilded wood, inlaid with glass and semiprecious stone. Unfortunately, none survived the ravages of insects, moisture, and ancient tomb robbers. In some cases, all that remains are eyes and eyebrows from their mummy-shaped lids."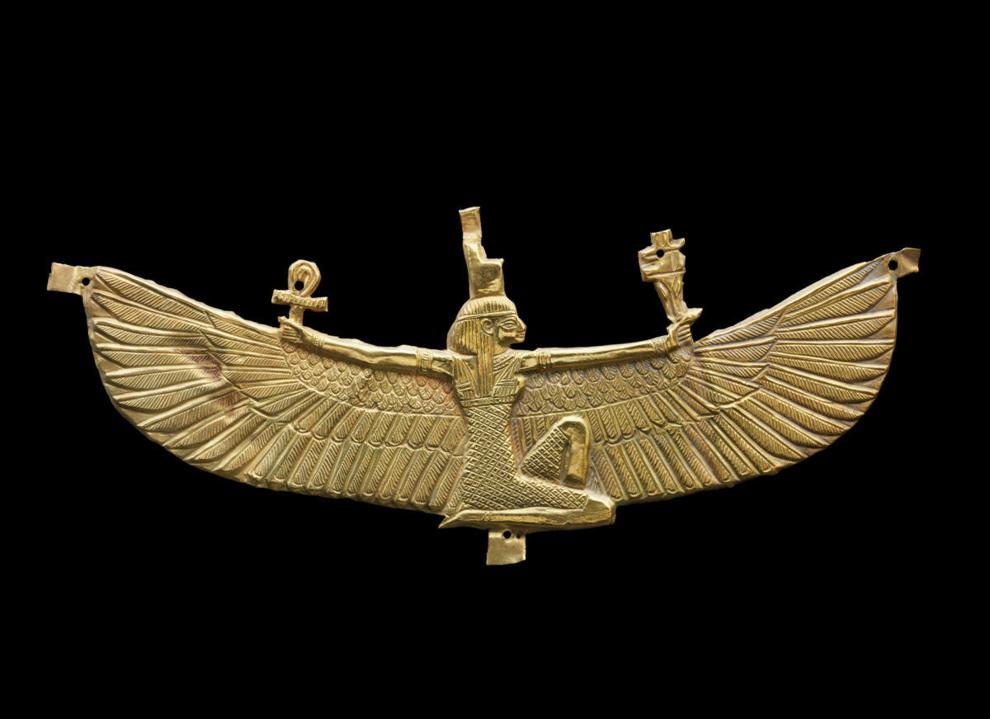 In addition, the tombs were robbed in antiquity, so many treasures are long gone. One group of objects survived, the exhibition says, from the tomb of Aspelta (reigned 593-568 B.C.) when part of the ceiling collapsed and hid the objects. The exhibition shows that the "precious materials and exquisite workmanship of 'Aspelta's treasure,' on view here, offer a tantalizing glimpse of what is missing." The shawabties that stood around the dead kings sometimes numbered in the hundreds and ranged in size from about 8 inches to up to 2 feet.
The third major Nubian center featured is Meroe (332 B.C.-A.D. 364), which has dozens of pyramids, although many are in ruins. The city was a vast trading metropolis, considered a great city of antiquity.
But this is the era when Nubia used Meroitic, the second-oldest script in Africa after Egyptian hieroglyphs.
Doxey says some names are recognizable, but otherwise Meroitic has not been fully deciphered (Egyptian hieroglyphs were deciphered in large part in the 1820s by Frenchman Jean-François Champollion).
So before Meroitic was used, information about Nubia comes from Egyptian writing (which often portrayed its neighbors as inferior). Scholars study art, archaeology and other writings to try to learn about life in Meroe.
On display are Roman and Greek items that may have arrived in Meroe by traders or as tribute. Romans tried — but failed — to conquer Meroe in 22 B.C., the exhibition says, and Emperor Augustus signed a peace treaty with Nubian Queen Amanirenas.
Western bias
The Nubian finds held by the Museum of Fine Arts, Boston largely come from an archaeological expedition in the early 20th century.
George A. Reisner (1867-1945), a curator of Egyptian art at the museum, oversaw digs in Egypt and Sudan from 1910 to 1930.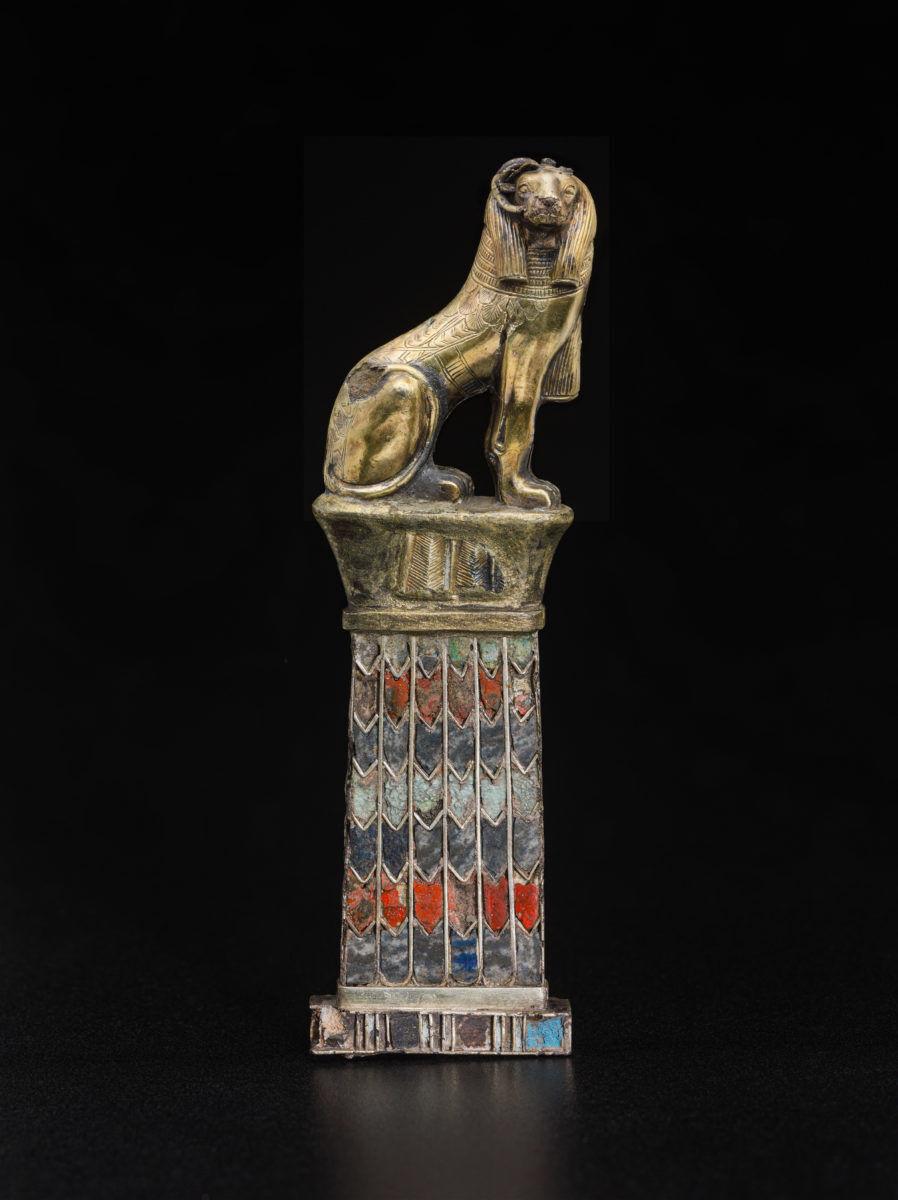 Doxey credits him as keeping meticulous records and photographs. But Reisner, who was also a professor at Harvard University, held racist beliefs, she says. The Boston museum has prominently sought to correct some of Reisner's original interpretations of the Nubian finds.
Like some other Western scholars at the time, he did not think Africans south of Egypt were capable of creating advanced civilizations.
And because Egyptian writing would defame Nubians (and many other groups it sought to portray as inferior), Reisner apparently accepted some of its propaganda.
He concluded Kerma was an Egyptian outpost, ruled by an Egyptian governor who adopted "barbaric" local burial practices, the exhibition says: "Fine quality objects were attributed to Egyptian influence by Reisner, while mundane ones were identified as Nubian."
Today's scholars have reconsidered many of Reisner's findings, the exhibition says: "Scholars now believe that an army from Kerma attacked Egypt, looted sanctuaries, and brought Egyptian objects home as souvenirs and status symbols. These works demonstrate Kerma's dominance over Egypt, rather than the other way around."
Egyptian artwork usually portrayed Nubians with darker skin. But that was not indicative of race, the Boston museum says. Egyptian men were portrayed by red ochre and women yellow ochre. The colors were symbolic.
The Boston museum has contracts for the antiquities, and ownership has not been challenged by Sudan, Doxey says. In fact, many from that country conveyed pride over the Boston exhibit, she says.
Sudan itself has two main museums with artifacts, she says. But because few tourists travel to Sudan, many Westerners have missed out on learning about Nubia.
Much about the ancient civilization is still being explored, Doxey says, which also makes the culture interesting to museum visitors. "The history is not already written."
What "Nubia: Treasures of Ancient Africa" • When April 18-Aug. 22; hours are 10 a.m.-5 p.m. Tuesday-Thursday and Saturday-Sunday, 10 a.m.-9 p.m. Friday • Where St. Louis Art Museum, 1 Fine Arts Drive, Forest Park • How much $6-$12; free for members and to all with reservations on Fridays • More info 314-721-0072; slam.org