Visual artists have connected with Ferguson in the most intimate way possible.
They've painted boarded-up windows and used artifacts from the protests in their work. And everything from that plywood street art to recent sculptures, paintings and more has been exhibited in museums here and across the country.
In November 2014, after news that a grand jury declined to indict the police officer who shot Michael Brown, some protesters broke windows on South Grand Boulevard. More than 140 artists came to help.
"We're just letting the artists be creative and create a message of unity and support on South Grand," Rachel Witts, South Grand Community Improvement District executive director, told the Post-Dispatch.
But not everyone appreciated the painted boards in Ferguson.
"It's an attempt to whitewash the pain the community has suffered," one said.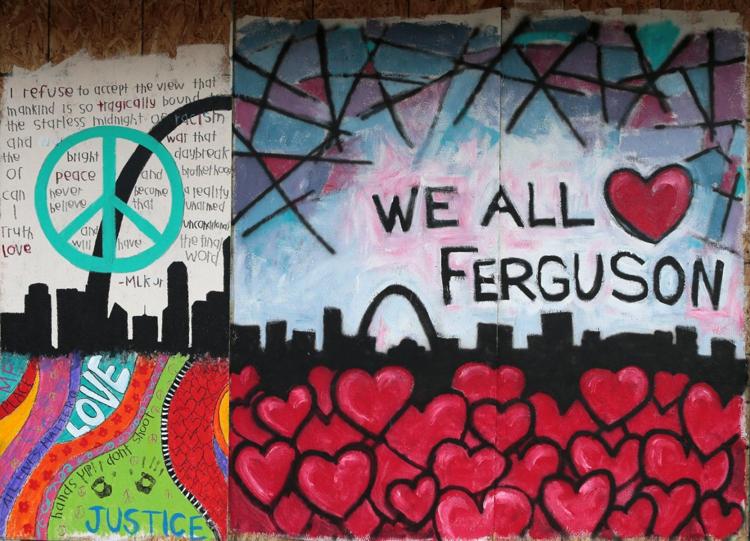 Organized exhibitions came as early as October 2014, when Freida Wheaton rallied contributors for "Hands Up, Don't Shoot: Artists Respond," shown in more than a dozen galleries. Some 100 artists contributed to the event presented by the Alliance of Black Art Galleries.
(Similarly, in Brooklyn, more than 600 proposals arrived after the nonprofit space Smack Mellon called in 2015 for art addressing racism, police violence and social justice.)
"All art galleries, especially ones located on universities, have a responsibility to address topical issues that are going to be important to their community and their students," Terry Suhre, director of Gallery 210 at UMSL, said in 2014 to KWMU.
The following February, a picture book for kids showed some of the plywood artwork. "Painting for Peace in Ferguson" was written by Carol Swartout Klein. She followed that book, a local bestseller, with a similar coloring book. And by 2016, many of the plywood boards that had been saved were put on display in various venues.
A different art exhibit created controversy in 2016 for the Contemporary Art Museum St. Louis.
Kelley Walker, who is white, had altered images of black civil rights protesters and black women with streaks of toothpaste and chocolate. Artists called for a boycott of the works, which had been made before the shooting of Brown.
Many onlookers said anger over the exhibit grew because a question-and-answer session with Walker, and the museum's chief curator, left residents feeling the replies were terse and didn't explain the art's purpose.
Artist Damon Davis wrote then that some of the works were particularly inappropriate considering "the current climate of race in St. Louis — knowing this is the epicenter of this new incarnation of the Civil Rights Movement."
The curator, Jeffrey Uslip, resigned.
Last year, the Contemporary had an exhibition by African American artist Sanford Biggers, who titled one of the sculptures on display "BAM (for Michael)." Biggers now has an even bigger sculpture, about 8 feet tall, honoring Brown in Montgomery, Ala., at the Legacy Museum: From Enslavement to Mass Incarceration.
While in St. Louis, Biggers met Brown's mother, Lezley McSpadden. A CAM news release quoted Biggers: "When she said 'thank you for thinking about my son,' my honest response was that I have never stopped."
The release quoted McSpadden as calling the sculpture an "example of our millennial generation's expression of history, a true testament of our days, our lives, and our country."
In September, the Contemporary will again include artwork with a reference to Ferguson, but it seems to indicate that artistic references may be becoming more subtle. Bethany Collins uses the text of the U.S. Department of Justice's report on blind-embossed paper artworks, which require up-close scrutiny to read.
Collins is "interested in the intersection of race and language," says curator Wassan Al-Khudhair. The exhibition, which opens Sept. 6, isn't about Ferguson per se, but it's part of the museum's effort to "show the work of artists who are finding ways to talk about what is currently happening," she says, and connects local and national concerns.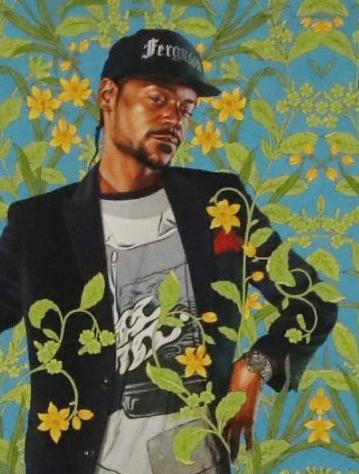 Last fall, the St. Louis Art Museum's popular exhibition of Kehinde Wiley paintings featured local residents, one of whom wore a cap emblazoned with "Ferguson."
Wiley had gone to the town and to north St. Louis to "street cast" his models. He definitely wanted a Ferguson link, says Hannah Klemm, assistant curator of modern and contemporary art.
Although Wiley had not told models what to wear when he invited them to pose for photos, the Ferguson cap would end up helping "brand the show visibly as being connected to Ferguson," Klemm says.
When the paintings went on display, the models and their families came to the historic, traditional venue and felt more welcome than they might have in the past, she says.
Klemm says other visiting artists have also asked to be taken to see Ferguson. She says today's New York artists seem more aware of things happening in midsize cities and are referencing it in their work.
She believes interest in "socially oriented black art" continues to build among museum curators.
In 2016, Julie Mehretu exhibited her painting "Conjured Parts (eye), Ferguson" in New York, and the next year, a gallery there featured St. Louis artist Kahlil Robert Irving, whose tabletop creations included cut-up headlines about Michael Brown.
A new exhibition has also opened at the famous Guggenheim. The show's work was inspired by the death of a black man at the hands of police.
It's not about Brown, however, but a student named Michael Stewart and involves paintings from the 1980s by Jean-Michel Basquiat. Chaédria LaBouvier, an independent curator, is the first black woman to organize a solo exhibition at the Guggenheim, writes the New York Times.
It's impossible not to link that exhibition to the artistic responses to Brown's and others' more recent deaths. When one of the Basquiat paintings was on display at Williams College in 2016, a news release said:
"Thirty-three years after Basquiat painted 'Defacement,' the work takes on new critical resonance. At a time when the reality of extrajudicial violence against black Americans is at the forefront of national conversations, Basquiat's painting is a reminder of the long-standing history and continued reality of such violence."
It seems that Brown's and others' recent deaths have inspired art museums to look not only forward but also back.