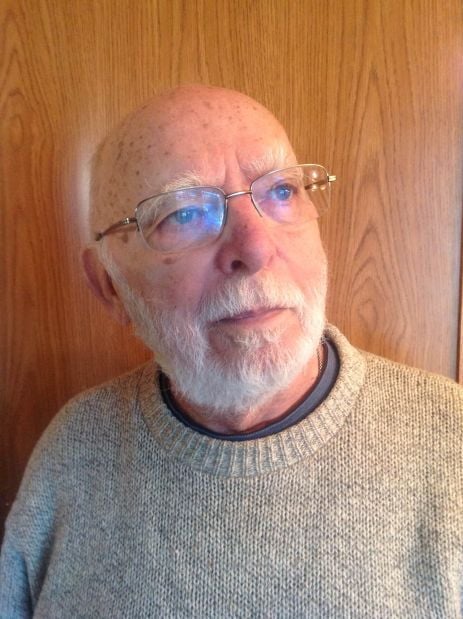 Wayne Loui, an actor and director who inspired generations of local actors through his teaching, died Jan. 29 (2021) of complications of COVID-19 at St. Mary's Hospital. He was 89.
Mr. Loui, who played a foundational role with the Repertory Theatre of St. Louis, was a strong presence in the St. Louis theater community for more than half a century.
"What I consider his most important legacy are his students," said Philip Boehm, artistic director of Upstream Theater. "And these students include some of the most versatile and hardworking professional actors in St. Louis.
"It's clear to me how much they learned from him, because they talk about him," Boehm said. "And I don't just mean in terms of craft and professional discipline. He taught them about life, about the human condition, and that theater is a window on that. And there was a humility that he exuded."
Wayne Arthur Loui was born April 23, 1931, in Milwaukee. His parents were Phillip and Ida Loui.
Mr. Loui earned a bachelor's degree in speech and theater from St. Ambrose College in 1952. In the 1950s, he was a producer and director at WMT-TV (now KGAN), a station in eastern Iowa. Loui was part of the creative team for "The Secret of Flight," a series about aeronautics that won a Peabody Award for the station in 1956.
In 1962, Mr. Loui joined the faculty of Webster College (now Webster University), teaching acting and working alongside colleague and theater director Marita Woodruff on Theatre Impact. The summer outdoor theater program evolved into the Repertory Theatre of St. Louis, which they co-founded in 1966 on the Webster campus.
In an interview shortly after Woodruff's death in 2014, Mr. Loui told the Post-Dispatch that the goal was to "integrate professional and student actors. It was geared to creating the strongest acting we could."
Jerry Vogel, an actor and one of Mr. Loui's students at Webster, said he was "good at honing in on each individual's needs.
"It wasn't a curriculum that was one-size-fits-all," Vogel said. "He was so good at making it personal that you felt special. He had such a wide range of knowledge — of philosophy and history — that you were inspired to take everything in. And he made it fun."
Mr. Loui was a professor of theater at St. Louis University from 1967 until his retirement in 1999. He had a long professional relationship with Insight Theatre, directing numerous productions including "Death of a Salesman" (for which he won a 2015 St. Louis Theater Circle Award), "Painting Churches" and "Proof." He also regularly directed productions at the Acadia Repertory Theatre in Maine.
His wife, Shirley Loui, died Sunday also of COVID complications. Mr. Loui is survived by his children, Anne Loui of Silverado, California, Kip Loui of St. Louis and Suzanne Loui of St. Louis and their spouses, and Amy Loui, Jennifer Loui and Michael Loui, all of St. Louis; along with eight grandchildren.
The family plans a celebration of Mr. Loui's life in spring or early summer. Donations may be made on his behalf to a St. Louis theater company or to Acadia Repertory Theatre: art@acadiarep.com.