Mark Katzman has made a good living with commercial photography. His bread and butter comes from lifestyle images of happy families on cruises, rugged men at distilleries, dogs standing nobly on dramatic rock outcroppings. Beautiful pictures of people and places we want to be.
But as wonderful as the digital revolution has been for his work — easing the weight of luggage and immediately conveying success or failure — the St. Louis photographer feels the art has suffered.
"I want to retain the craftsmanship in photography," he said this week. "Sometimes with digital it gets too easy."
Today's photographs strike some as just digital matrices, made and gone quickly. "The internet is changing photography really dramatically," Katzman said, noting that viewers don't always recognize superior work.
So Katzman and some of his contemporaries are getting their fingers wet, as he says. Putting their hands "in the soup" like he did while learning as a youth to develop photos in a darkroom.
He's used the 19th-century wet collodion process (thrilling, but dangerous with cyanide) and is considering buying equipment to make daguerreotypes (expensive).
Some of Katzman's ambrotypes will be on display as part of "Old School, New Rules." Opening Friday at the Sheldon Concert Hall & Art Galleries, the exhibition shows how photographers use vintage processes to portray contemporary issues and subjects.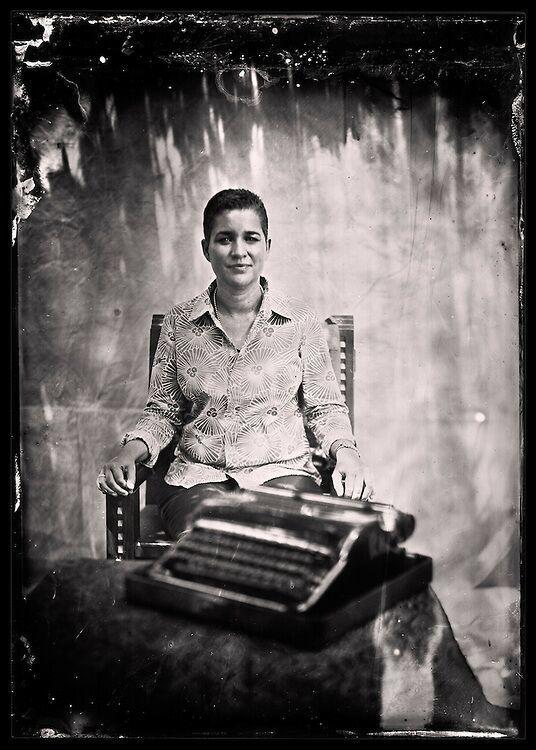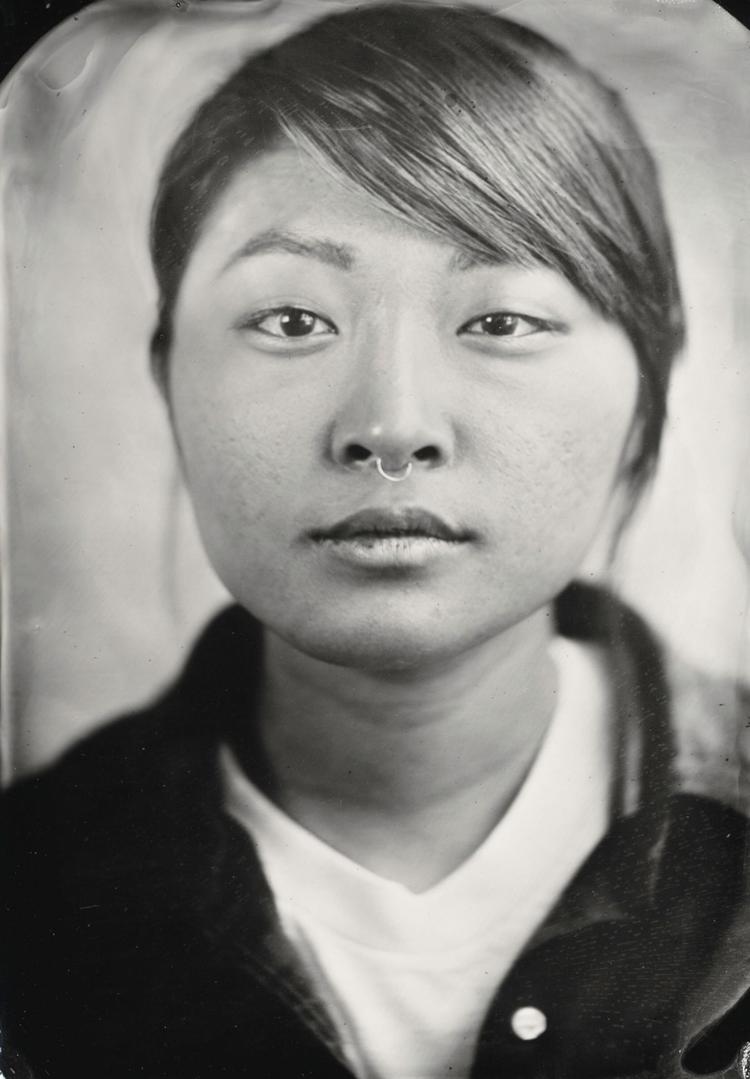 Images include photos recorded on large plant leaves, tamale wrappers and oil drum lids. Two photographers, Keliy Anderson-Staley and Jill Enfield, take portraits of immigrants that look like they could have been made at Ellis Island in the Victorian era.
A Native American, recalling the iconic early 20th-century project by William S. Curtis, shows modern indigenous people using the tintype process. Will Wilson, a Diné photographer who grew up in the Navajo Nation, is quoted by the Sheldon as saying he's "impatient with the way that American culture remains enamored of one particular moment in a photographic exchange between Euro-American and Aboriginal American societies. ... For many people even today, Native people remain frozen in time in Curtis' photos."
For gallery director Olivia Lahs-Gonzales, the exhibition isn't about nostalgia. Photographs in the show weren't made just to show romantic landscapes.
"They are making statements about the world," she said. Using "antique" processes, the photographers comment on contemporary issues, sometimes showing that old issues are still here.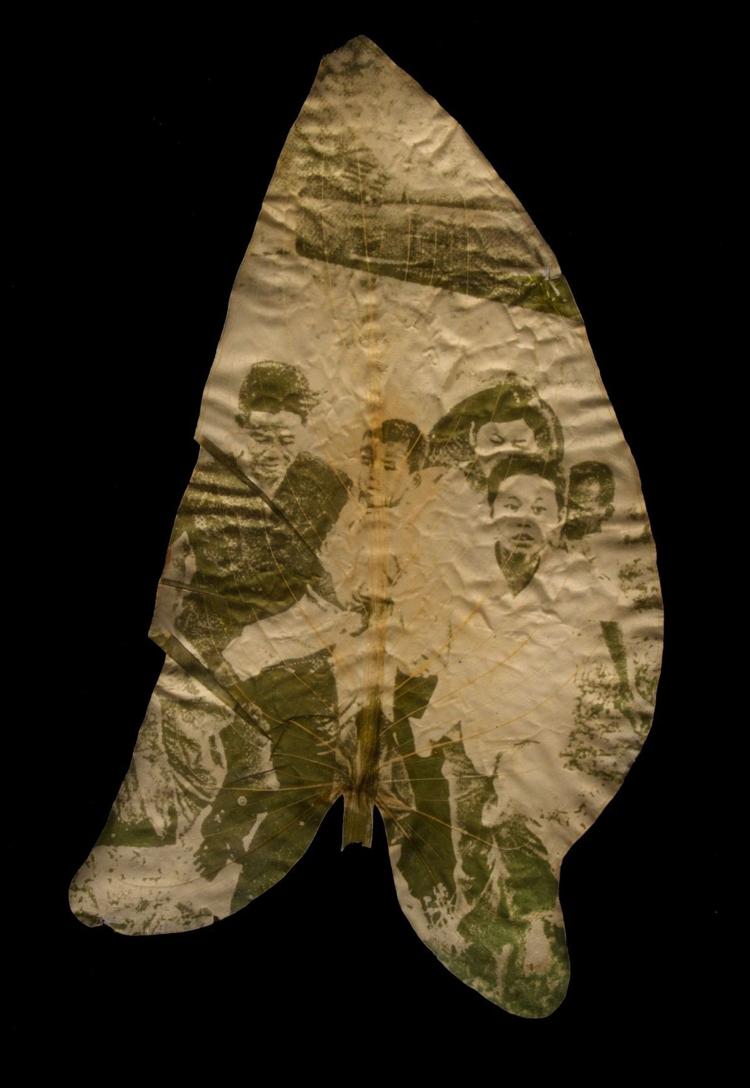 Most pieces in the exhibition have been made in the last decade, she says, noting that interest in 19th-century processes has been a bit of a trend. (Katzman's interest in daguerreotype hinges somewhat on his perception that wet collodion has become crazy popular.)
But few of these photographers have been exhibited in St. Louis.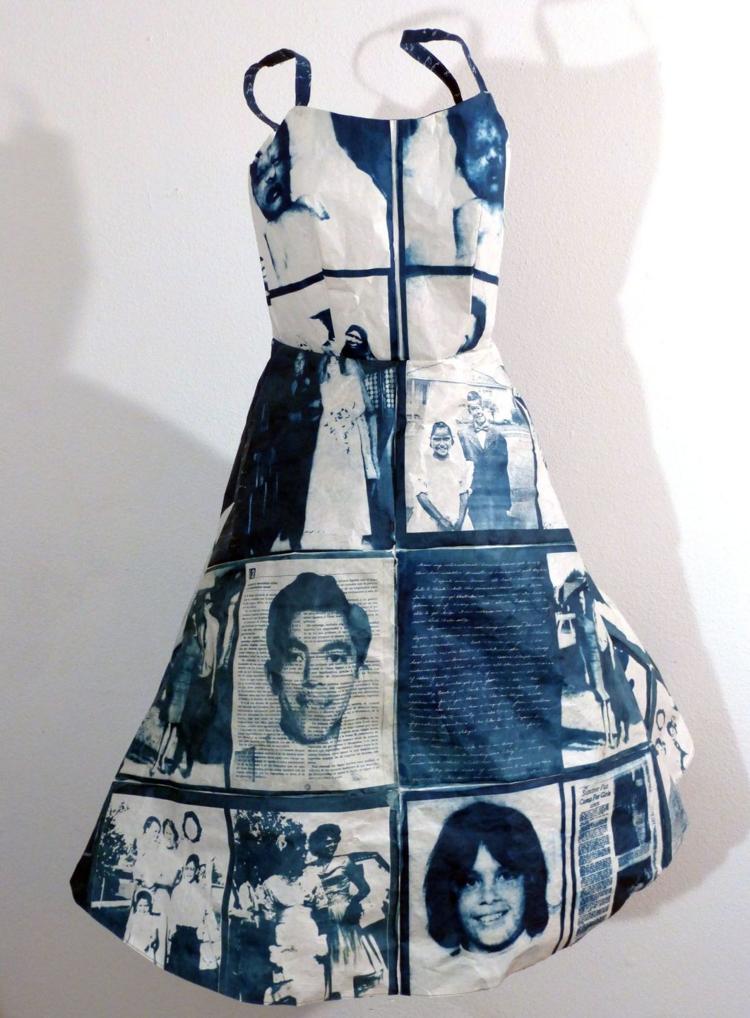 Along with Katzman, of Clayton, is Kirkwood resident Barbara McDonnell. Her work using a banquet camera documents changing developments and even parking lots in St. Louis. The slow speed of using 19th-century equipment contrasts with the "speed of change happening on the outskirts of our urban areas," she said in a statement.
Among the most unusual pieces in the exhibition are clothing by Annie Lopez of Arizona. Working with the cyanotype process, she began printing images on tamale wrappers and sewing them into dresses.
Another riveting display shows images from the Vietnam War on leaves. Binh Danh makes them using photosynthesis — only chlorophyll and light. The leaves are then cast in resin.
Katzman's images include one of potted, tied-up palm trees. On a trip to Las Vegas, with a portable darkroom in his truck, he stopped on a bridge to make a picture. With wet collodion, a prepared piece of glass is immersed in a chemical bath then inserted into a camera. It must be developed right away, taking about 10 minutes or less.
As his image was developing, police stopped by, confounded by what Katzman was doing. He put them off until his plate was ready.
"I was fixated on the struggle between the nature and civilization," he said. "I want to raise questions about the environment and what we're doing. Every artist should devote energy to addressing it."
Portable darkroom or not.
What "Old School, New Rules" • When Friday through April 13; gallery hours are noon-8 p.m. Tuesdays, noon-5 p.m. Wednesdays-Fridays, 10 a.m.-2 p.m. Saturdays and one hour before Sheldon concerts • Where Sheldon Concert Hall & Art Galleries, 3648 Washington Boulevard • How much Free • More info 314-533-9900