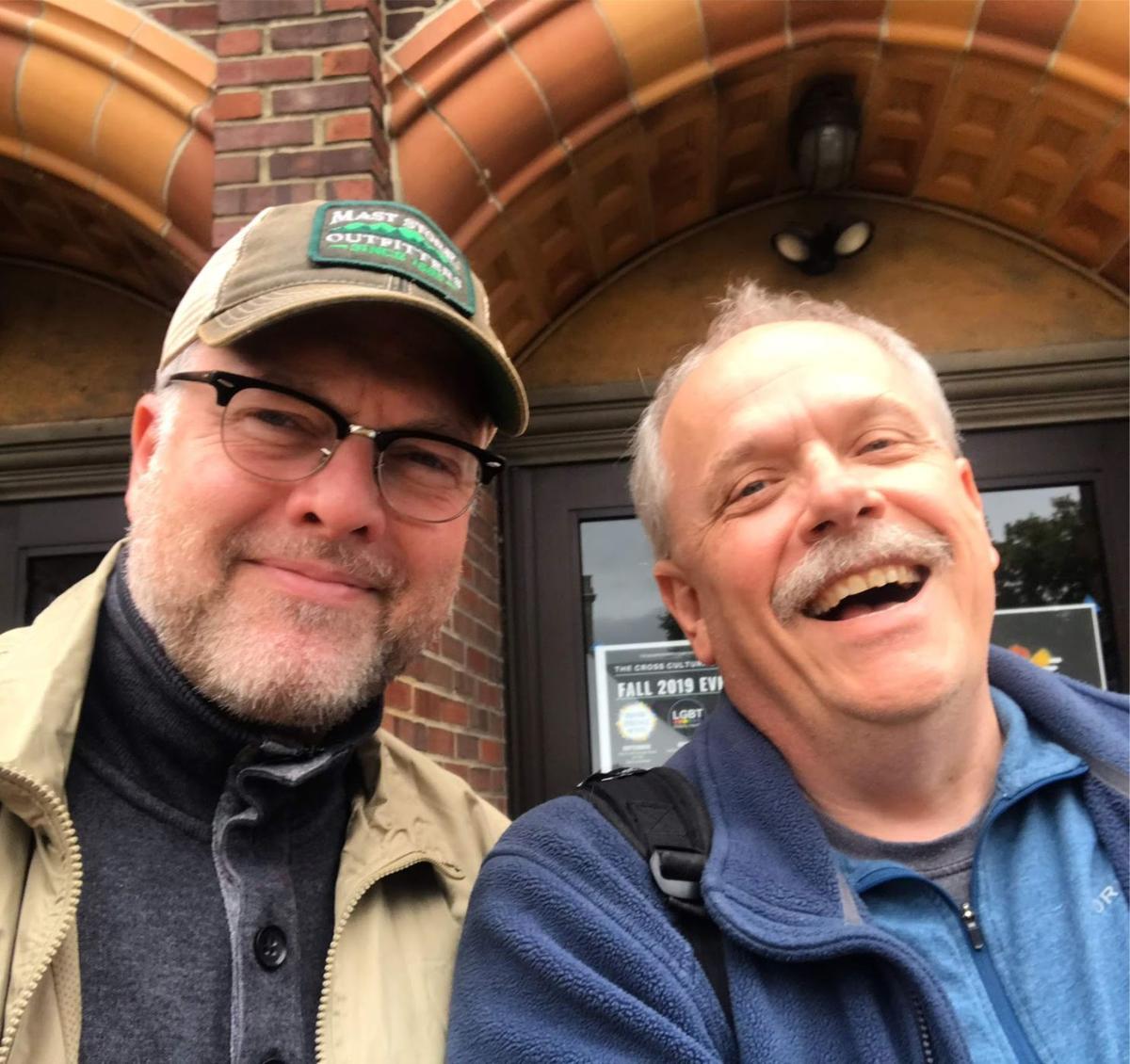 Following a nearly seven-month coma, Harold K. Bush died early Wednesday. His wife, Hiroko, emailed a poetic line: "Peacefully Hal went to Heaven at 2:35 a.m." Stop all the clocks, I thought.
He'd been my friend for 20 years — first as Dr. Bush, my Ph.D. adviser at St. Louis University, and soon thereafter as my racquetball buddy, then one-on-one basketball opponent (an Indianan, he always won), frequent sack lunch partner, house party host, fellow churchgoer and spiritual mentor. At some point I began addressing him as Bush-san. At last, he became my sensei.
Though I'd moved away in 2008 not to return until last October, Hal and I kept in close contact. Every time I visited St. Louis, we arranged to sit together or attend each other's events. Once he read from his novel, "The Hemingway Files," at Lemp Brewery. Another time I read from my new poetry collection at Subterranean Books.
Early last year, he invited me to join a Zoom call with several others, at 7 a.m. every other Thursday, called "Spiritual Coffee." Hal prompted each meeting with a provocative text, and for months about a dozen of us went deep into current thinking on various topics du jour. One recent text was Daniel Coyle's "The Talent Code," which postulated a physical shaping of neurons as the result of practice, practice, practice. "The magnificence of how myelin insulates neurons!" Hal would exclaim. I would later learn his new manuscript was on neuroplasticity and religious belief. Fascinating.
On Jan. 22, the day after a "Spiritual Coffee" Zoom, our group received a startling email that Hal had taken a tumble down his basement steps, hit his head and was rushed to the hospital. Part of his skull had to be removed to relieve swelling in his brain. Recovery was not guaranteed.
He was allowed to fall into what was hoped to be a healing coma. We waited, with various good and bad news forthcoming multiple times per week, for six months.
About halfway through this excruciating wait, Hal's publisher canceled his completed book on neuroplasticity. In June, the company requested the return of a portion of his advance. The cold irony felt like an omen.
A few weeks ago, neurologists agreed that Hal would never emerge from his vegetative state. According to his own advance medical directive, he was allowed to go home and find ultimate rest — an outcome at once relieving and heartbreaking for hundreds of us, especially Hiroko, his siblings in California and his niece Chelsea.
I first introduced myself to Hal three weeks before 9/11. He was sitting in his office amid piles of books, stacks of papers, and he had the broadest grin imaginable. He looked as though he'd swallowed a mouse. Later I would learn that behind that smile was a lifelong quest for intellectual companionship — "spiritual friendship," he recently termed it.
No interaction was superficial with Hal. There would be no academic genuflecting, no easy opinionating. He interrogated every news story, pop music lyric and cultural trend and pushed everyone around him to do the work of thinking about what they said. Vague claims were verboten. This is what made him such an effective professor. He pushed us in love, though I imagine some, such as a student I recall walking out of one of his seminars never to return, interpreted it as hostility.
He also wrote and wrote, and under his writing were layers of original research. I was his assistant for a year, tasked with transcribing archival letters between Mark Twain and his personal chaplain, Joseph Twitchell. Looking at 19th-century handwriting plainly on pages helped me understand why people become lifelong academics. There's so much of the past yet to explore, and Hal Bush was an inveterate, borderline-obsessive lover of finding new relevance in old things.
But unlike the caricature of the absent-minded professor, he was equally zealous to discover new ideas in young people's minds and perspectives. When he pushed us, he listened to us, and he often changed his mind based on what he heard young scholars saying in seminar. He kept track of our opinions with great care. As one of his close friends, Robin Leibovich, confessed to me while we stood around his death bed earlier this week: "He came to my studio to see my art. Hal made me feel seen."
Another friend, Randy Middeke, recalled: "Hal and Hiroko dove right into relationships with our three daughters. Every time Hal would see one of our kids, he would immediately engage in deep, penetrating, challenging but loving and friendly conversations. He reminded me of the troll under the bridge who would require answers to his riddles before you could pass. … He treated them as worthy sparring partners and as adults. Probably the way he conducted his classes at SLU."
Indeed, it was. Hal's unusual drive to befriend meant he and Hiroko frequently hosted students in their Soulard home, around their dining table, especially international students who needed a place to spend holiday breaks. It meant many invitations to come over and sing or play music (Hal played guitar, Hiroko drums), to sit around the fire pit in the winter, to go to Billikens and Cardinals games, attend literary events and meet for beers. For me, it meant traveling to speak at Oxford University, where both of us had papers accepted at the C.S. Lewis Summer Institute.
The source of Hal's outgoingness was profound trauma. Deep in the fabric of his being lurked the memory of, as he put it, "being a drug dealer saved by Jesus" — a statement I never knew how literally to take — and then, in 1999, Hal and Hiroko's loss of their only son, Daniel, to drowning at a Christian summer camp. Daniel was 6 when he died, and much of Hal and Hiroko's passionate love for others grew out of a sorrow that not only never left them but defined them, shaped their hearts. By the time I met him, Hal had given up on worrying about what other people thought of him.
You would never know, to meet him at the Royale restaurant, that Hal had written six critical books held by thousands of libraries around the world, or that he had recently published a substantial novel. He didn't wear his accomplishments for people to see. He mostly wanted to talk deeply, to interact intentionally — to know and be known. And he loved his wife. Those are the things he allowed everyone to see.
Rest in peace, teacher. You taught us what we needed to learn.
Aaron Belz is a poet whose books include "Soft Launch" and "Glitter Bomb."